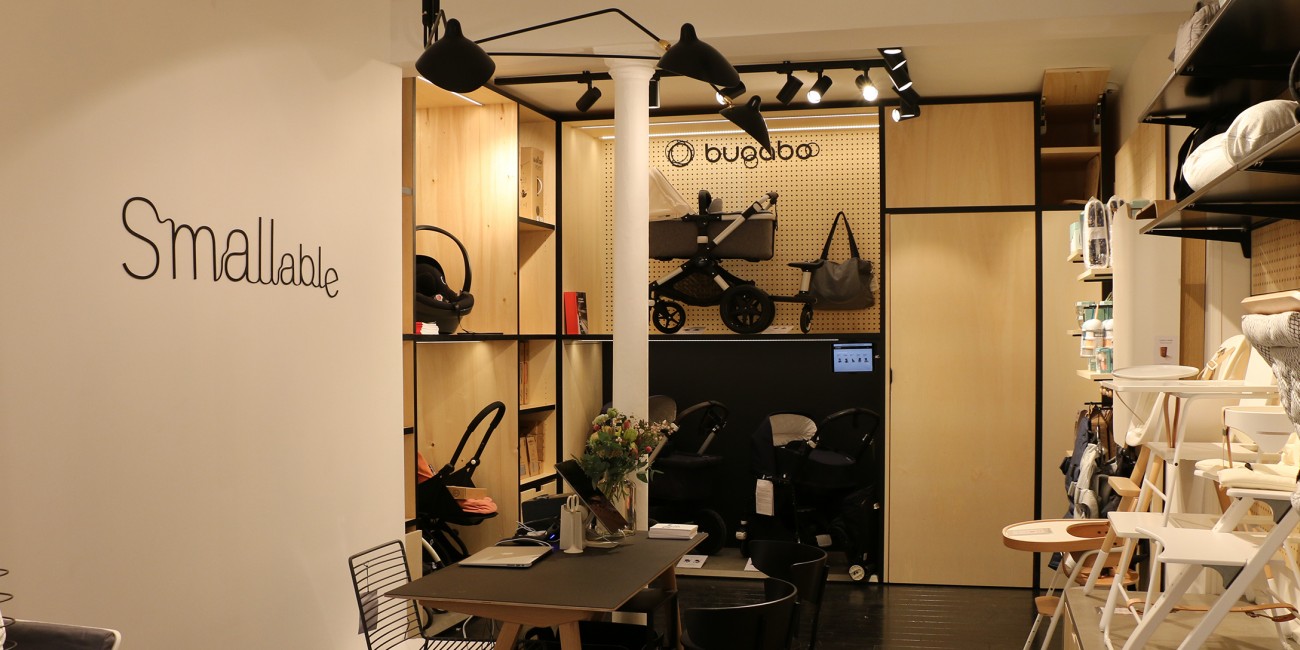 Our shops
Smallable Baby Store
Located opposite our main concept store, at 82 Rue du Cherche-Midi, this new space
is entirely dedicated to the world of babies with a selection of childcare products,
strollers, furniture and decorative pieces by Bugaboo, Babyzen, Charlie Crane, Béaba, Babybjörn, Leander and many more!

Our stores are open!
Discover our Well-being selection: comfortable clothing, wellness products and cosy décor for feeling good at home. You will also find lots of other products including fashion, furniture, decoration and toys.
BABY STORE OPENING HOURS:
MONDAY 2PM - 6PM, TUESDAY TO SATURDAY 11AM - 6PM.

BABY STORE : +33 (0) 1 43 20 78 58

In strict compliance with the newest hygiene measures, it gives us great pleasure to be able to welcome you back into our stores.


We look forward to seeing you soon,
The Smallable Team

New In-store services :

CALL & COLLECT ET CALL & DELIVERY

CALL&COLLECT :

From 25 May, you can contact our team in the Concept Store by telephone (T: +33 (0)1 40 46 01 15) or via video call (using FaceTime or WhatsApp) to learn more about which products are available in-store, to see the latest arrivals and to place an order from the safety and comfort of your home.

You can then come and collect your order in-store as soon as the next day, during a pre-allocated pick-up time given to you by our staff.

Your order will be available for collection for up to 7 days.



CALL&DELIVERY :
For further convenience, customers living in Paris and its surrounding suburbs can choose to have their orders delivered by contact-free courier to their doors.

Delivery fee for 2-wheel courier: 7€ (VAT incl.) or free for purchases over 100€

Delivery fee for car courier: 25€ (VAT incl.) or free for purchases over 250€



To make a telephone purchase, please call the following number from 25 May onwards:
01 40 46 01 15
SCHEDULE AN IN-STORE PERSONAL SHOPPING APPOINTMENT NOW

As the number of customers allowed in-store at any giving time is now limited by law, we are offering the possibility of scheduling in-store personal shopping appointments. By booking, you ensure your entrance into the boutique, without having to wait, and will benefit from specially-tailored advice and recommendations from our talented sales assistants.


>> Book an appointment (from 25/05) <<

--


Other In-store services :

CREATE A BIRTH LIST OR A GIFT LIST FOR ANY OCCASION
Are you expecting a baby or have a celebration coming up? Create the gift list of your dreams to mark the occasion with the help of our experienced team!

ONE-ON-ONE APPOINTMENTS
Whether you want to decorate your little one's room or create a birth gift list, our team are here to help and are available to advise you in more detail during special one-on-one appointments. Contact our store to organise your visit.

NEW! THE GREAT BIRTH GUIDE
We are proud to present our Great Birth Guide to help you prepare and find everything you need before your little one comes along. You will find 250 inspiring pages dedicated to the world of babies, with childcare items, décor and fashion, along with thoughtful advice from other mums, designers and influencers.

OUR ONLINE SPACE IN THE CONCEPT STORE
If for some reason the item you are looking for is not available in store, our new online space allows you to sit back and order in total comfort, with free delivery to the boutique.