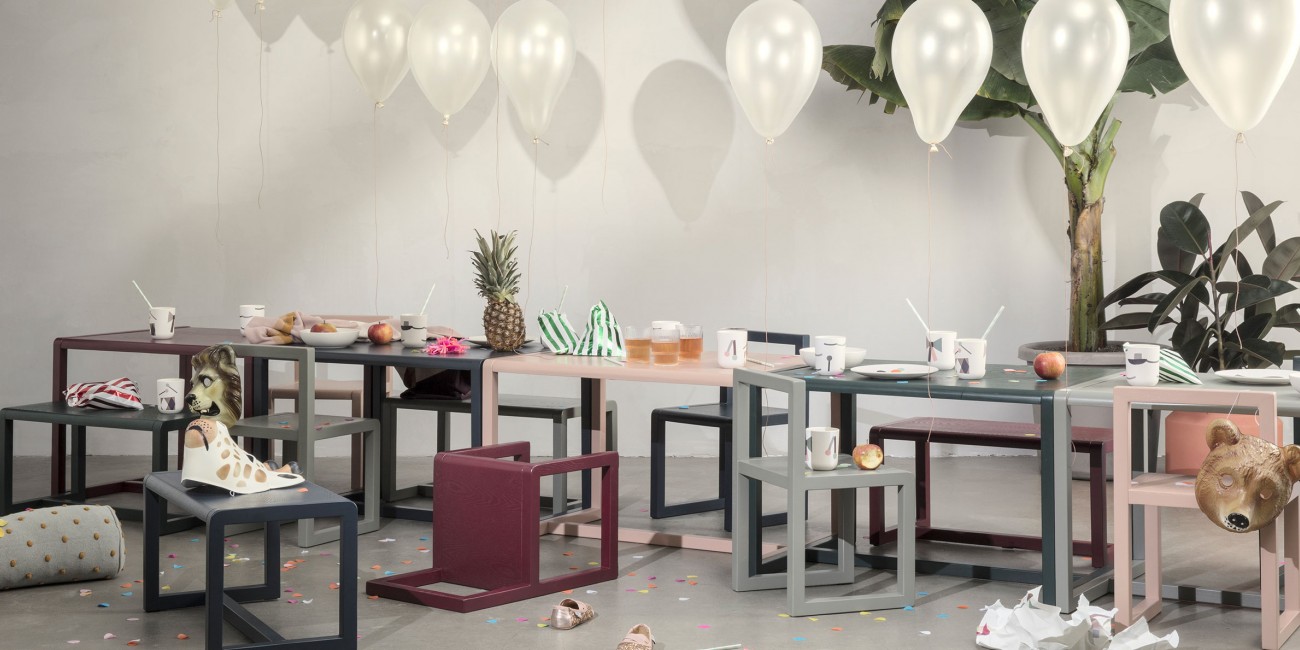 Shopping guide
How to organise a children's birthday party
Be sure to give them the best party or birthday party. Here are our 10 Commandments on how to throw the perfect children's birthday party, as well as great children's party ideas, to follow to the letter.
1/ Thou shalt personalise your invitations
Use the letter kit by Wu & Wu and its 26 letter stamps or even thanks to  Pepillo and their invitation cards to colour in or personalise with multitude of reusable stickers.
2/ Thou shalt love adding simple decorations
Rolls of masking tape in all colours in a box of 6 or set of 5 or even ribbons by My name is Simone will do the job perfectly. Add to this some garlands by Mouche, Ketiketa, Lalé, Atsuyo and Akiko or even the confetti garland by Engel. Finalise your decoration with paper balls by Engel: they go really well with the inflatable balloons in the shape of animals by Worldwide & Co.
3/ Thou shalt not forget the tableware
From the melamine dishes in a circus theme by Mimilou to the essential creations from Rice, the idea is to be creative right down to each plate.
4/ Thou shalt decorate the cake, to create a magical moment
Candles! The key moment must not be missed! Careful, the choice makes all the difference: horse or car candles? If you cannot decide, go for a mix of mini mushroom and gnome candles!
5/ Thou shalt summon fairies, knights, pirates, native Indians...
It is not a birthday party without dressing up! Beautiful costumes of native Indians or knights as well as superb fairy outfits and magicians by Mouche or Numero 74. There are also Mask'Animo Mitik masks to colour in yourself (from €16), the choice is wide.
6/ Thou shalt choose creative group games
Giant posters by OMY fo your child to colour in with their friends (to avoid going over the lines, use masking tape on the edges). Creative toys by Djeco, Vilac, or Mon Petit Art, construction games, do it yourself style toys as well as other arts & crafts for kids...chose according to your child's interests.
7/ Thou shalt choose great music
Considering the noise level and how music is reputed to sooth the mind, think about a jazz CD or an artist from the Naïve label such as Enzo Enzo, who will please you as well as the kids.
8/ Thou shalt go outside if it is a nice day and you can
Because group games, dancing, cutomising cardboard houses by Kidsonroof or Calafant, balloons, native Indian bows and arrows and other outdoor toys and games are much more fun in the sunshine!
9/ Thou shalt provide photo souvenirs and a goody bag.
So that the children can leave with a little souvenir of their day, they can have the Animo Mitik mask that they drew or even a little gift under €5 will to the job. Think about making a photo album that your child can keep.
10/ Thou shalt reserve a spa for the next day!
After such a big day, you will probably have a fuzzy head and a your body will be tired, so there is no better remedy that getting a little massage to put you back on your feet. Because you deserve it!