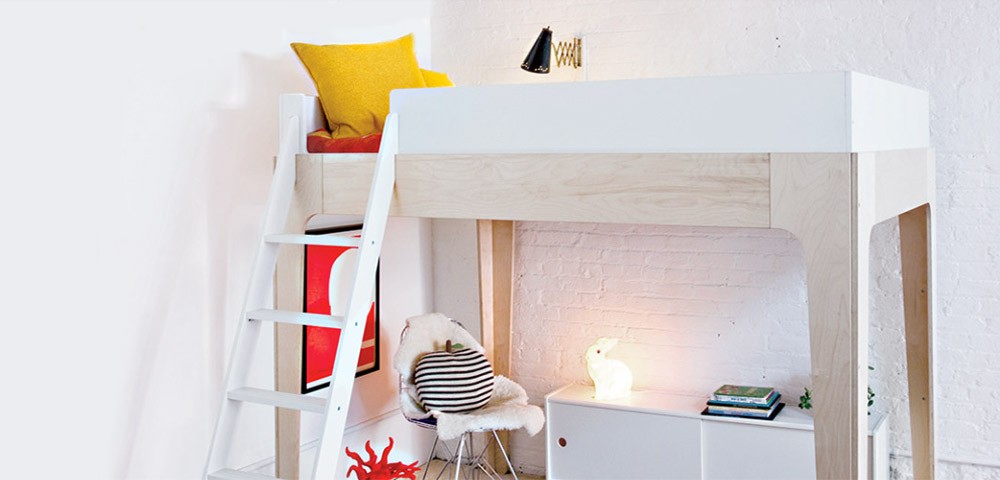 Shopping guide
How to set up a kid's room?
In order to combine your interior design desires with a small space, here are some tips for decorating your child's small bedroom with style.
Firstly, you have to choose compact and functional children's furniture, that can evolve. Cots by Babybjorn, Leander or Green Lullaby are not bulky. The Oeuf NYC "Classic" chest of drawers with changing table can transform into a piece of furniture that can house books and toys when the baby is older. The Oeuf bunk bed allows you to free up space.
Do not hesitate to attach as much as possible to the wall: hooks, shelves, the By Bo Design nappy dispenser, a wall lamp… You will find a fine choice of shelving by Ferm Living, Laurette, Tsé Tsé and Sebra. Regarding hooks, the ones by Sentou, All Lovely Stuff, Domestic our Thorsten von Elten are fantastic. Create a calming environment by multiplying the points of indirect lighting : garlands of light by Tsé Tsé & Associées or Lovely Light and the "Pigeon lamp" by Thorsten van Elten.
Choose a round rug (less visually encrombrant). The felt ones by Muskhane, or the soft, fake fur ones by Pilepoil are ideal.
Don't forget a child chair. Choose the rocking stool by Sirch, the Visu chair by Muuto or the Mini Acapulco chair by Sentou which has the advantage of being able to accomodate an adult, despite its child size. It is essential to decorate your chair with a lambskin throw by Kaiser.
Add a touch of the Romantic to one wall with a cascade of adhesive stars or a strip of wallpaper. For example a plank of stars by Atelier des Pieds or wings from Lilipinso, beautiful printed wallpaper by Ferm Living, Domestic or Bartsch.
Our selection of brands: Œuf NYC, By Bo Design, Laurette, Tsé Tsé, Sebra, Sirch, Alma's room, Babybjorn, Leander, Green Lullaby, Ferm Living, Sentou, All Lovely Stuff, Domestic, Thorsten von elten, Lovely Light, Egmont toys, Lapin and me, Lilipinso,Bartsch, Numero 74 .