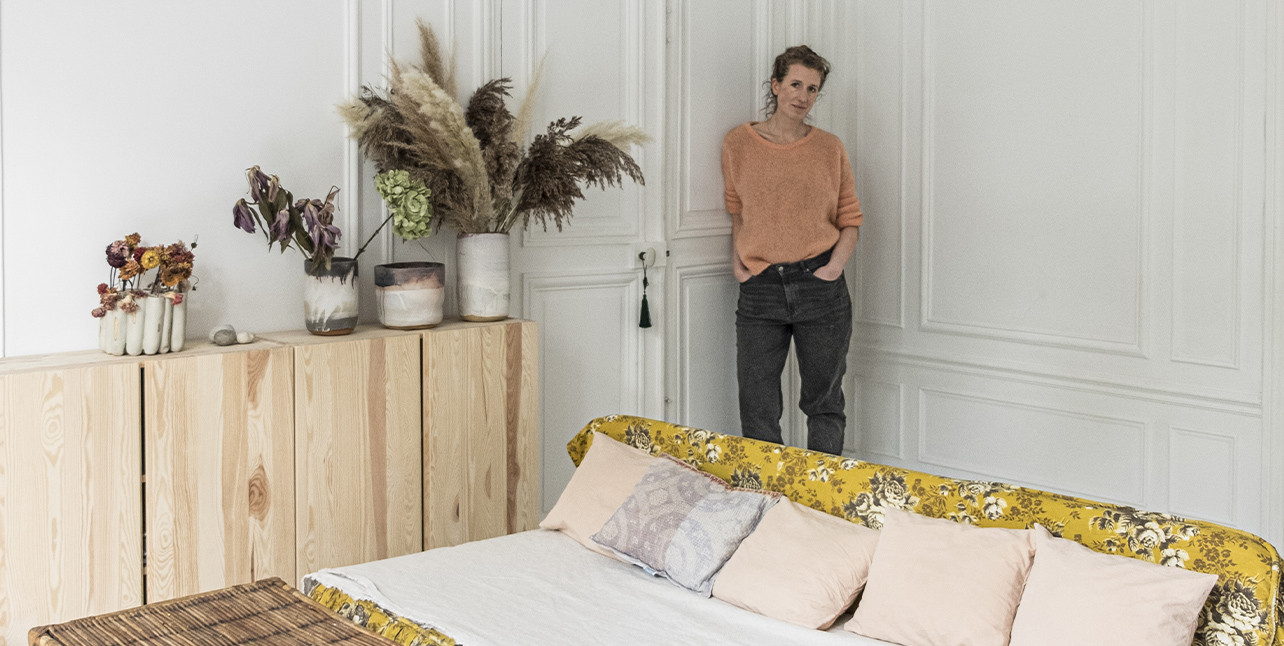 INSPIRATION
Marion Graux
The potter's wheel, enamels, shapes, lines, materials, shine, beautiful tables, good food... That's Marion Graux's vocabulary. In her studio in Pigalle, she experiments to find the perfect shade of "cheek pink" and she sells dried flowers when she's not dipping her hands in clay to create tableware for the boldest chefs. Her ceramics are used by Cyril Lignac, Hélène Darroze, Charles Compagnon and Guy Martin. More recently, Marion and her husband have developed new a type of industrial tableware, that keeps pottery at its soul, so that her beautiful creations can be on every table. Make way for her delicious table stories!
Marion Graux at home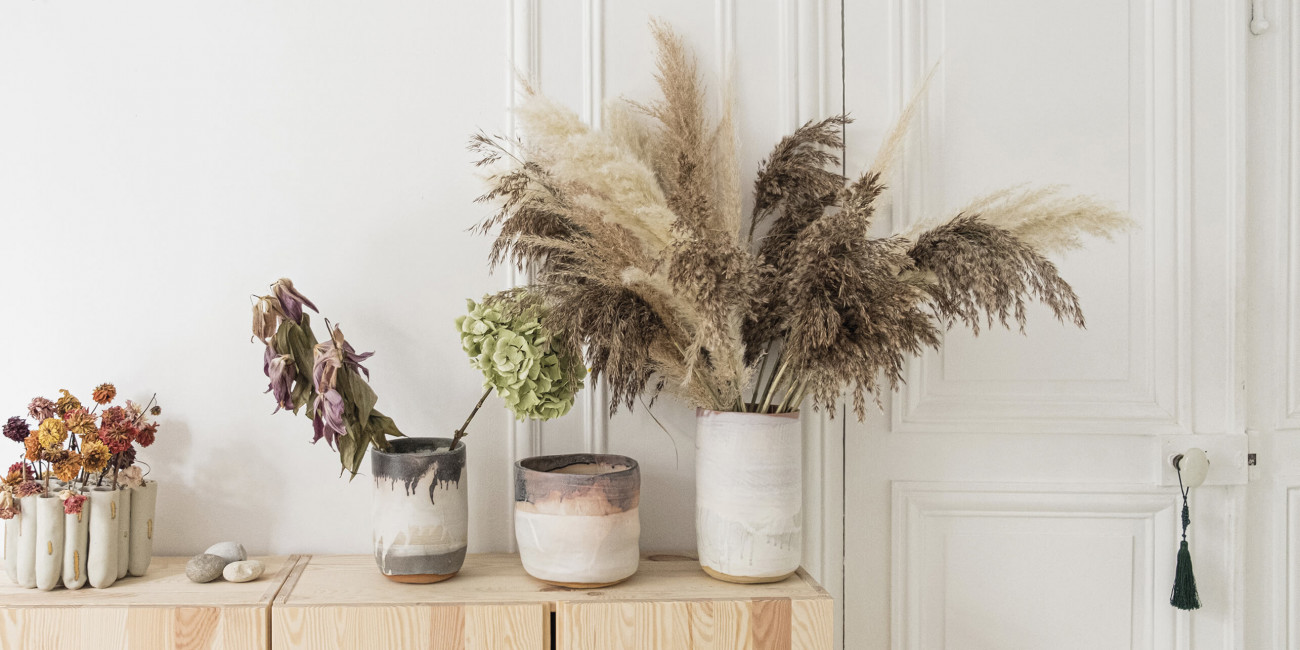 Ceramics and dried flowers by Marion Graux - Marion Graux's home
WHAT ARE YOU LOOKING FORWARD TO IN 2020? WHAT ARE YOUR GOALS?

"My ambition for 2020 is to be more relaxed: let go a bit more in the studio, to find a mode of creative relaxation. For the first time, I'm going to give myself a month without answering orders to focus on personal creative research. I've always said that inspiration is everywhere and that it comes from everyday life. But lately, my everyday life has become a little too saturated. I want a new blank page to create new shapes, and find new colours. And that takes time."
Marion Graux and her ceramic vases
HOW DID YOUR INTEREST IN CERAMICS START?

"I always had an interest and sensitivity to the earth from spending my holidays in Drôme. And it was the desire to create, to tell table stories that naturally led me to ceramics. Now I work with clay and the earth but I am not a sculptor, I create objects. This functional aspect is very important to me."
Ceramic vases by Marion Graux
HOW DID YOU BECOME A CERAMIC ARTIST?

"It's been a long journey. I don't like the word "reconversion", as if all of a sudden everything was reversed. I first studied art, then fashion and finally became an interior stylist. That was my road to becoming a potter. From fashion, I moved on to décor, and finally concentrated on tableware and cooking. Today, I feel like I've found what I really like. I'm no longer looking for myself, I think I've found my playground for the rest of my life."

Ceramics by Marion Graux
WHERE DID THE IDEA OF DEVELOPING INDUSTRIAL TABLEWARE COME FROM?

"I work with chefs, and sometimes they supplement crockery made in the studio with industrial pieces for budgetary reasons or lack of time. And very often, I don't like the pieces and the combination is not a good one. But I no longer have time to make everything by hand. So I looked at the problem from all sides and the only answer was to produce in a factory with endless specifications. I wanted to have vibrant and lively tableware. So I searched all over Portugal and France, and I was never satisfied with the result. Finally, I asked Manufacture of Digoin to do the impossible and they accepted."

Ceramic tableware by Marion Graux @mariongrauxpoterie
WHY MANUFACTURE DE DIGOIN ?

"With them, I didn't feel like I was selling my soul to the devil. The manufacturing process has been adapted to be as close as possible to my studio work. At every stage, a human hand intervenes. The prices remain relatively high but for this quality and finish, it was impossible to do less. I am delighted to put the spotlight on the purity of the work of Manufacture, knowing that last century they had 200 employees and today they are just 17. We launched a campaign on KissKissBankBank to finance production, and pre-sales have exceeded all our expectations. The range will be available from May in my studio."
Ceramics by Marion Graux​
HOW WAS YOUR STUDIO/BOUTIQUE IN PIGALLE CONCEIVED?

"It's not a shop, it's a studio, with no timetables and no great sense of order. I work mainly for chefs. Depending on what's left of my orders, I offer them for sale in the studio. I have orders to complete, so I can't run a shop in the classical sense of the word. It's a living studio, so sometimes things are all over the place. The space used to be a florist. I bought their business, and to keep that story alive, I also sell dried flowers. My flowers are like vanities in a painting, a tribute to old age, far from the dried botoxed and frozen flowers that we see everywhere in the trade."

Marion Graux's studio and ceramics
IS YOUR BUSINESS A FAMILY AFFAIR?

"I work with Constantin, my husband. When he's not working as an immunologist, he helps me with all the logistics and the finances. The idea was to free up my time in the studio. Without his help, I was getting a bit bogged down with all the projects. I didn't want to become a machine woman who made bowls all day long."



DO YOU HAVE A FAVOURITE GETAWAY HOTEL?

"With a young child, I'm still looking for it, but I'm dreaming of having an answer to this question. If you have any tips, please let me know!"



WHAT IS YOUR IDEA OF THE PERFECT SUNDAY?

"Staying at home, reading and cooking."
Marion Graux and her family @mariongrauxpoterie​
Marion & Constantin Graux @mariongrauxpoterie​
WHAT'S YOUR FAVOURITE RESTAURANT, WHERE WE CAN FIND YOUR TABLEWARE?

"It's hard to name one restaurant, but I have a special affection for Frenchie. I've been working together with Chef Greg Marchand since the beginning. There's a real understanding between us. Over the years, we've developed real professional intimacy. But whatever the restaurant, being chosen by a chef is a gift. Something happens with every one of them and each time it's different. They know what they come to me for and there's a real dialogue."

Frenchie Restaurant, Covent Garden, London
DO YOU HAVE A CERTAIN COLOUR PALETTE THAT YOU ALWAYS WORK WITH?
"Pink is my favourite colour. I think it will take me a lifetime to find the right pink, the pink of red skin, the pink of emotion. I like pinks that are not uniform, pigmented, that remind me of skin."
Ceramic tableware by Marion Graux © Laura Stevens​
WHICH DECORATIVE PIECES DO YOU CONSIDER A GREAT MATCH FOR YOUR CERAMICS?

"A beautiful wooden table, old silver cutlery, and cloth for the table. When the table is set and everything is beautiful, you can only eat well. It's impossible to open a can of ready-to-eat ravioli under these circumstances!"
HOW DID YOU COME UP WITH THE DESIGN FOR YOUR HOME?

"It's quite a special place, it's like a little country house nestled in Paris. We painted everything white, from the parquet floor to the ceilings. The style is resolutely Haussmannian with large mirrors and high ceilings. The decoration is minimalist, I like to reduce and limit the superfluous. I would like to keep only useful items and vases with dried flowers. But it's a daily struggle! I also like the idea of a scarcely decorated room: with just a bed and some floating curtains."
Marion Graux's home
WHAT ARE SOME OF YOUR DESIGN FAVOURITES ON SMALLABLE?

"The Compas Direction desk by Vitra, the oak screen by Hübsch and the Pacha armchair from Gubi designed by Pierre Paulin in 1975."
Compas Direction desk by Vitra - Available on Smallable​
Oak screen by Hübsch - Available on Smallable​
THE PERFECT GIFT TO OFFER (OR RECEIVE) NO MATTER THE OCCASION?

"A good book, olive oil, a cashmere sweater and tableware, of course!"