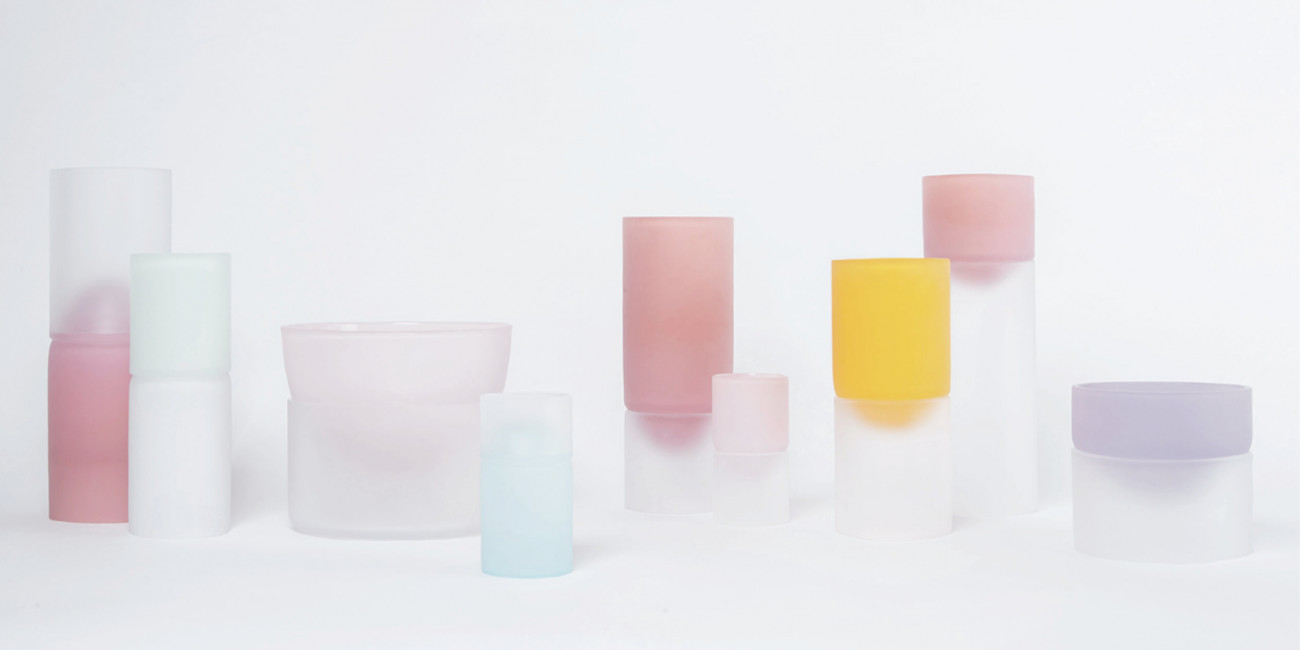 INSPIRATION
Sherbet colours, reimagined
The creative design scene is experiencing a breath of fresh air, leaving a fruity and floral trail in its wake. This summer, bright and pastel-coloured designs are emerging from avant-garde Scandinavian workshops, breathing new life into all forms of design. The soft and semi-translucent tones, already a favourite amongst millenials, can now be seen decorating children's bedrooms, on activewear, and the fashion industry's latest collections.

With a playful nod to colours reminiscent of childhood memories, such as enjoying a cool popsicle on a hot summer day, these designs are sure to render your home much more vibrant.

Above: Glassware collection by Jinya Zhao Gorgeous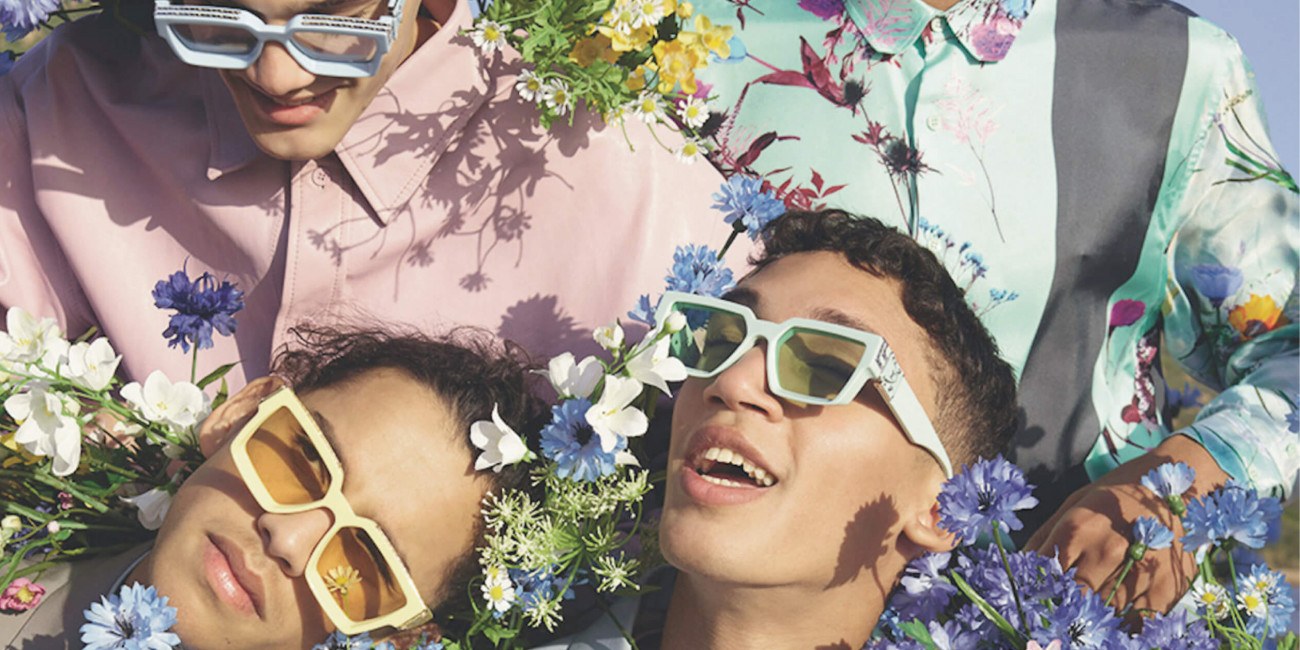 Louis Vuitton Spring/Summer 2020
Marshmallowy pinks, pistachio greens, frosted blues, the list goes on... Resolutely optimistic and noncoformist, millenials are adopting pastel-hued pieces with confidence and style.

The age-old idea that certain colours are reserved for women has been eradicated. French musical artist Lujipeka is seen wearing powdered pink colours without inhibitions, like many others before him. Stamping out the dated idea that certain colours should be worn only by a certain gender, we can look forward to a new form of masculinity, without codes or rules.

Simultaneously, other pop culture icons, such as Angèle and Dua Lipa, are shaking up the image of more traditional brands with collaborations full of sugary, vibrant shades in an expression of their own unique styles.

Zalando ad campaign, "Goodbye stereotypes. Hello Zerotypes."
Pepe Jeans x Dua Lipa Collection
Lujipeka and Hervé for Acne Studio's
Men's Spring/ Summer 2020 runway show
Angèle for Chanel's Summer 2020 eyeware collection
Louis Vuitton Men's Spring/Summer 2020 collection
Photo: Christina Fragkou
© Max Mara Spring/Summer 2020 collection. Photo: AFP/Marco Bertorello
© Jacquemus Spring/Summer 2020 collection
© Kenzo Ready-to-wear Spring/ Summer 2020 collection
© Lacoste Ready-to-wear Spring/Summer 2020 collection
© Balmain Men's Spring/Summer 2020 collection
The world of activewear has also been quick to adopt this latest colour trend, inspiring a more holistic and inclusive approach to physical activity and sportswear.

Sportswear has begun to transform into more form-fitting and comfortable clothing. Noisy patterns are giving way to classic ensembles, featuring soft and pastel colours that further highlight the quality of the clothing's materials.

These new styles serve as a reminder that more than anything getting physical should be fun and about our well-being, and not just about performance or surpassing physical milestones.

Activewear © Style Runner
Activewear © Girlfriend Collective - Brand available on Smallable
Activewear © Live The Process - Available on Smallable
Brands such as Baserange, Parade, and Araks have fully adopted this new colour palette, choosing invigorating shades to show off their "joie de vivre" spirit. More than that, these brands have been unequivocal in their message: gone are the days when lingerie and loungewear were designed with one body type in mind. With styles and sizes that embrace all body types, they're advocating for more diverse representations of beauty while using a peppy colour palette to highlight this.
Bodysuit © Baserange - Brand available on Smallable
Colours play a vital role in our moods. Sherbert hues are known to soothe and calm. As such, it comes as no surprise that these shades have made their way into children's rooms and nurseries, and the collections of children's brands.

Tea sets by Kid's Concept and Raduga Grez are minimalist yet playful (and pretty enough that parents just may want to use them for themselves!). At the same time, children's furniture design is being streamlined and refined, meaning children's pieces now fit in seamlesslessly with our home's interiors - no compromise on style required.

Wooden tea set by © Kid's Concept - Available on Smallable
"Charlie" Chair © EcoBirdy
© Homestyle magazine x Resene - Styling: Sam Van Kan - Photo: Melanie Jenkins
Wooden tea set by Raduga Grez - Available on Smallable
Ferm Living Kids Stool - Brand available on Smallable
Danish designers are reinventing their typically sombre aesthetic style in a more colourful way, opting for what has been dubbed a "scandicool" palette. This has proven to be highly influential in interior design circles.

Ever-present on social media, the apartments of Danish influencers and designers like Camille Karberg are the first to embody this toned-down trend. Within their charming abodes, we find a mix of sherbet shades and pastel pops reminiscent of colours from our childhood daydreams.

The home of Camille Karberg
Photo: Sarah Stenfeldt
This refreshing trend has also begun to reach the home design scene. Furniture pieces can be found in a selection of milky tones and semi-transluscent shades, innovative designs and playful materials.

Designers have also begun experimenting with a new generation of technologies and techniques - think 3D printing and biodegradable composites - to create dreamlike shades.

Tables © FEST Amsterdam
Candy Cubes© Sabine Marcelis
Componibili Bio Furniture © Kartell
The beauty industry hasn't skipped out on the pastel trend either. A flood of sherbert shades can be seen in the industry's decorative packaging as well as in skincare and make-up formulations themselves, giving consumers beautiful, optimistic beauty products.

Packaging is taking on new, softer forms in soothing monochromatic colour waves. As for make-up, we're seeing the rise of unctuous textures mixed with fresh colour combinations designed to brighten the complexion and highlight natural beauty.

With skincare, innovation and effectiveness are still very much at the forefront of the industry's concerns. However, that hasn't stopped the production of gentle, aesthetically-pleasing products targetting the millennial market's pastel-loving sensibilities.

Photo: Louisiana Mei Gelpi
Make-up by @lotteconcepts
© Ma Thérapie - Available on Smallable
Chance perfume crayons © Chanel
Skincare © Herbivore Botanicals