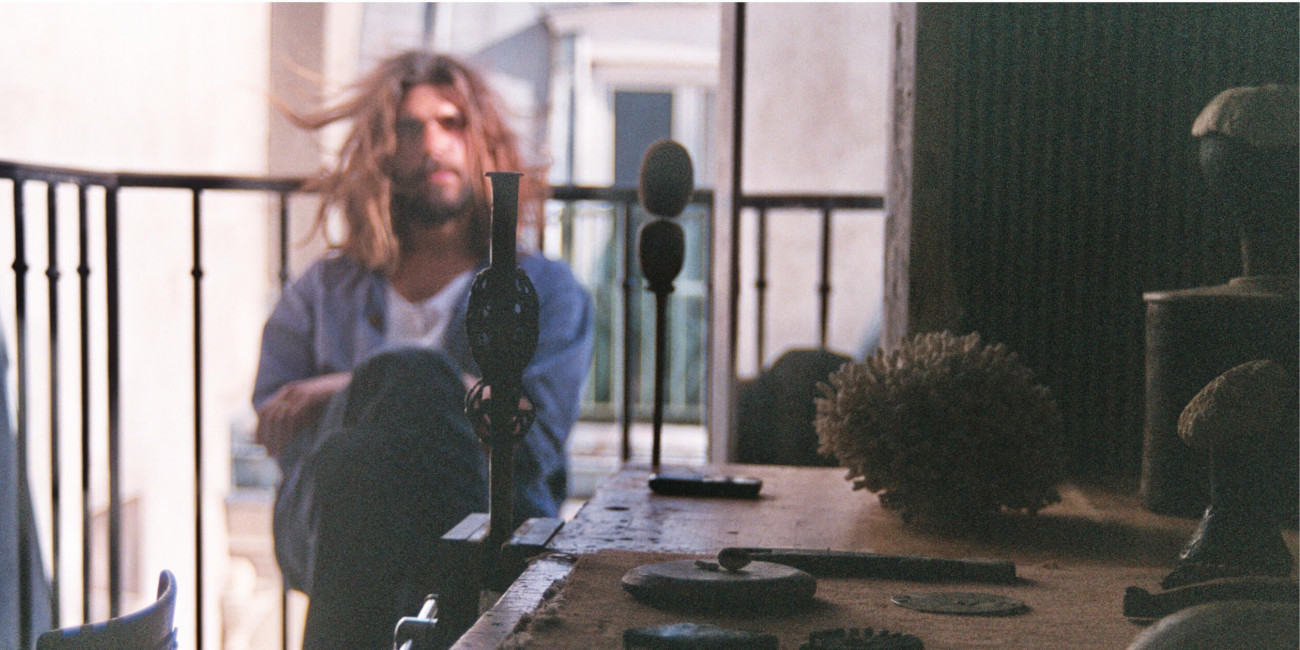 INSPIRATION
Nicolas Lefebvre
An antique Egyptian eye and pre-Columbian pliers, an Amazonian headdress and Nigerian coins, a Khmer mirror and a Berber tent peg: these are just some of the improbable associations created by French sculptor Nicolas Lefebvre. The sculptor connects continents, periods and beliefs from his workshop in the 9th arrondissement of Paris.

He has lived in Peru, holidays regularly in Lisbon and would like to settle down in Greece one day. An eternal traveller, art history lover and eclectic collector; Nicolas is a man of many hats. His favourite label is that of "smuggler", and someone who gives new life to objects. His sculptures are to be exhibited in Saint-Tropez this summer at Lucas Ratton Gallery (we're keeping our fingers crossed!). In the meantime, till those sunny days arrive, the happy father of 9-year-old, Anahi, took some time to chat to Smallable about his life, works and inspirations.

Portraits of Nicolas Lefebvre by Maider Brouqué - maider-brouque.jimdofree.com
WHEN DID YOU START CREATING?

"I studied art history at the the École du Louvres (Editor's note: a prestigious art school in France), where I learned about the life of artists; they are the ones who inspired my need to create. I've always found and loved objects. I bring them back from trips, souks, antique markets, auctions - from all four corners of the world. I'm constantly looking for new objects. I feel like I can grasp history and geography through them. What matters most for me is first of all the emotion the object gives me and its aesthetic aspect in harmony with what I am looking for. Its history comes afterwards. Creating came as a necessity, at the age of 25, when my mother passed away. I was overcome by a compelling need to create."

© Maider Brouqué
HOW WOULD YOU DESCRIBE YOUR ARTISTIC APPROACH?

"My approach is very intuitive, very naive: the objects in my collection have been inspired to come together. Even if my work can echo anthropology - I work with researchers - the objects have a universal side, whether they are Western or Eastern, from 2,000 years ago or today."

"L'Autruche, Hommage à Giacometti" 2017 by Nicolas Lefebvre, Lucas Ratton Gallery, Saint-Tropez
IS THERE A PARTICULAR MEDIUM OR MATERIAL YOU LIKE WORKING WITH?

"The plastic you find in the sea, eroded by salt, by wind. Time wears away faster on it. Degradation is particularly noticeable on plastic objects. A metaphor for our consumer society, perhaps? I also like working with coral and shells. They're very hard and very soft at the same time."

© Jean-baptiste Pellerin
HOW DO MATERNAL IMAGES AND MOTHERHOOD INSPIRE YOUR WORK?

"I began reflecting on motherhood began when I lost my mother and had my daughter soon afterwards. The figure of the goddess mother guides me. It is a comforting and caring presence for all of us. Pierre Rabhi and Edgar Morin talk about it. I work with this image intuitively in my sculptures. In my work, you can also often find the figure of the Egyptian cross of life (the ânkh). I always work with trinities of objects."

"La Berbère Napoléonienne" Sculpture by Nicolas Lefebvre at La Réserve Paris.
"À 4 Mains" Exhibition via IG: @nicolaslefebvre.artist
"À 4 Mains" Exhibition via IG: @galerie127
"À 4 Mains" Exhibition via IG: @nicolaslefebvre.artist
TELL US ABOUT YOUR EXHIBITION WITH SARA IMLOUL AT GALLERY 127 IN MARRAKECH. HOW DID IT COME ABOUT?

"I've been working with Sara for two years. She takes pictures of my sculptures; she interprets them with her eye. We have a real complicity in the work. Sara regularly collaborates with a gallery run by Nathalie Locatelli in Marrakech. Normally, she only exhibits photos, but this time the exhibition took on the appearance of an artist's residence: I composed my sculptures in the gallery's studio, with elements found in Marrakech and its surroundings (as far as Essaouira), then Sara photographed them with a view camera, like in the 19th century, very Arte Povera. We called the exhibition "À 4 Mains" ("With 4 hands"). It was presented at (the art fair) Paris Photo this year and was supposed to tour the world. Hopefully that can still be the case after Coronavirus."

"À 4 Mains" Exhibition via IG: @nicolaslefebvre.artist
WHICH ARTISTS EXHILARATE AND INSPIRE YOU?

"The Dadas, the Surrealists, it's with them that I came to Art Premier (Tribal Art). The Modernists are also very important and a common thread in my work. In fact, they are very much in my Pantheon and all of them appear in my sculptures."
"Rastadada" painting by Francis Picabia, 1920. Collage and ink on paper. The Museum of Modern Art, New York
© Arnold Newman - Picasso in his studio, Cannes 1956
HOW DO YOU TEACH YOUR DAUGHTER ANAHI ABOUT ART?

"Anahi has been immersed in the arts since she was a little girl. I'm a dad and an artist, it's inseparable. She comes to the studio very often. I look for objects with her a lot. She already understands what a work of art is as she lives it with us, people who are focused on our art. I have a workshop outside the house but there are always many objects and sculptures, at home, it surrounds us. I often ask her for her opinion, it can happen that she creates by my side."

© Maider Brouqué
WHAT ARE SOME OF YOUR FAVOURITE MUSEUMS IN PARIS?

"The Musée de la Vie Romantique in the 9th arrondissement, not far from my studio. I think the Petit Palais is just wonderful. I went there very often with my grandfather. He was a collector. He took me to museums, auction houses, Christie's, Drouot..."
Musée de la Vie Romantique, Paris 9th arrondissement
Petit Palais, Paris 8th arrondissement
WHO'S SOMEONE WHOSE WORK OR PERSONALITY GUIDES YOU?

"I have a lot of admiration for Pierre Rabhi, who has become a friend and has written about my work. We have organised auctions for his foundation together. Everything about him speaks to me: his happy simplicity, his metaphor of the little hummingbirds, his indignation for our human rights, his return to his roots, his drive to rediscover the fundamentals. We met in a crowded room, he was hanging in the corner, so was I. The simplest people are the most awake."

Pierre Rabhi © Radio France / Calmann-Lévy Publishing
TELL US ABOUT YOUR APARTMENT. HOW DID YOU DESIGN IT?

"My apartment is bohemian. It's filled with memories of travels. I like the idea of being able to welcome all nationalities into my house and make them feel at home."
AND FURNITURE? WHAT ARE YOUR FAVOURITE ERAS AND PIECES?

"18th century furniture is another thing that transports me! I find it very elegant when it's in its authentic and untarnished state. Also, in a completely different register, Jean Royère's furniture. I have very eclectic tastes; from Napoleon III pedestal tables to ethnographic works. I have some very classical pieces and then I go back to Art Premier. Now that I think about it, I have almost no pieces from the 20th century."
WHY DID YOU CHOOSE THE 11TH ARRONDISSEMENT?

"We came across this flat that belonged to some friends. It was love at first sight. We didn't think we'd come to live in this neighborhood, my atelier is in the 9th arrondissement. The apartment is next to rue Saint Maur, which has been transformed over the past 10 years. The terrace ranges over Père Lachaise and the Ménilmontant stadium, which will soon be a farm

© Maider Brouqué
WHAT IS A GIFT YOU LIKE TO OFFER?

"I like to offer my sculptures. I consider them to have an emotional value, they are created to live with their owners and not to speculate. I like the idea of giving a piece of work that will accompany people."

Sculpture by Nicolas Lefebvre ©nathanlitera
WHERE WILL YOUR NEXT TRIP BE TO?

"Greece. I don't know when, but soon, I hope. I fell in love with the country 20 years ago. I would like to live there a few months a year, find a farm. I also rent a small apartment in Lisbon. I really want to go back there.
I miss travelling.

This year, my daughter had the chance to follow me to Brazil, Morocco and then to India with her mother. For me, "the world is our garden" and I'm going to instill that taste in her. After all, the journey for the journey doesn't make any sense today with global warming, the journey must have something to say, something to pass on."