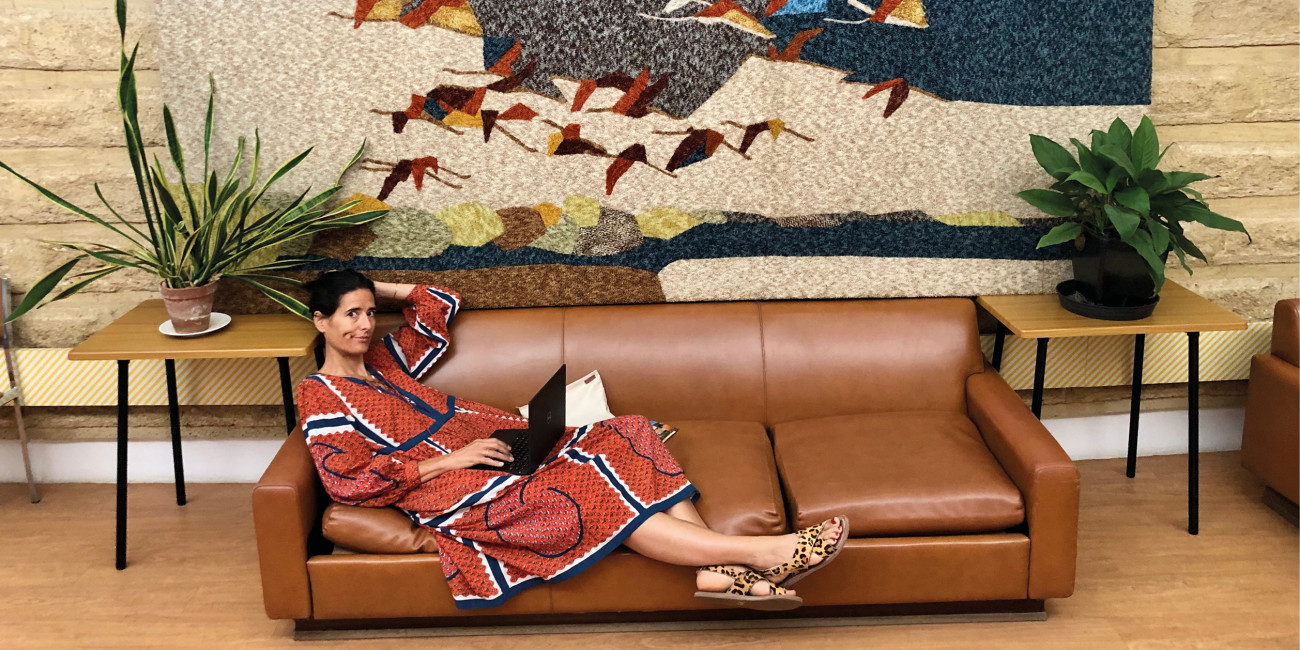 INSPIRATION
Marie Faure Ambroise
Any other year you'd find her jet-setting around the world, but this summer, the founder of French travel blog My Travel Dreams will be spending summer at home in France. Donning one of her retro-printed "Bon Voyage" t-shirts and with three children in tow, Marie Faure Ambroise is constantly in motion: from running her website which combines travel journals, an e-shop, and a yoga podcast for children, she has also recently opened a new kid-friendly guesthouse unlike any other – La Maison Réveillon.

Before she was able to set off again, Smallable spoke to Marie about her thousand and one projects and her plans for this summer.
Photo taken at Les Cabanettes ©MyTravelDreams
HOW DID THE MY TRAVEL DREAMS ADVENTURE BEGIN?
"I've been a journalist for 10 years; I've travelled a lot and I've always loved sharing my discoveries. 10 years ago, I started a Tumblr page to avoid sending thousands of emails to my friends with my travel tips, eventually this evolved into a blog, and then a website… and then when I left my job at Lagardère 6 years ago, I knew I wanted to make it into a global brand. Today My Travel Dreams is a website with recommendations for travelling the world over, but it's also an e-shop selling t-shirts and jumpers, it's a yoga retreat for mothers and children, it's an Instagram account and so much more. It has become a 360° brand focused on travel and family which is a real joy for me."
Palmarin, Senegal © My Travel Dreams
WHAT CAN WE EXPECT TO SEE FROM MY TRAVEL DREAMS?

I'm working on a new winter collection, a book, a TV series (fingers crossed) and some nice collaborations with brands I'm particularly fond of. I was asked on Instagram to launch a My Travel Dreams summer camp, but I don't think I'm ready for that yet!"

Mamma Bum bag, My Travel Dreams
HOW DID THE IDEA FOR THE LITTLE YOGA SCHOOL COME ABOUT?

"I've been organising yoga retreats for mothers and children for the past two years. Together with my friends Agnès Gliozzo, a yoga teacher for children and Priscilla Siney, a yoga teacher for mothers, we came up with the idea for these great weekends where you can escape your everyday life and spend some time with your child, your children or one of your children. Each time it's an incredible experience with truly magical encounters".

"I'm a real anti-screen person and I've been wanting to create an audio series for kids for a long time. So, with Agnès, we wanted to create the first yoga podcast for kids. Season 1, focused on feelings, and was born during the confinement because we felt a real demand in the My Travel Dreams community. Agnès did a live yoga class every morning on Instagram, and I received hundreds of messages from happy parents. It was pretty crazy."

"Today, we're working on Season 2 and a lot of really cool projects for The Little YOGA School brand."
HOW DID THE MAISON RÉVEILLON GUESTHOUSE COME TO LIFE?

"I wanted to create a cool place for urbanites who were in need of some greenery. A house where you can hang out with friends or family, a spot in front of a big fireplace, toys for the kids, a fully equipped kitchen, bookshelves full of books and all those little things that I miss when I rent a conventional house."

"My only requirement for the first house was that it had to be less than an hour's drive from Paris. When, in September 2019, we entered the house and discovered this gem that had been renovated by a well-known French designer in the 50's, we immediately knew that it would be the first place in this new adventure..."

@ Maison Reveillon
WHAT IS SPECIAL ABOUT THE PLACE?

"First of all, the Maison is a work of art. Everything was designed to measure, everything is beautiful. We've tried to keep its original spirit and to respect the work of the designer who dreamt it up in the 50s."
"It is designed for families and special attention has been paid to welcoming babies: there's a cot, a baby food cooker, highchairs, a baby rocker, baby bathtubs, prams, hiking backpacks, activity mats... parents will find everything they need so they can come empty-handed!"

"For older children there's a big room with loads of toys, colouring books, costumes, and board games everywhere, there's a little wooden cubby house in the garden, bicycles… and for the adults we bought a lot of vintage records, we filled the book shelves, equipped the kitchen with a crepe machine and a yoghurt maker..."

"I have partnered with brands that I love to make the experience truly unforgettable. You wash your hands with products from Kerzon, you'll find cushions from Maison Thévenon and you'll drink wine selected by Le Petit Ballon…"
WHAT'S THE COLOUR PALETTE THAT'S BEEN WITH YOU YOUR WHOLE LIFE?

"I'm a fan of colours that were big in the '50s, mustard, pale pink, mint green..."

© Inside Closet
HOW HAVE YOU STYLED YOUR PARISIAN APARTMENT?

"You know, it's funny, I've never actually thought about it. It's a mix of furniture that I've had for a long time, travel souvenirs and little things that you find along the way. There's a big Knoll table, a pink velvet sofa, some framed drawings done by my children, some small vintage school tables, a stuffed wolf's head we brought back from Russia, rattan birds found in Panama... It's a joyful mess that reflects our lives!"

© Inside Closet
YOUR DESIGN FAVOURITES AT SMALLABLE?

"I dream of having a Pacha armchair by Paulin, the reedition of the EM table by Prouvé from Vitra and the pink Loafer armchair by &Tradition."

"I'm also redesigning my daughter's room and I'm going to buy her a mini Bonton rattan sofa bed, a cotton Garbo and Friends bed linen set and a big Lorena Canals rug."

"For the Maison Réveillon, I'd love the Muuto bar chairs, it's so hard to find nice ones, and the TGV Moustache lamp for the kids' room."
Pacha armchair by Paulin at Gubi
EM table by Prouvé at Vitra
Fauteuil Loafer &tradition.
YOUR FAVOURITE PARISIAN SPOT TO HANG OUT ON THE WEEKEND?

"I've got many! The Maison Plisson where you can have brunch with friends and then shop for nice grocery products for the week, the terrace of the Hôtel Providence for an aperitif and the Affable for a romantic dinner. If I feel like getting some fresh air, I'd go to the Saint Cloud park, rent bikes and eat ice cream!"

Maison Plisson
WHAT DOES YOUR IDEAL SUNDAY LOOK LIKE?

"I hate habits and routine. So, I love waking up in a place I don't know with things to discover."

Photo taken at Bali © MyTravelDreams
WHAT HOTEL DO YOU DREAM OF ESCAPING TO?

"I would love to spend a weekend in Juan les Pins to discover the Hotel Le Sud."

Hotel Le Sud © Valerio Geraci
YOUR SUMMER GETAWAY?

"This year, we're going to have a French summer. We were supposed to be going camping for 4 weeks in Africa, but we're going to do a trip around the spots we love: the Camargue with a night at Les Cabanettes and a lunch at La Chassagnette, a week donkey riding in the Pyrenees, surfing in Bidard and seeing lots of friends in the Landes. I'm still looking for ideas for the last two weeks of August."
Les Cabanettes Hotel, Camargue
WHAT ARE THE GIFTS TO GIVE OR TO RECEIVE FOR ANY OCCASION?

"I like offering experiences such as a dinner in a nice restaurant, an extravagant brunch, a massage, a concert. Luxury is the time you spend with people."
Marie Faure Ambroise's wishlist