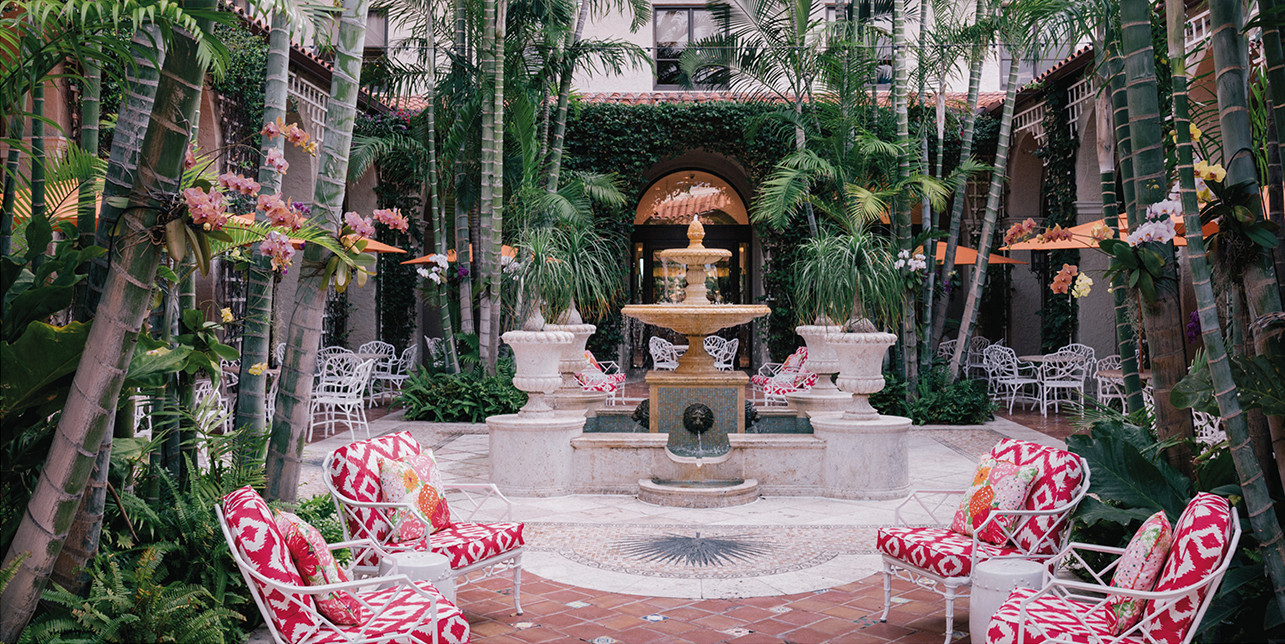 INSPIRATION
Indian Oasis
Lounging on a charpoy, dressed in linen, a chai tea in hand... It's the sweet Indian summer dream that's inspiring designers of all kinds.

This season, decoration, fashion, beauty and wellness are being inspired by the ancestral lands of India and aesthetics from the Eastern world. Take yourself on a calming, spiritual journey through Indian rococo terraces and plunge into a dreamy Garden of Eden.
Come fly with us.
Terrace of The Colony Hotel in Palm Beach © Gal Meets Glam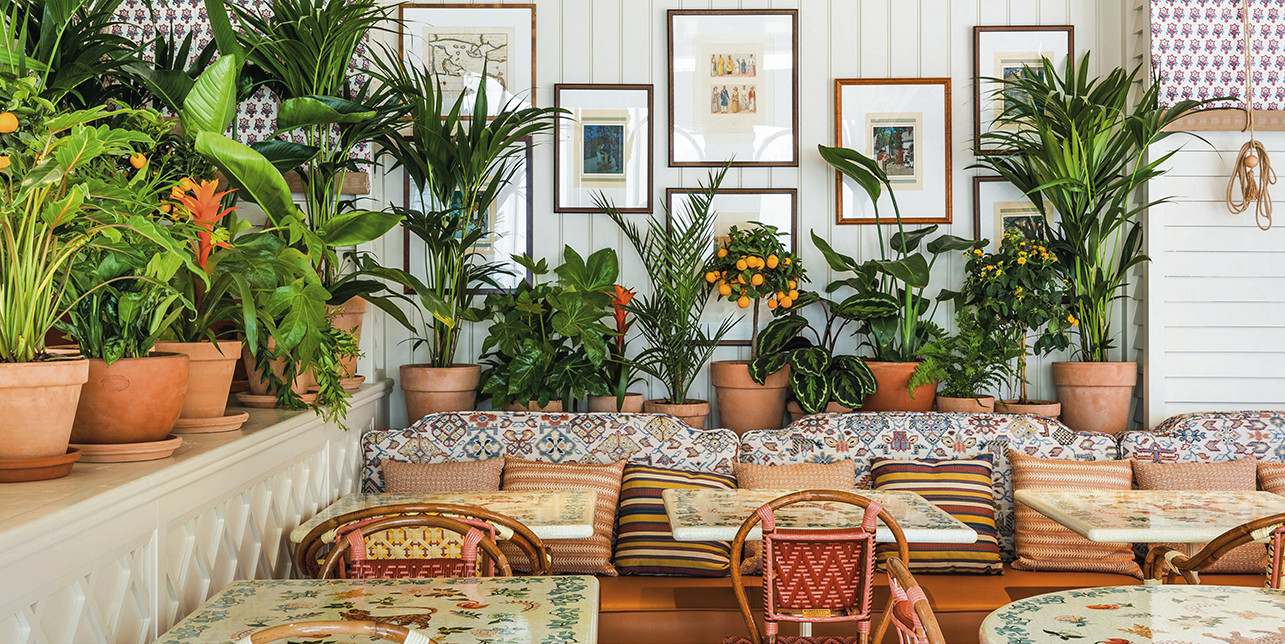 Sir Winston restaurant by Laura Gonzalez in London Photo : Romain Ricard
The art of Indian hospitality has for a long time inspired creators and designers who, in their own way, seek to recreate the laid-back atmosphere of Indian terraces and palaces.

The charpoys (nap beds), linen cushions and oriental patterns paint a bohemian picture, overflowing with lush vegetation. These influences can be seen in London restaurant, Sir Winston, designed by Laura Gonzalez or in the exotic veranda by creator Marie-Anne Oudejans in Jaipur.

Madame Stoltz - Available on Smallable
Jamini Design - Available on Smallable
Sir Winston restaurant by Laura Gonzalez in London Photo : Romain Ricard
Madame Stoltz - Available on Smallable
Terrace of Marie-Anne Oudejans in Jaipur
Photo : François Halard
Autumn bed linen - Available on Smallable
The art of table dressing remains a true art in India. Table services are adorned with abundant floral patterns, fine china and exotic birds that dance among the flavours, as well as traditional ornaments, a reminder of the decorative nature of Hindu living.
La DoubleJ Tableware Collection
Bitossi Home x Funky Table ceramic plates
Jamini Design - Available on Smallable
Carolina Herrera x Cabana Tableware Collection
The botanical aesthetic extends even onto the walls, where it gives the effect of being truly submerged in a wild Indian landscape. A profusion of exotic flora conjures up images of an otherworldly, slightly antiquated place.

La Gare restaurant by Laura Gonzalez in Paris Photo : Jérôme Galland
Wallpaper Chao Praya by ANANBÔ
Papadoom Kitchen restaurant in Paris
There's a renewed sense of importance being placed on quality and artisanship, marking the return of rattan and braiding. Internationally known for their outdoor furniture, Maison Perret & Vibert are inspiring an exotic, vintage look with their pieces that combine intricate scrolls and wickerwork.

More recently, rattan has made a comeback in a variety of colours and varnishes, giving it a modern retro-Scandinavian twist.

Mimi Cuddle Chair & Canopy by Lane Venture
Libellule sitting room Maison Perret & Vibert, Galerie Vauclair
Photo : Thierry Malty
Nothing inspires a designer like walking through an Indian garden in summer. From saris to kurtas, embroidered silk trousers, light cotton dresses in refreshing prints and distinctive artisanal accessories, fashion designers are adding their own take on traditional looks, breathing new life into Indian fashion.

This aesthetic revival is testament to the desire of Indian and international designers to reconnect with their traditional heritage.

Bode SS19
Nanushka SS20 - Available on Smallable
Dinah dress, M.A.B.E. - Available on Smallable
Heer collection by Raw Mango
Far from Bollywood kitsch, the beauty industry is taking inspiration from natural traditions, pathing the way to a more holistic and gentle approach to cosmetics. Plants, roots and flowers are the principal ingredients of this "clean-beauty", inspired by the ancient Hindu art of Ayurveda, and which is being adopted by brands such as Kama Ayurveda, REN Skincare or Agent Nateur.

Kama Ayurveda skincare
Essential oils Urban Outfitters
Magazine : IMIRAGEMagazine
Photo : @karen.rosalie
Agent Nateur - Available on Smallable
REN Skincare - Available on Smallable
Coco Loco by Amritam © Goodearth
Traditionally used in Hindu culture to perfume temples, the scent of flowers, incense and candles is being adopted by the wellness movement to promote the benefits of slower living and elevation through meditation.

Traditions from ancient Eastern medicine are being embraced to awaken the senses and to develop practices that soothe and breathe serenity into our way of living.
Candie Boys Smells - Available on Smallable
Yoga in the Himalayas, hedonistic retreats in Maharaja's palaces or a treatment at the water's edge... More than ever before, India is developing a tourism industry based around wellness, guided by spiritual attention and disconnection. This phenomenon has already been taken up by sportswear brands that offer specialised eco-responsible lines of clothing for yoga practice.

Activewear Girlfriend Collective Available on Smallable
Live The Process activewear - Available on Smallable
Yoga teacher Deepika Mehta @ deepikamehtayoga
Soul & Surf India retreat in Kerala @gabriellazagni