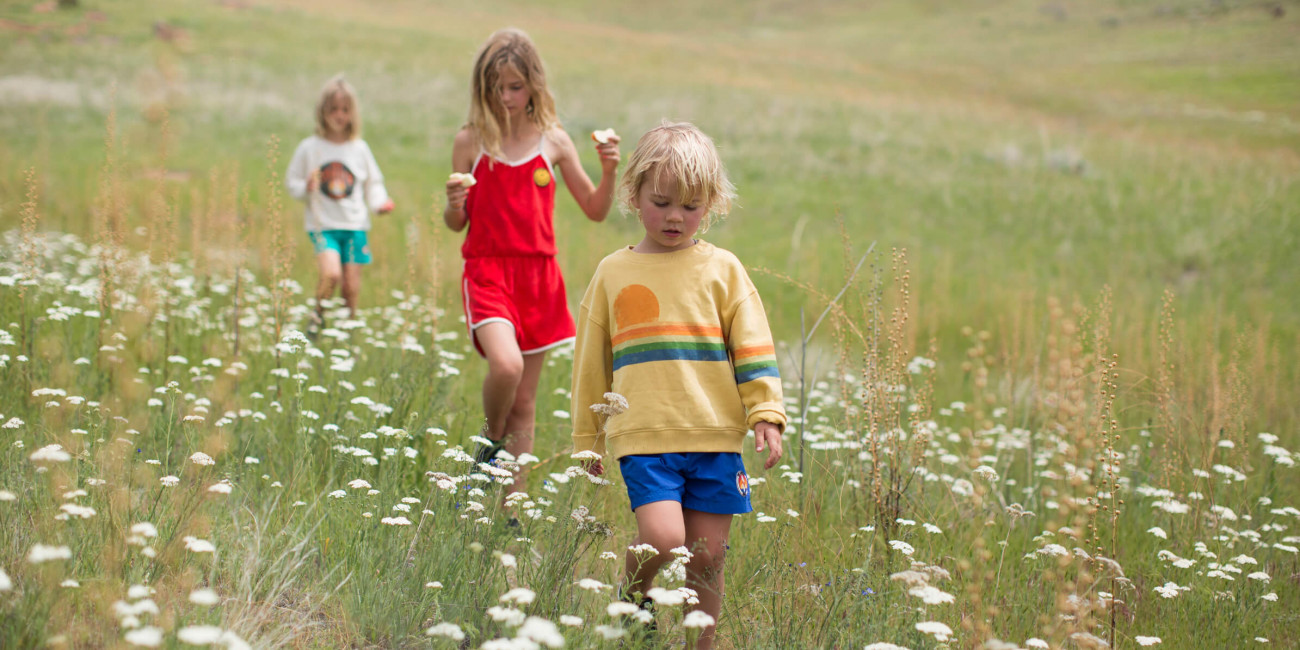 Interview
On the road
with @quartiercollective
In the spring of 2018, Taryn and Martin (known online as @quartiercollective) sold most of what they owned, packed what they could carry and set out with their three children on a grand, global voyage visiting countries like Japan, Morocco, New Zealand and Spain. Since the Coronavirus pandemic hit, the globetrotting family has been temporarily grounded in Idaho, where Taryn was raised and her mother lives. Taryn and Martin took this time to chat with Matilda (age 9), Francis (age 7) and Viggo (age 4) about life on the road, their favourite destinations and most memorable moments.
Matilda, Francis and Viggo are all wearing Hundred Pieces Spring/Summer 2020 collection.
Discover the latest from the brand online.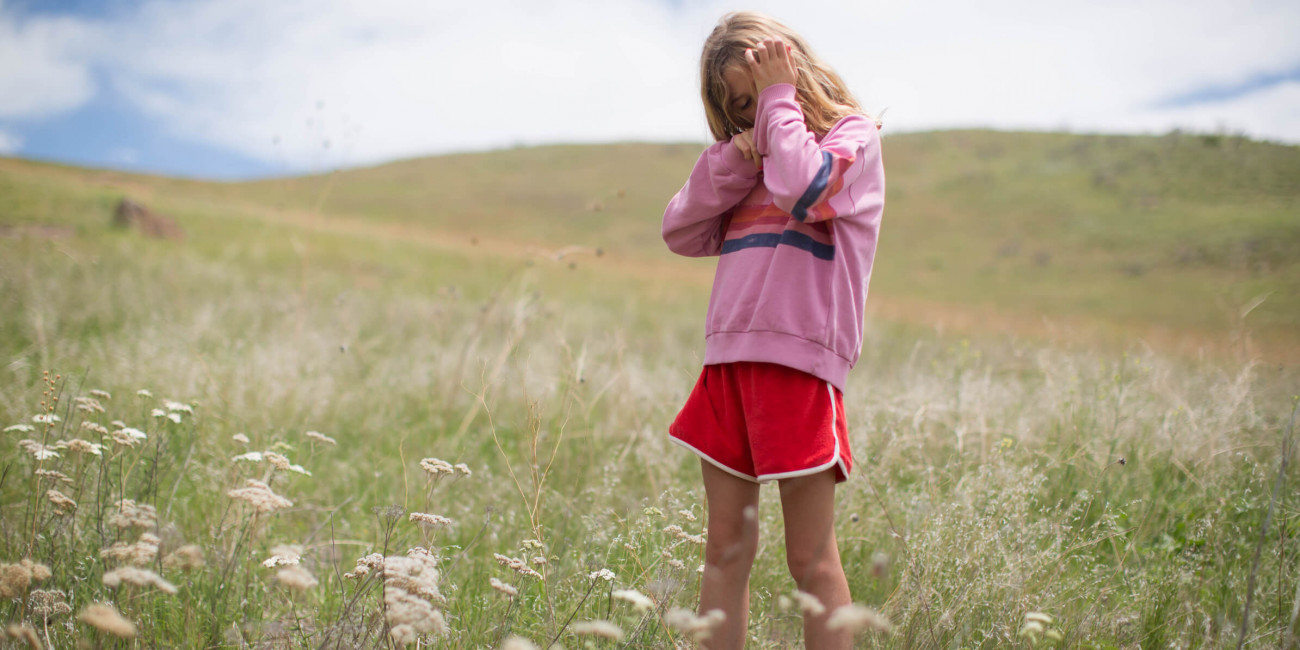 T & M: IF WE COULD GO BACK TO ONE PLACE, WHERE WOULD IT BE?

Francis: Morocco. I liked that we had friends there, and a school we could go to. I like that you can walk everywhere in the Medina (in Marrakech).


T & M: WHAT'S IT LIKE TO WALK THERE?

Matilda: There are donkeys everywhere, it's dusty and so many people all around you.
Francis: But I like when you see an entrance to a house you're like, I don't think that's going to be a very nice house. But then when you go inside there are turtles everywhere, and plants.


T & M: WHAT DO YOU MEAN?

Matilda: Well all the houses kind of look the same on the outside. The walls are like a reddish, yellowish colour and you think it will be all dusty inside.
Francis: But there is kind of a design on the inside of every house in Morocco. There's no roof in the middle, there's a big square space with rooms built into the sides. And then there are all these trees and plants and turtles and pools in the courtyard in the middle.
Matilda: It's like a geode, it doesn't look cool on the outside, but then on the inside it's so beautiful, all filled with crystals.
T & M: ANYWHERE ELSE YOU WANT TO RETURN TO?

Matilda: I'd like to go back to Japan because I just really like it there. It's a really cool place and the food is so good!
Viggo: Yeah! Japan!


T & M: WE TRY TO TRAVEL LIGHT, BUT WHAT ARE SOME IMPORTANT THINGS YOU CARRY WITH YOU?

Francis: My skateboard, Lego and my compass (bought at a flea market in Japan).
Viggo: Lego, my Doudou (his blanket) and other Doudou (his other blanket).
Matilda: My skateboard, my Bundle Bed (these rollup travel beds have been a lifesaver) and art supplies, 'cause you can't find those everywhere.
T & M: WHAT'S THE SCARIEST THING YOU'VE DONE DURING YOUR TRAVELS?

Viggo: Going in a cave (in New Zealand) that was muddy, smelly and wet and had glow-worms. It was scary because it was way under the earth.
Francis: When I broke my arm in Barcelona. The scariest part was when they wheeled me into the surgery room. I was worried that if they didn't do the surgery right, then something bad would happen to my body.
Matilda: We were sailing on a boat in the Mediterranean, in France. We'd just seen a lot of big stinging jellyfish, but then we jumped out of the boat and swam into a cave. The cave was dark but the water was glowing. You had to swim down, then up into the cave. Or night swimming in Sicily. It was a place with a rocky beach; so creepy and we were worried about sea creatures.


T & M: WHICH COUNTRY HAD THE BEST FOOD?

Everybody: Japan! Ramen and dumplings!
T & M: WHAT'S THE BEST WAY TO KEEP OCCUPIED ON AN AIRPLAINE?

Everyone: Movies!
Francis: Collages! We make funny collages out of the magazines and then tape them up around our seats.
Matilda: It was funny when you'd make up silly instructions and voices for the safety cards.


T & M: DO YOU FEEL LIKE OTHER FAMILIES SHOULD TAKE TIME OFF TO TRAVEL?

Francis: I think families should go on longer trips, but two years is too long.
Matilda: Yeah, it's too long for me too. But it's really fun to learn about other cultures, see new places and to do it with your family.
Viggo: Yes! Of course!


T &M: WHAT IS A FAVOURITE MEMORY FROM THE LAST TWO YEARS OF BEING ON THE ROAD?

Matilda: The noodle slide in Japan. The neighbours brought over a long bamboo tree and made like a chute, the noodles came sliding down and everyone tried to stab them and put them in their little bowls with the sauce. But you have to be really fast with your chopsticks! And we went to Bretagne two years in a row, that was so nice.
Francis: The Family Gathering we did in Greece was super fun, cause we got to stay with other kids.
T & M: WHAT'S ONE COOL/IMPORTANT THING YOU LEARNED FROM YOUR TRAVELS (THAT YOU LIKELY WOULDN'T HAVE LEARNED OTHERWISE)?

Matilda: I think it's cool to learn little bits of the languages in each place.
Viggo: Itadakimasu! (Editor's note: Japanese for "Let's eat!" or "Bon appétit").


With the world beginning to open up post-pandemic, the young family is planning to resume their travels in mid-July, with a residency in an Irish castle being the first stop. Following which, they are all excited about finding a place to call home, or at least a home base. Portugal is high on the list.

Follow their adventures on Instagram @quartiercollective or via their website www.quartiercollective.com.