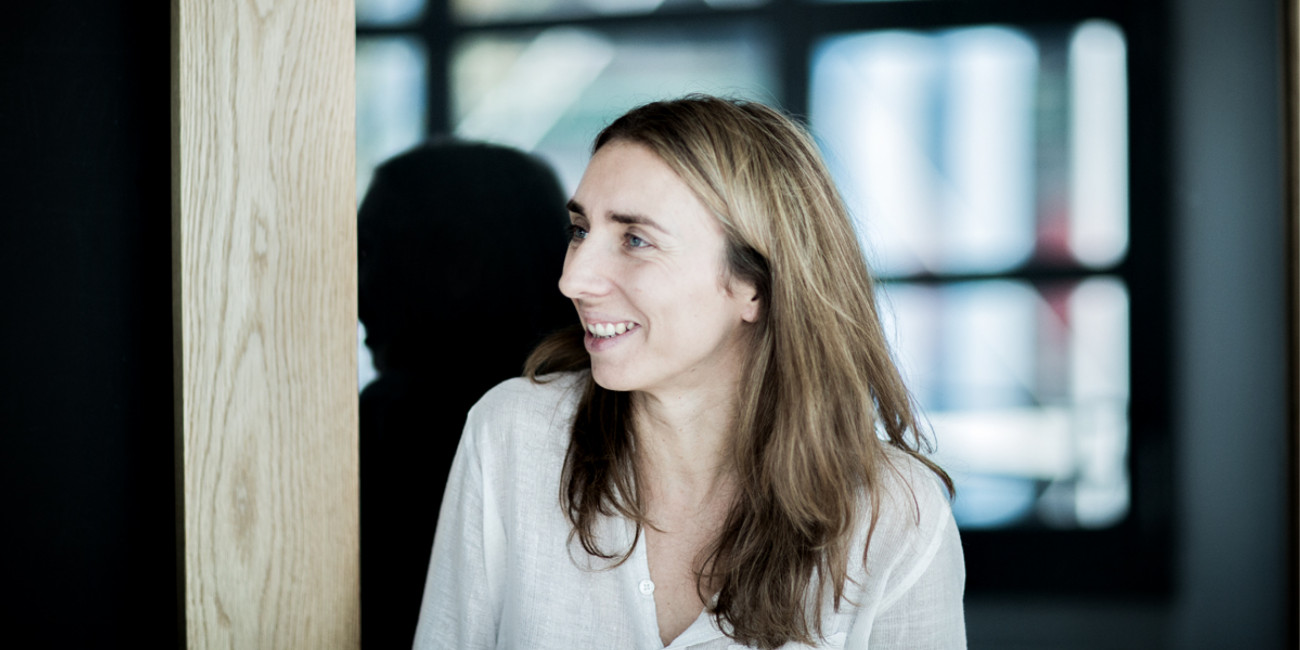 INSPIRATION
Clémentine Larroumet
Pencil in hand, nothing escapes her attention: the objects that surround her, the interiors of
hotels and boutiques or the identities that she imagines for the various brands she
collaborates with.

The co-founder of studio Be-pôles never seems to stop: she's published a collection of travel
books entitled "Portraits de Villes" ("City Portraits"), has restored a chalet in the Alps, and all
while juggling life with four children. In partnership with Smallable, we take a look at the life
of a Parisian woman with a thousand and one ideas.
© Benoît Linero
HOW DID YOU DEAL WITH THE LOCKDOWN AND ITS LIFTING?

"I spent the lockdown between my Parisian apartment and a family home in the countryside. So, I experienced it in very different ways. I enjoyed being with my children in our apartment where I felt truly at home. There was something extraordinary about the quietness of the place and the city. But I also had the chance to experience the arrival of spring in the countryside, which was magnificent. It's something that we don't appreciate enough normally, it was really wonderful to be able to sit back and admire nature's beauty."

© Clémentine Larroumet
"Like everyone, it was more difficult due to the complexity of the situation; managing the
organisation of a busy schedule and each person's workload. I have four children and I
needed to spend a lot of time with some of them to help them stay on track. My husband
kept working. It was quite intense.

I was happy when the restrictions were lifted, life needed to go back to normal. I decided to
come back to Paris on my own on the 11th of May to resume work in better conditions and to
take a break from months of being the steward of the house. I needed some time to breathe
on my own."
WHAT PROMPTED YOU TO DO A SERIES OF OBJECT DRAWINGS?

"I wanted to use the time during lockdown to draw. I needed inspiration, and I've always had a particular connection with objects. Then all of a sudden, I was locked inside with them. None of them are there by chance, they all remind me of something: a moment in time, a person I love or loved, a year, an event. They're a bit like memories or souvenirs."

© Clémentine Larroumet
WHERE DOES THIS LOVE OF DRAWING COME FROM?

"It's thanks to my grandmother that I started drawing 12 years ago when I was expecting my second child. My grandmother had been painting and using watercolour since she was a teenager. She loved nature and landscapes. My profession had for a long time made me want to get into it. So, I made the most of the final months of my pregnancy by going to classes that my grandmother was giving to people in her neighbourhood. She really encouraged me to pursue drawing. I'm happy that she passed on this passion to me."

© Clémentine Larroumet
WHAT ARE YOU CURRENTLY WORKING ON AT YOUR STUDIO BE-PÔLES?

Question 4 >> Remplacer par le texte suivant : QUELS SONT LES DERNIERS PROJETS DE VOTRE AGENCE BE-POLES ? « Nous travaillons sur des projets d'architecture passionnants comme celui de l'Imprimerie du Marais qui déménage dans un bâtiment industriel incroyable dans le 11e arrondissement de Paris et nous réaménageons entièrement les 1500 m2 tout en dessinant l'ensemble du mobilier. Nous avons accompagné également, en imaginant intérieur et identité du lieu, Alice et Jérôme Tourbier dans leur nouveau projet : les Sources de Cheverny qui ouvrira fin en juillet. Après les Sources de Caudalie ils étendent leur offre d'œnotourisme en Loir-et-Cher. » "We are working on some really exciting architectural projects such as the Imprimerie du Marais which is relocating to an incredible industrial building in the 11th arrondissement in Paris, and we are completely redeveloping the 1500m2 space while designing all the furnishings. We also worked with Alice and Jérôme Tourbier on designing the interior identity of their new vineyard hotel: Les Sources de Cheverny which will open at the end of July. After opening their first hotel of its kind Les Sources de Caudalie, they are now extending into Loir-et-Cher with this new project."

© Antoine Ricardou
WHICH "CITY PORTRAIT" IS MOST MEANINGFUL TO YOU?

"It's hard to choose because I love all the stories behind each of the City Portraits as well as the relationships that we built with each of the artists. But I must admit that I do love the
portrait of Naples because my sister Vanessa Atlan was behind it. She was one of the first
four photographers that we brought on board this project. I always find her photographs
particularly moving and I love the poetry that emerges from her work and from Naples. I also
love the City Portrait of Tbilissi by Vincent Lappartient. I was invited by an artist and a
Georgian institution to Tbilissi for the launch of the book and I have such a wonderful
memory of discovering the city after having spent so much time looking at photographs of it
for the book."

© Antoine Ricardou
Portraits de Villes © Benoît Linero
WHAT IS YOUR GO-TO COLOUR PALETTE?

"I'm not necessarily committed to one colour. What I like changes with time, with the seasons and with age. I find monochrome quite boring, at least when it comes to interiors. I love pastel colours as much as I love dark colours. What's beautiful is the contrast and association between them, and how they can complement each other. For a number of years, we have been collecting colour reference cards that we offer our clients. That's the moment we love most, finding colour combinations from the Pantone colour chart. There are some wonderful books on colour, from the more technical 'Natural System of Colours' by Moses Harris which dates back to the end of the 18th century, to the more sensitive 'Colour Moves: Art and Fashion' by Sonia Delaunay. You can pour over them for hours."

© Be-pôles
HOW DID YOU DESIGN YOUR FLAT?

"I live in the 9th arrondissement in Paris in a late 19th century building. My apartment used to be the studio of an architect who lived there until the end of his life. It's lovely because it has a lot of light with high ceilings, the spaces are very beautiful."

© Clémentine Larroumet
"My place is pretty eclectic; I love mixing styles. I have some vintage furniture that I've stolen
from my mother, who is constantly on the hunt for her Bed & Breakfast 'La Singulière', I also
have some objects that I've taken from our family homes. The bulk of my furniture is vintage,
but I'd love to have some designer pieces. I have a couple of designer lamps and some
tableware by Astier de Villatte and India Madhavi. I have a lot of small objects that I am very
attached to. For many years I've been collecting the work of artists, photographers, painters
or illustrators that I mix with my own drawings and personal photographs to decorate the
walls of the different rooms of the house. I look at them all the time."
YOUR DESIGN FAVOURITES FROM SMALLABLE?
"I am a big fan of the Hay brand. I fell in love with the Bonbon pendant lights that were designed in collaboration with Ana Kras."
Suspension « Bonbon » Hay - available at Smallable
YOUR FASHION FAVOURITES FROM SMALLABLE?

"I have so many. Between my 16-year-old daughters, and my 12 and 4-year-old sons I usually
want to buy everything. I'm particularly fond of brands like Finger in the Nose, Hundred
Pieces, Bellerose and of course Bobo Choses with whom we are going to launch a small
collection next Spring in line with the release of our Kids City Portrait on Barcelona. Because
of Coronavirus we had to postpone the project which was planned to be released before the
end of the year."
A FAVOURITE PARISIAN SPOT TO HANG OUT ON THE WEEKEND?
"The 9th arrondissement, around Rue Henri Monnier is full of pretty boutiques and vintage
stores and a visit to Debeaulieu is a must, to experience the magic of their flower
arrangements."

WHAT DOES YOUR IDEAL SUNDAY LOOK LIKE?
"A lazy morning followed by a long lunch with family or friends and a bike ride through Paris
in the late afternoon."
YOUR SUMMER GETAWAY AND DREAM HOLIDAY DESTINATIONS?

"In summer I dream of the Mediterranean, which often takes us to Corsica, and more specifically to Cap Corse where we have a family house. I also love Cadaqués where we've spent many summers. Sometimes we stop in Italy around the great lakes, which are full of magical little spots. We end our summer with our family in the mountains in a small chalet in the Alps that we rebuilt two years ago."

Schia, Italy - © Clémentine Larroumet
YOUR FAVORITE HOTEL TO ESCAPE TO?

"Les Roches Rouges in Saint-Raphaël, facing the sea. There's nothing better."

Hostel Les Roches Rouges © Benoît Linero
Clémentine Larroumet's Selection