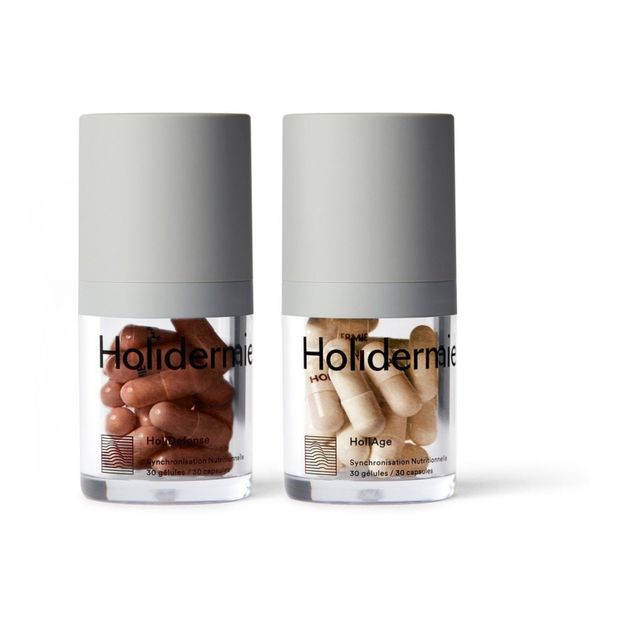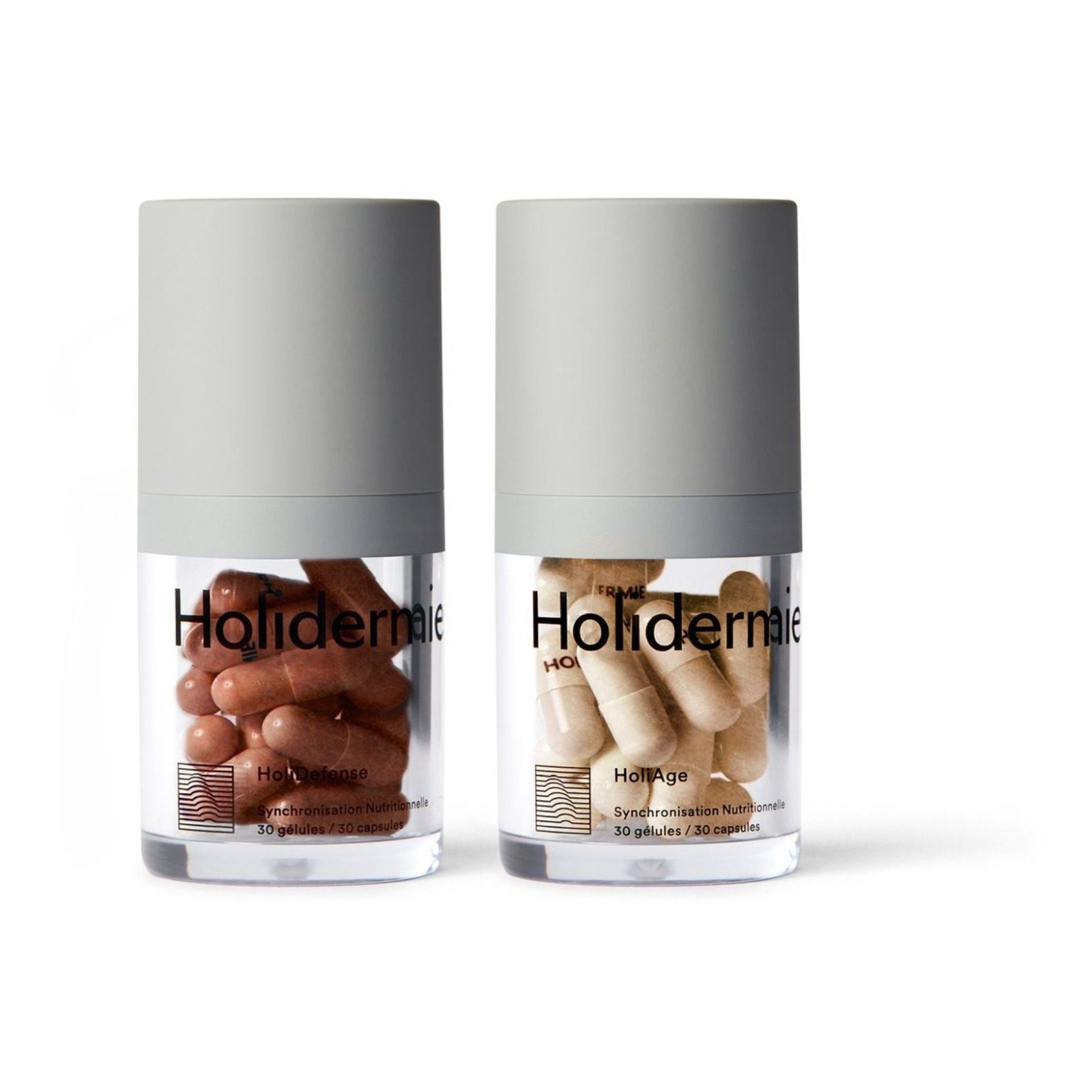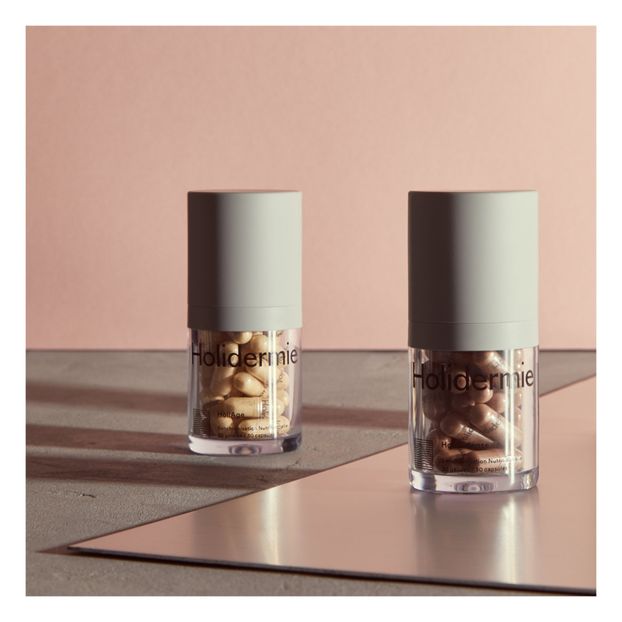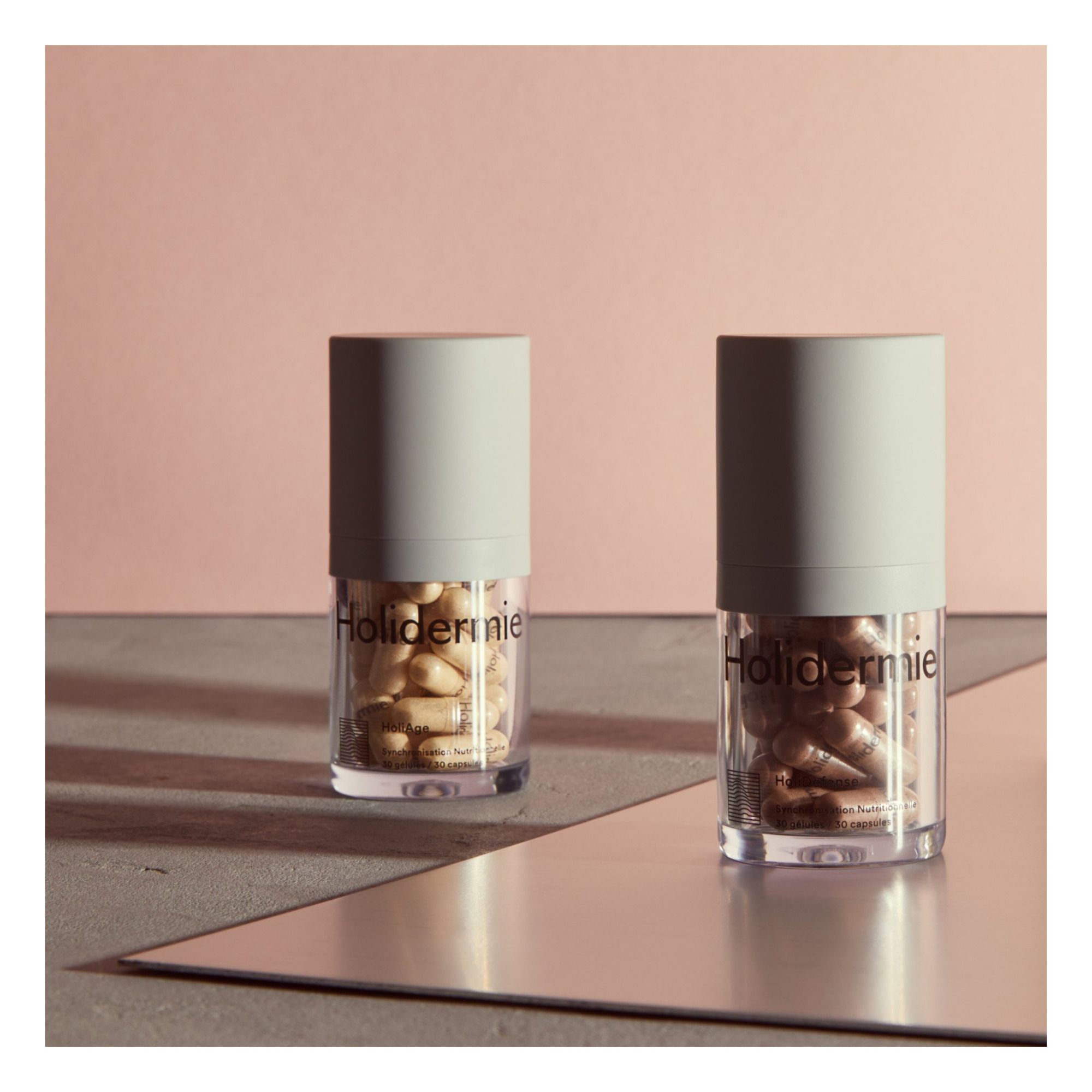 HoliProtect Protective Nutritional Supplements - 60 capsules

Description
Nutritional Synchronization HoliProtect is a program of 2 food supplements, specific to Holidermie, designed to be taken for at least 30 days. It constitutes the fundamental nutriceutical routine for urban skin particularly exposed to oxidative factors.

HoliDefense Capsule - A true cocktail of probiotics and antioxidant active ingredients, the formula contains Vitamin E and Zinc which help protect cells against oxidative stress. It also contains polyphenols from grape seeds and maritime pine bark.

HoliAge Capsule - The formula contains 50mg of Horsetail extract and Vitamin A which helps maintain normal skin. Evening Primrose and Linseed Oils are rich in Omega 3 and 6 and Blueberry, in antioxidant polyphenols.

BENEFITS:

Probiotics are living microorganisms that keep our bodies healthy. They are also called "good bacteria". They strengthen the skin microbiota, which is the collection of microorganisms living on and in the human body. This microbiota is an integral part of the skin's barrier function and helps us absorb nutrients, educates our immune system and plays a protective role.

Horsetail is very rich in silica with remineralizing properties. Silica participates in the synthesis of collagen, a major component of the skin's support tissue which ensures its firmness and density.

Pycnogenol®, contains the bark of a unique maritime pine from a forest devoid of pesticides and herbicides, contains procyanidins, bioflavonoids as well as organic acids. These active ingredients help fight against free radicals in order to prevent skin aging: they act on the regulation of inflammatory reactions allowing the skin to be protected from UV exposure and on the regeneration of collagen.

OPCs, polyphenols present in grape seeds, have remarkable antioxidant properties. They are powerful free radical scavengers, which help reduce damage from oxidative stress.

COMPOSITION:

Probiotics, Horsetail, Pycnogenol®, OPC.

DIRECTIONS FOR USE:

Take 1 HoliDefense capsule and 1 HoliAge capsule each day, ideally in the morning, 15 minutes before breakfast.

Enhance the results with Holidermie's cosmetic treatments.

INGREDIENTS:

Grape seed extract (Vitis vinifera L.) titrated to 95% OPC *; capsule shell: hydroxypropylmethylcellulose; dry extract of aerial part of field horsetail (Equisetum arvense) titrated to 7% silica [nano]; zinc citrate; D-alpha tocopheryl acetate (vitamin E); dry extract of bark of maritime pine (Pinus pinaster Aiton); lactic ferments: Bifidobacterium infantis, Lactobacillus casei, Lactococcus lactis subsp lactis, Lactobacillus acidophilus, Bifidobacterium bifidum, Bifidobacterium longum, Lactobacillus plantarum, Lactobacillus rhamnosus; resveratrol; anti-caking agents: magnesium salts of fatty acids.

HoliAge Capsule Ingredients:

Biannual evening primrose seed oil powder (Oenothera biennis L.); capsule shell: hydroxypropylmethylcellulose; dry extract of aerial part of field horsetail (Equisetum arvense) titrated to 7% silica [nano]; blueberry berry powder (Vaccinium myrtillus L.); glutathione; linseed oil (Linum usitatissimum L.); anti-caking agent: magnesium salts of fatty acids; retinyl acetate (vitamin A); copper gluconate.
Details : Cosmetics items may not be refunded or exchanged
Made in : France
Compléments alimentaires et vitamines
Compléments alimentaires et vitamines