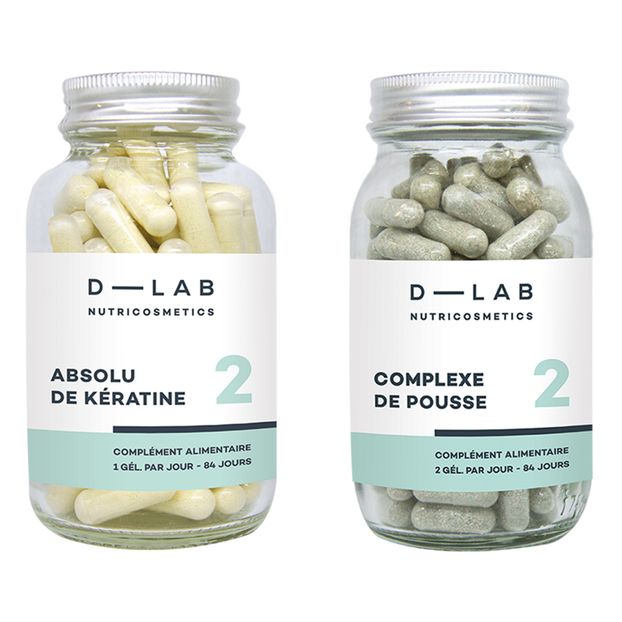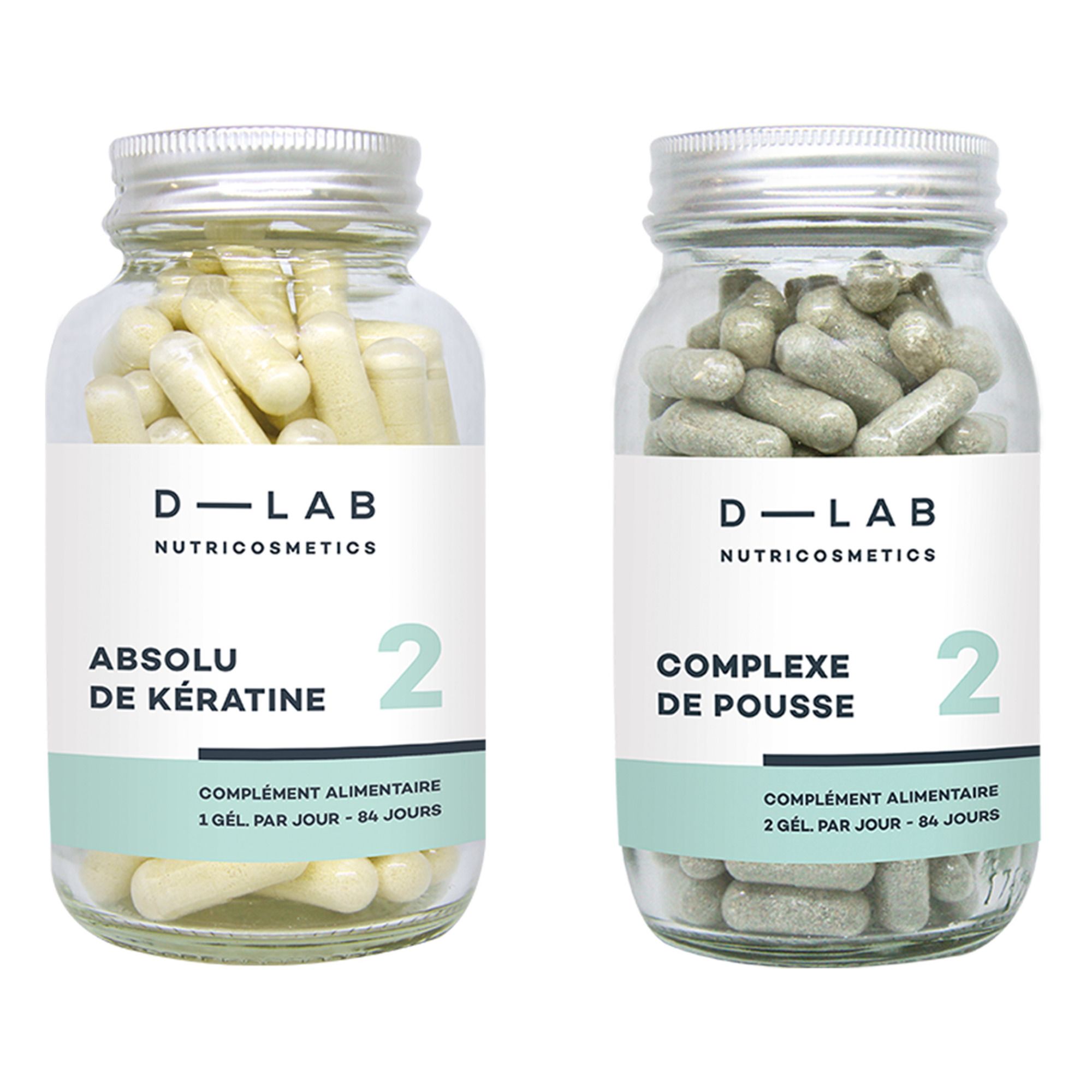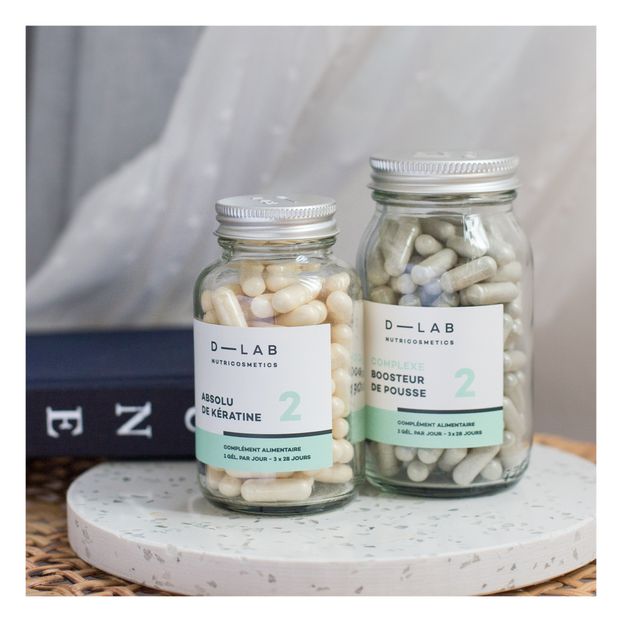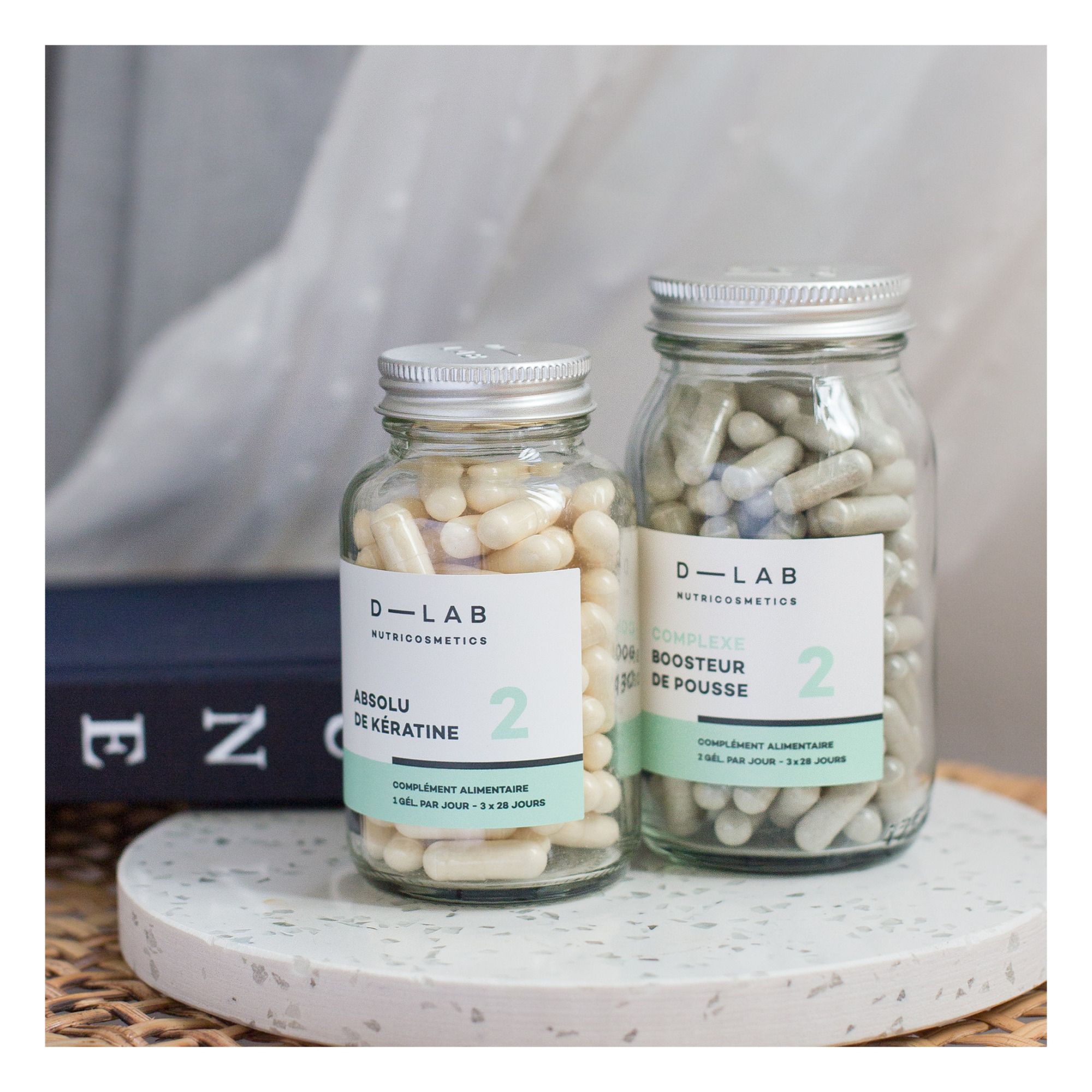 Hair Nutrition Program - 3 month

Description
This best-selling duo has a 360° effect on capillary fibres thanks to its two complementary nutritional approaches. It revitalises and deeply reconstructs your hair, improves the quality of the capillary fibre, reduces hair loss and accelerates growth.

BENEFITS:

GROWTH BOOSTER: A blend of active ingredients which are essential in the creation of keratin, including: sulfur amino acids, known to deeply nourish the hair; titrated spirulina with 60% protein which improves blood circulation; Vichy thermal salts exclusive to D-LAB; and B-group vitamins to nourish the capillary bulb. In addition, the formula includes a blend of stimulatory active ingredients made up of bamboo extract and roquette, known for their beneficial effects on hair bulb activity.

PURE KERATIN: A natural and innovative keratin sourced from sheep that are raised in a natural environment and ethically shorn using cruelty-free methods in the presence of a vet and following very strict set of requirements. Developed using a natural, patented extraction procedure in order to obtain soluble tripeptides whose amino acid profile is identical to that of humans'. 96% bioavailable and scientifically proven. A clinical study has proven the efficacy of D-LAB's keratin on hair loss, and the mass and structure of the capillary fibre, for a dose of 500mg per day. Highly dosed with 500 mg in a single capsule, which is the most effective dose as proven by the clinical study.

COMPOSITION:

The formulas are composed of a selection of natural active ingredients that are naturally present in food. Plant-based capsules that pass through the stomach and are released in the intestines, where the active ingredients are absorbed. Cruelty and gluten free. 100% clean: natural ingredients that are naturally present in everyday foods without nanoparticles. Developed with NO GMO, NO irradiated components, NO preservatives, NO endocrine disruptors, NO Titanium dioxide, NO chemical solvents, NO artificial flavouring. Made in France, 120 22000 certified. Low environmental impact: jars made from 27% recycled products and infinitely recyclable, cardboard packaging sourced eco-responsibly, use of plant-based inks and printed at eco-approved "Imprim'Vert" certified printers.

DIRECTIONS FOR USE:

The Capillary Nutrition Duo comprises 2 formulas to be taken at the same time. Only 1 capsule for the Pure Keratin and 2 capsules for the Hair Growth Complex, to be taken at any time of the day that suits you. The program is recommended for 3 x 28 days. Can be taken continuously thorough out the year. These formulas are suitable for everybody including women who are pregnant or breastfeeding.

INGREDIENTS:

Ingredients in the Pure Keratin: Cynatine® HNS: Keratin of natural origin (500 g) - Vegetable capsule: Hydroxypropylmethylcellulose - Anticaking agent : Magnesium stearate.

Ingredients in the Hair Growth Complex: Arugula (aerial parts) - Eruca sativa (400 mg) - Bamboo (young shoot) - Bambusa arundinacea (200 mg) - Vegetable capsule: Hydroxypropylmethylcellulose - L-methionine (100 mg) - L-cystine (100 mg) - L-lysine (60 mg) - L-arginine (60 mg) - Lithothamne (seaweed) - Phymatolithon calcareum (30 mg) - Spirulina (seaweed) - Spirulina platensis (30 mg) - Chlorella (seaweed) - Chlorella vulgaris (30 mg) - Vichy thermal salts (30 mg) - Anticaking agent : Magnesium Stearate - Vitamin B5 (12 mg) 200% NRV - Vitamin B9 (200 µg) 100% NRV - Vitamin B8 (50 µg) 100% NRV.



Details : Cosmetics items may not be refunded or exchanged
Made in : France
Targeted treatments
Targeted treatments