Zadig & Voltaire
Zadig & Voltaire is the legendary French fashion brand known internationally for its free-spirited, rock'n'roll designs. Founded in 1997 by Thierry Gillier, Zadig & Voltaire has been creating fashion-forward designer kids' fashion since 2006. Taking inspiration from its mainstage collections, full of references to art, rock and everything in between, the brand makes clothes for kids aged three-months to 14 years. Its kids' collection is made up of luxurious but wearable wardrobe staples from cashmere jumpers, jeans, collared shirts and T-Shirts for its boyswear to tom-boy cool dresses, skirts and blazers. With inimitable French cool that both parents and kids adore, Zadig & Voltaire makes kids' clothes and teen fashion that is on-trend, chic and always a good idea. Find out moreClose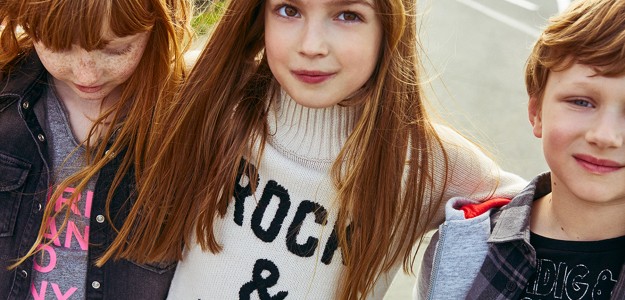 THE ZADIG & VOLTAIRE STORY
Founded in 1997 by Thierry Gillier, Zadig & Voltaire was one of the first brands to popularise 'affordable luxury'. Originally from Troyes, in France's north-east, fashion and style are in Thierry's DNA; he is the grandson of André Gillier, co-founder of the iconic French brand Lacoste. Taking inspiration from Voltaire's
Zadig or The Book of Fate
for the brand's name and philosophy, over the years Thierry has built a modern-day French fashion house full of charisma and rock attitude. First rising to prominence with its edgy women's fashions and cashmere collections, a fabric that Zadig & Voltaire is still known for revitalising and modernising today, the brand launched a men's range in 2004 and delved into the world of kids' fashion in 2006. Embodying a new type of French luxury, Zadig & Voltaire now create rock'n'roll collections
par excellence
for all the family.
ZADIG & VOLTAIRE KIDS
For children aged three-months to 14 years, Zadig & Voltaire's range of clothes for kids reimagines key pieces from the label's main collections, bringing a touch of rock 'n' roll glam to the wardrobes of little ones and teens. From
boys'
and
girls' jumpers
to T-Shirts and jeans, Smallable is proud to present our selection from the latest kids and teens' collection by Zadig & Voltaire.
Close