Zadig & Voltaire
Zadig & Voltaire is the legendary French fashion brand known internationally for its free-spirited, rock'n'roll designs. Founded in 1997 by Thierry Gillier, Zadig & Voltaire has been creating fashion-forward designer kids' fashion since 2006. Taking inspiration from its mainstage collections, full of references to art, rock and everything in between, the brand makes clothes for kids aged three-months to 14 years. Its kids' collection is made up of luxurious but wearable wardrobe staples from cashmere jumpers, jeans, collared shirts and T-Shirts for its boyswear to tom-boy cool dresses, skirts and blazers. With inimitable French cool that both parents and kids adore, Zadig & Voltaire makes kids' clothes and teen fashion that is on-trend, chic and always a good idea. Find out moreClose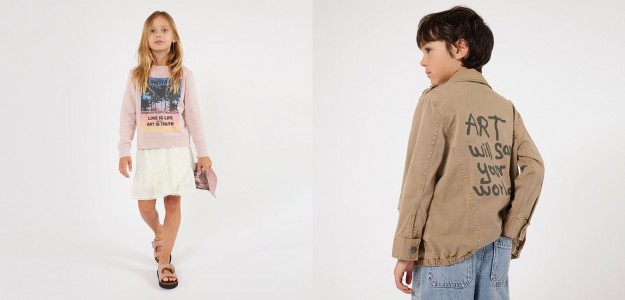 Interview with Cecilia Bönström
Artistic Director of Zadig & Voltaire
The sun is shining in Paris. Strolling along the Seine river, we're heading to Zadig & Voltaire's Parisian headquarters, located in a beautiful old Haussmann building surrounded by gardens in the 16th arrondissement. The building is grand with high ceilings, ornate moulding and a marble staircase. Works of contemporary art adorn the walls and there is a picture-perfect view of the Eiffel Tower. Here is where the magic happens, home to Zadig & Voltaire's offices, design and creative ateliers and showroom.
We're here to meet Cecilia Bönström, the French brand's Artistic Director. She talks to us about her childhood, her sources of inspiration, how she came to join Zadig & Voltaire and how she balances her busy professional life with that of her personal life.
CECILIA, CAN YOU TELL US A BIT ABOUT HOW YOU JOINED ZADIG & VOLTAIRE?
I came to Zadig & Voltaire in 2003, looking to challenge myself personally. I had been a model for 15 years and that was going well but all of a sudden, I wanted to try something else, to learn and follow my passion: fashion. I was a Zadig & Voltaire loyal customer and I loved all their stuff so I called them and presented a mood board with my Spring/ Summer 2003 vision for the brand. And what do you know, they took 'me on as an assistant! Luckily enough, I knew Thierry Gillier, the brand's founder, had a very rock 'n' roll spirit. He hired someone who had just knocked on the door with little to no experience, now that was something else. Three years later, I became Artistic Director. On my first day, I had a little vintage lace pyjama top with me in my bag, which would later inspire our iconic silk and lace camisoles, still a best seller even 15 years later.

HOW DID YOUR CHILDHOOD INFLUENCE YOUR CAREER?
Everything about my childhood had an influence. My parents raised me lovingly yet firmly. A no was a no and the rules were the rules. They were quite strict but they gave us (me, my twin sister and my younger brother) so much love that I never rebelled or went through a difficult teenage phase. They never used words like 'beautiful', 'ugly', 'clever' or 'stupid'. They just supported and trusted us. Thanks to them, I have the balance and confidence I need to take on anything. That's what gave me the courage to change career at the age of 33 and start off in a job for which I wasn't trained. It's all in the mind, you just have tackle life head-on.

WHAT ATTRACTED YOU TO THE WORLD OF CHILDREN'S FASHION? IS THERE A LINK BETWEEN THE ADULTS' COLLECTIONS AND CHILDREN'S COLLECTIONS?
I'm 48 now and I would have liked to have more children. I've always connected with kids, even when I was a young model and had to work with children I didn't know. So, the 'mini-me' collection is a logical continuation of the 'Zadig woman'. Zadig & Voltaire offers fashion that's 'cool' and really perfect for kids.

WHAT ARE YOUR SOURCES OF INSPIRATION?
I never start a collection from a blank page. We love to put a new twist on our best sellers here. But my inspiration comes from everyday life: a girl in the street, a photo on Instagram, a colour in a painting at an exhibition or vintage shopping.
HOW DO YOU STAY ORGANISED? DO YOU HAVE A DAILY ROUTINE?
My daily routine is organised down to the very last detail because I have three children to look after and a full-time job. I prepare everything for the kids and pick out my outfits the night before. There's not one spare minute in the morning for any questions or hesitations. I love sitting down to breakfast with my children. Of course, now my big kids take themselves to school, but my favourite time of day is walking my 7-year-old to school, hand in hand. I love chatting with him. But when I arrive at the office, I almost forget I even have kids. I'm absorbed by my passion until I leave in the evening. I come home at around 7:30pm, make sure they are doing their homework, then we have dinner as a family. Or I go out and the older ones look after Emil, my youngest, and cook dinner!

HOW DO YOU BALANCE YOUR PROFESSIONAL COMMITMENTS WITH YOUR PERSONAL LIFE?
Balance is about loving both of them equally! When I'm working, I think about nothing else, and the same goes for when I'm with my kids. I love rollerblading or playing cards with them. It's really important to always live in the present.

WHAT IS YOUR FAVOURITE THING ABOUT YOUR JOB?
My job is all about creativity and expression. Zadig & Voltaire allows me to express my vision of fashion for upcoming seasons and that's really exciting. I think my favourite part is meeting so many different people and travelling. But when I'm creating a collection, my favourite part is choosing the fabrics! I love finding hidden gems.

CHILDREN'S FASHION HAS EVOLVED GREATLY OVER THE PAST FEW YEARS. WHAT DO YOU DO TO STAND OUT?
That's a good question, but the same answer goes for adults' fashion. There's so much competition out there, but Zadig & Voltaire has always stayed true to its unique identity from the very beginning. Always with a nonchalant, devil-may-care feel and a touch of humour. And the materials are different to those used by other brands. Softer, more washed. Joyful colours. Simplicity with a twist. And mums really appreciate the balance and good taste applied to every piece.
WHAT ARE THE SIMILARITIES BETWEEN YOU AND THE WORLD OF ZADIG & VOLTAIRE?
I think it was my destiny to work for Zadig & Voltaire because everything matches me. My Swedish upbringing instilled a love for all things pure and practical in me, and the Zadig & Voltaire aesthetic reflects these attributes. The Zadig & Voltaire women is masculine/feminine with a sporty yet chic energy, just like me in my youth.

WHAT ARE THE NEXT STEPS FOR ZADIG & VOLTAIRE KIDS?
I work closely with the CWF (Children Worldwide Fashion) group; we work together really well and have been collaborating since 2016. In our stores and department store concessions, the figures are constantly improving, so we just want to carry on designing collections together that please our customers.

WHAT IS YOUR PHILOSOPHY?
"Smile and the world smiles with you."
WHAT IS THE BEST PIECE OF ADVICE YOU HAVE BEEN GIVEN?
The best piece of advice I have heard came from my mother: never compare yourself to anyone else. And never be jealous because it's pointless. She told me to concentrate on what life has given me and work on that to improve myself.

WHAT DO YOU LIKE THE MOST ABOUT SMALLABLE?
Smallable? I love it all. The concept, the look, the products. Smallable has always had its own special footprint, a recognisable, desirable style. So, bravo!
Photos & interview by Yasmina Perez
Close