Zadig & Voltaire
Discover the children's collection by Zadig and Voltaire exclusively on SMALLable! The famous Parisian brand has designed a "bohemian rock" fashion collection for kids from 3 months to 14 years. You can find all of the signature pieces and the fabrics that made the brand famous: comfy cashmere jumpers, light cotton tunisian collar t-shirts, checked shirts and printed scarves. Zadig & Voltaire kids takes inspiration from rock and roll for its boyswear, and glittery stickers jazz up the girls' skirts and blazers. A range of kids' designer clothes and teen fashion that will appeal to mums that are already disciples of Zadig and Voltaire clothing, but that will appeal even more to their children! Follow each new collection at the Zadig & Voltaire Kids online boutique on Smallable. Find out moreClose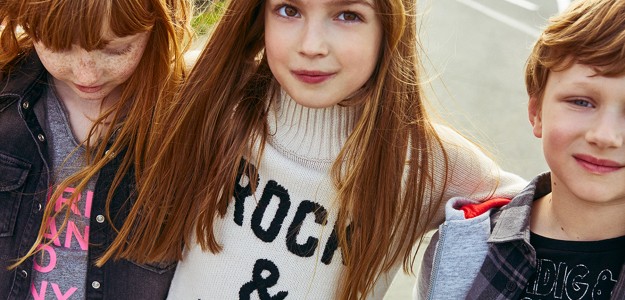 The Zadig & Voltaire Story
Founded in 1997, Zadig & Voltaire was one of the first brands to position themselves in the affordable luxury sector.
For Thierry Gillier, the founder of Zadig & Voltaire, fashion truly is a family affair and for good reason as he is the grandson of André Gillier, co-founder of the iconic Lacoste brand.
Originally from Troyes in Northeastern France, Thierry Gillier is a true fan of literature with the name of his first shop, Zadig, paying homage to Voltaire's novel by the same name.
When the Zadig boutiques were first launched, they carried many brands and it wasn't until 1996 that the founder developed his first line of cashmere clothing under the Zadig label. The following year, the brand took the name Zadig & Voltaire and Thierry met the woman who would become his wife: Amélie. It was Amélie who then brought in the trendy style and rock 'n' roll vibe that was missing from the label's DNA.
Success was on the cards and Zadig & Voltaire established itself as a major retailer for stylish and edgy women.
In 2004, the brand decided to open its doors to men's fashion and then expanded again in 2006 with a
kids' fashion
range.
Zadig & Voltaire Kids
Dedicated to children aged 1 month to 16 years, the Zadig and Voltaire kids' clothing range revisits the label's key pieces to bring a touch of rock 'n' roll to the wardrobes of little ones and teens. Discover the famous
boys'
and
girls' jumpers
, t-shirts and more on Smallable.
Close