Whole
Once upon a time, nestled near Paris, there was a little workshop where lived a woman who loved nature. Aurélia Wolff gets around by bike, gathering the fabrics that she will later cook...in order to dye them. She gets the colours she wants from avocado skins, carrot tops and logwood, which come to subtly tint the locally cultivated cottons, flax and hemp. Every day a real fairy tale is written here... The pots bubble and the fabrics dry all along the washing line, waiting to be transformed into objects of desire for your home. These products are 100% organic and made in France, and are certified by ECOCERT. We're struck dumb by the talent of this craftswoman, who is a joyous advocate of slowness and subscribes to a traditional way of life.
Find out moreClose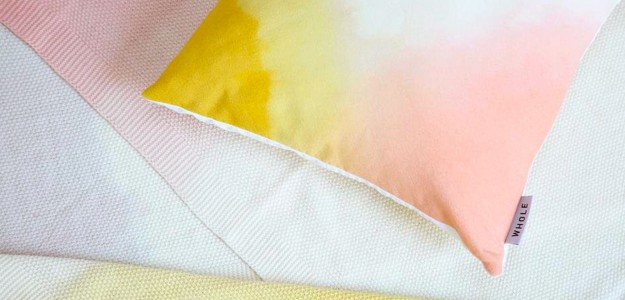 ​Aurélia Wolff, founder of WHOLE
Aurélia Wolff is the founder of WHOLE and an advocate for slow, artisanal production. She spoke with us about her journey, her brand and her book "Teintures Végétales".
Tell us about what WHOLE stands for.
WHOLE stands for
W
aste-free,
H
and-dyed,
O
rganic,
L
ocal,
E
co-friendly. WHOLE has a double meaning, signifying entirety and togetherness. This positive second meaning is in tune with and brings together my approach and my textile projects.

How would you describe WHOLE and what you do?
WHOLE, for me, is at the same time a studio that creates aesthetic textile objects for the day-to-day, which are contemporary, made from naturally dyed fabrics using plants; while also being a laboratory for reflection with stakes in today's artisanal and ecological innovations. Finally, it's also a production workshop on three levels: from custom-made, small or medium-sized collections up to the dying of fabrics.
You studied marketing and management. How did you make the leap from Excel Sheets and to creating?
I always had a strong creative side, so I evolved from sewing fashion to fabric dyeing through my experiences. Textiles and colour are my favourite modes of expression. Above all, I am independent and an autodidact.
What influenced you towards ecological production?
Before WHOLE, I had another textile brand in women's ready-to-wear fashion, "Rosa Tapioca". In the same way, what interested me most was the local dimension, the human side, the promotion of know-how, local distribution networks, and respectful materials. Vegetable dyeing and sourcing materials allows me to go even further in that direction today. These values are for me the same ones that I try to implement in what I eat as well, so it's a personal and a professional engagement.
How did you learn about vegetable dyeing techniques?
At the start, I had a few books that helped me delve deeper into the topic, then meeting people within my sector helped me further develop. I trained with Michael Garcia several times, one of the big specialists in the world of natural dyeing. He also wrote the foreword for my book and I stay in close contact with him for technical questions and my supply of specific plants for dyeing.
What advice would you give to someone wanting to start dyeing?
To do an introductory workshop and then go for it, through lots of experimentation! Also, keep a record of each experiment because you can then forget what you did and there are a number of considerations to take into account when creating a successful colour (water, pH, temperature, the plant, time taken…).
What's the simplest "recipe" in your book that we can do at home?
I think the avocado skin one. A beautiful rosey colour, it's one of the most playful and most affordable, and doesn't necessarily require preliminary preparation of the fabric (mordanting your fabric) and produces excellent results (that doesn't discolour when washing or with light).
Quels conseils donneriez-vous pour se lancer dans ses propres teintures ?
De faire un stage de découverte et puis de se lancer, de beaucoup expérimenter ! Et aussi de consigner chaque expérience parce qu'on oublie ensuite comment on a procédé et que de nombreux paramètres rentrent en ligne de compte pour la réussite d'une couleur (eau, pH, température, plante, durée...)
What are your future projects and how do you plan on growing WHOLE while staying true to your desire to stay artisanal, which isn't really compatible with mass production?
I am looking for the right scale of production, which allows me to work with a number of limited but prestigious resellers, like Smallable, and have regular and increasing online sales. I continue to develop workshops and introductory training with businesses while also preparing other creative projects on a larger scale including installations and another book!
How do you juggle everything you do with your business?
I do my best to be organised. You mustn't count the hours you work, like a lot of entrepreneurs, I often work evenings. I'm also fortunate enough to be surrounded by a small team that is motivated and dynamic.
Close