Soft Gallery
Established in 2007 in Copenhagen, Soft Gallery is a colourful and creative brand for kids. Headed by founder and designer Tine Holt Møller, each season Soft Gallery collaborates with local and international artists to create unique motifs and designs for its poetic kids' clothes. From T-shirts and leggings to skirts and dresses, the brand incorporates artistic prints and hand-embroidered details into its collections, which are made from comfy, breathable fabrics like cotton. More than just beautiful clothes, Soft Gallery items are made primarily in India, where the brand works with the Danish Indian Childcare association to provide housing and education for young girls from vulnerable families. Each piece made in India contributes to the operation, and is marked by a special hangtag that comes with the clothes. Contemporary with an artistic twist, Soft Gallery makes charismatic, timeless clothes for kids that both you and your kids can feel good about. Find out moreClose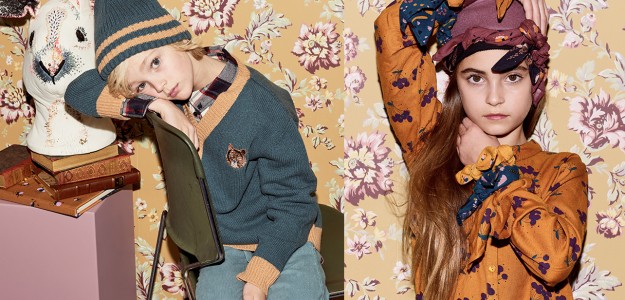 INTERVIEW WITH BARBARA AND TINE
FOUNDERS OF SOFT GALLERY
We spent the day with Barbara and Tine - the inspiring founders of Soft Gallery - in their beautiful office, located in an old piano factory in Copenhagen. Soft Gallery is a poetic children's
fashion brand
that collaborates with international artists to create prints and motifs that are printed and embroidered onto their clothing collections. Barbara and Tine welcome us into the world of Soft Gallery and share with us the brand's challenges, about their childhoods and about how they combine their talents every day to manage this exciting project.
How did Soft Gallery begin?
Barbara:
Tine and I met in Notting Hill, London. We were both studying. Tine studied fashion and I studied photography. I photographed Tine's final collection for her Master's degree and, from that day on, our friendship was sealed. The idea behind Soft Gallery emerged from a mutual interest in art and fashion, and the idea of collaborating with other amazing talent; sharing and developing artistic ideas and pieces together, using clothing as a blank canvas to unfold. Inspired by our surroundings, travelling and working within the fashion industry, we felt a great desire to create poetic clothing pieces for children that facilitated amazing stories and that were completely different from what we saw in
kids' fashion
at that time.
tell us a bit about your backgrounds, where you grew up, and where you live now.
Barbara:
I just turned age 42. I grew up in two different cities in Denmark and also spent two years of my childhood living in Canada with my family. Drawing, painting, photographing, making ceramics, etc. has always been a big passion for as long as I can remember. In preschool, I took art classes in my spare time; it took up a lot of my time! Modern jazz ballet was another passion of mine. When I finished high school, I spent three-months away from home in a renowned art school in Denmark (where I later on found out Tine had also been studying). Later that year, I moved to Paris with two friends for one year to study art. I was introduced to the world of art, and it was extremely fascinating. The charming and very authentic Parisian art school was located in the 6th arrondissement. I loved every minute of it, it was one of the best experiences of my life.
Back in Copenhagen, full of inspiration and possibilities, I ended up in a personal search, trying to find out what I wanted to do. I started a photography course (one of the few things I hadn´t tested yet). I fell totally in love with portraying people and applied to the London College of Fashion to study two years of fashion photography. The teachers were amazing and I was extremely inspired by the city and all the different cultures!
After finishing my studies, my boyfriend Jan (today husband) and I travelled the world photographing stills and commercial work. Jan was more experienced than I was at that time so he was kind of my mentor. Today, we have been together for 21 years and we have two kids; our son, Siggi (13) and daughter, Nola (11). After living in London for almost 10 years, we felt it was time to be closer to our families, nature, etc. and make life a bit more "easy going" for the kids, so we returned to Copenhagen.
Tine:
I grew up in Copenhagen with my sister and parents. I went to Sankt Annæ Gymnasium, a renowned music school in Denmark. It was a time where music was the focal point of everything, a lot of singing, doing concerts, travelling all over the world performing; such a privileged time for me, something I will always appreciate and look back on with warmth. At that time, I did ballet every day after school, so besides school the ballet studio became my second home. I loved it back then and still do. I love the experience of ballet, both the old classics, and the new and more experimental ways of interpreting ballet too.
Later, I did a Bachelor's at Denmark's Design School. Continuing with two wonderful years in London taking my Master's in Women's Fashion Wear at the Royal College of Art. I stayed in London for a while and worked for Kenzo Kii, Left Hand among others. I went back to Denmark and did women's design for Bruuns Bazaar for three years and had a short, but fun, time at H2O, a Danish sports brand, before Barbara and I started Soft gallery.
Today I live in Charlottenlund, just outside Copenhagen, in a sixties house right next to the sea and forest with my husband, Simon, who is commercial film director, and my two kids, Norman (14) and Ida (10), and not least our English cocker spaniel, Bailey, who has become a very important and beloved part of our family. I really enjoy being close to nature. It's a great privilege to be able to open your door and smell the salty sea or having the forest right in your backyard.
What kind of kids were you? What did you dream of?
Tine:
I was a dreamer, always happy, singing, dancing and being with friends. I believe I was a girl with a capital G. I loved my Barbie dolls and made my own clothing for them. Sewing and playing with embroidery together with my grandmother, who was a creative spirit and a truly beautiful, and very stylish woman. Always a great inspiration for me, she started the spark and is definitely behind me doing something creative with my life
.Barbara:
I grew up in a family where everything was possible! My parents are very open minded and young at heart and have always acknowledged, respected and supported me in my decisions. I was a child with strong intuition, always having the feelers out for how people were feeling, and intrigued by all the different aesthetics I was surrounded by. I come from a family of architects where beautiful
furniture
, architecture and art were appreciated.
What are your roles in the company?
Tine:
We work closely throughout the whole design process; from the very first idea until the very last final detail. After this long and intense process, I take care of the whole production part together with our production team and Barbara takes care of our branding, PR, visual identity, etc. with our PR and graphic department, and we both work closely with our sales team.
What is your brand's philosophy in a few words?
Tine & Barabara:
Passing on small new stories and helping kids discover art.
What are your sources of inspiration?
Tina:
Every new collection starts from an intuitive state of mind – a feeling – a mood – and from everything that surrounds us in our everyday lives. We have to make the collections one and a half years before it hits the shops, so usually we just follow what feels right and what we are inspired by at that very moment. The world around us is our inspiration. Our private lives and the desires to explore urban spaces both locally and when we travel.
The AW17 "The Artisan" collection emphasises the faithful and heartfelt essence behind the Soft Gallery universe; the sensitivity of an artist and creative inputs from modern life and the world that surrounds us. The artworks are many and varied but all descend from the universe where we embrace the combination of delicate handwork and the poetic soul of an artisan. Eye catching hand embroideries of the starry night in golden tones, heart prints, colour popping artworks by paint brushes from the creative universe of the painter, French vintage looking cuts of pork and butchers' symbols to underline the genuine artisan handcraft of the artisan butcher.
Could you describe a typical day at work?
Barbara:
Tine and I work together with our amazing team in a beautiful old piano factory based in Copenhagen. My day in the office often starts with meetings in the different departments; catching up, completing projects, discussing any challenges that might occur and brainstorming new ideas. Every day is actually quite full on, a rarely quiet day goes by, but in a good way! Everybody is positive, cooperative and brings good vibes and energy to the Soft Gallery team. It makes all the hard work worthwhile and fun.
Tine:
I always start my working mornings with a coffee at my beloved coffee shop,
Original Coffee
. The best coffee in town and lots of familiar faces, chit chat and hellos before heading off to work, a great way to kick start the day. Going to work I almost always hope for a quiet, creative day with time to really get into the essence of whatever theme we are working on. But very often we end up in meetings with production, design or sales. Naturally, there are a lot of strings to hold on to with 12 employees and a collection that grows bigger every year, but I love it and enjoy it. You just need to find the time to be creative when the calmness settles around you, in the evenings or at night, when nothing is there to distract you, just yourself, nice music and time for your creative mind to unfold.
What do you do to balance your work and family life?
Barbara:
We both think it's super important to prioritise time with our loved ones, this keeps us focused and injects the body with positive energy and inspiration. Going to the countryside with friends and travelling with the family is when I relax the most; skiing, a warm place by the beach or a city trip to Paris, New York. This is when I allow myself to let go of all practical thoughts and work, besides from just giving my kids my full time attention and getting inspired and absorbing new ideas. I also go running as often as possible together with my son and do Pilates, which helps me keep a healthy mind. I try to prioritise my well-being, so there's time to both follow my dreams and be present for my family, although I find it quite tough at times.
Tine:
The balance between work and family life can sometimes be a tricky one. Being a creative mind, you don't just leave things and go home. Thoughts and ideas keeps rumbling and developing even if I'm cooking dinner or spending time with my loved ones. But I don't see that as a negative thing, I use creativity in the way I experience the world around me and a lot with my kids. Especially my daughter, she loves sewing, drawing, making jewellery, etc. I go to Pilates and dance classes, this is a fantastic way to let go of all "to dos" that you have at work. I love to read books, even though it can be difficult to find the time. Last weekend my daughter and I made clay owls, which I really enjoyed.
YOU'RE CELEBRATING YOUR 10TH ANNIVERSARY. WHAT IS THE MOST IMPORTANT THING THAT YOU'VE LEARNED IN THE PAST 10 YEARS AND TELL US ABOUT SOME OF YOUR upcoming PROJECTS FOR THE NEXT 10 YEARS?
Barbara:
Building Soft Gallery has been both incredibly challenging and, at the same time, very educational and exciting. Tine and I worked almost four years non-stop doing everything ourselves, which at times was extremely tough as we both came from a creative background and had to learn how to run a company within each area of a business.
Many things we had never tried before or never found interesting. Although today it has given us great strength; an insight and pleasure of understanding every part of the company.
There are always lots of interesting things happening: our collection will expand in new exciting directions, new innovative projects will arise and new great collaborations will follow. This autumn, AW17, we celebrate our 10 year anniversary, and we are hosting a big jubilee event during Copenhagen Fashion Week in August.
We keep challenging ourselves with new ways to think and ways to create, making sure that we always have new stories to tell our customers. We aim to always make poetic children's wear that has a deeper meaning and to never compromise on quality or design. Our ambition is to be accessible in more beautiful boutiques around the world and to join agents and distributors in markets where we are not yet represented. Finally, we're always working on being stronger and better with corporate social responsibility (CSR). It's extremely important for us.
What is the best advice you've ever been given?
Tine:
My best friend once gave me creative advice that I have followed ever since: "Stick with what you are really good at, and don't try to do something completely differently."
Barbara:
There are so many, I love good advice! What first comes to mind is when my son and I went to a Juergen Teller (one of my favourite photographers) exhibition in Paris. Besides the blessing of meeting him in person, we bought his book and he signed it with "Keep on Growing" inside of the cover, the symbolism in that sentence was very useful to both of us. I believe that it is important to remind yourself to keep on developing and learning both on a personal level and in work-related situations.
What do you like about Smallable?
Tine & Barbara:
We both clearly remember when we were contacted by Smallable in the very beginning of the Soft Gallery story. We were very honoured and proud, as Smallable was one of those special places that we wanted to be a part of. We could fully identify with their beautiful aesthetics and poetic universe, and we felt it was the perfect platform to be represented by.
What are your favourite shops and restaurants in Copenhagen?
Tine:
My favourite restaurant is Fiskebaren [Flæsketorvet 100] in the meatpacking district in Copenhagen; great food and cocktails in a very relaxed environment. In the summertime, we have an amazing and unique restaurant called ØsterGRO [Æbeløgade 4]. It's located on top of Copenhagen's oldest car auction house with a 600m2 roof top terrace. The restaurant is a small greenhouse placed in the middle of organic cultivated vegetables and flowers. A beautiful, serene and magical place to eat and enjoy the sunset.
For shopping, it must be the Storm and Strøm store [Store Regnegade 1], they have an innovative selection of brands. For interiors, it's Fil de fer Store [Kongensgade 83A], an exclusive shop and webshop with French vintage pieces. They hand pick antique furniture, lamps and accessories. I also love the store Rue Verte [Ny Østergade 11].
Barbara:
Copenhagen has so many amazing restaurants to offer. I love the more casual and cosy ones, and living in the outskirts of Copenhagen makes it easy to visit them spontaneously. One of our favourites at the moment is Mangia [Flæsketorvet 100]; simple and classic Italian food in casual surroundings with such a warm and personal service.
Favourite clothing and lifestyle shop is called Butik Black [Gl. Kongevej 105] and it is based in the area where we live. They have amazing ceramics and handmade shoes from Italian and Japanese brands sold exclusively in their shop. In city centre, we always seem to follow the same shopping route: ACNE to see if they have any new pieces, a bit further down the street there is a beautiful multi-brand store called Storm [Store Regnegade 1], they represent beautiful clothing and accessories for both men and women, they also have great books! 50 metres further down the street you will find WOOD WOOD [Grønnegade 1], a very cool and inspiring concept store, they also sell their own brand as well. Close by you will find a beautiful shop for women called Holly Golightly [ Borgergade 17B]. When we have the kids with us, we always visit a cool little skate shop called Mills [Rosengården 9], they have all the newest skateboards, rollerblades and scooters. We stop by Atelier September [Gothersgade 30] for a quick lunch; relaxed and with a lovely atmosphere. The coffee is amazing and they serve delicious simple lunches. The founder Frederik Bille Brahe is a very good friend of ours.
The best place to shop food is Torvehallerne [Frederiksborggade 21], an amazing food marked that is full of life and has over 60 stands with everything from fresh fish and meat, as well as small places where you can get a quick bite to eat.
A place to go with kids in Copenhagen?
Barbara:
The other day, I had a weekend on my own with my son. We went to Amager Beach Park to jump in the water. Amager Beach Park is a seaside public park in Copenhagen. Later on that evening, we grabbed a takeaway and went to Copenhagen Skate Park, with its 4,600 square metres, it's one of the largest skate parks in Denmark. My son, Siggi, was skating whilst the sun set over Copenhagen, such a fulfilling day.
Tine:
For dinner it must be Copenhagen street food on Paper Island [Trangravsvej 14] on Copenhagen's waterfront. You can choose between 40 different kinds of food from the food stalls. It's surrounded by water canals and with a spectacular view of Copenhagen and the harbour, great for summer evenings with friends and family. Another great place to go with the children is the Louisiana Museum of Modern Art [Gl Strandvej 13, 3050 Humlebæk] . Louisiana is a leading international museum of modern art. A place where art, nature and architecture meet in a unique interplay. They also organise workshops for kids, my daughter and I can spend hours painting or creating small clay sculptures in their studio.
What are the most played songs on your current playlist?
Barbara:
I have a playlist called "mixed", and it´s just what it is – mixed! All kinds of music saved from travels, songs from my friends' playlists and hits from the radio. The last song saved on my playlist was [Justin] Bieber's new summer hit
Despacito
, my daughter, Nola, has decided that this is going to be our summer holiday hit! Every year we decide on a specific summer hit and
Despacito
is obviously the family summer hit of 2017.
Tine:
Shackled Up
by Alex Vargas,
Angel Zoo
by Phlake, and
Déjà Vu
by Scarlet Pleasure. Music makes me happy. I get a lot of inspiration from my 14 year-old son, Norman. He is really into music! Music is always playing in our house.
What is your motto in life?
Barbara:
The more love you give, the more love you get.
Tine:
Be who you want to be, not who others want to see. Do it with passion or not at all.
Close