Sessun
Sessùn is a women's fashion brand created in Marseille by globe-trotting anthropologist-turned-designer, Emma François. The French brand's collections are inspired by a myriad of wonders - art, design, photography, film, colours and books - but nothing influence's Sessùn's style more than Emma's travels. From South America to Africa, by way of Japan and Marseille, Sessùn's collections are filled with ethnic, bohemian prints and timeless, slightly tom-boyish silhouettes. Each season, the brand takes us away and inspires our sense of adventure with its imaginative collections. Whether it be through a great coat, a romantic skirt or dress, or its beautiful range of women's shoes, we're always on board for a Sessùn sartorial journey. Find out moreClose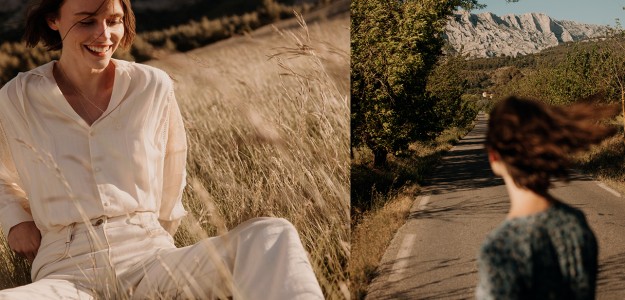 INTERVIEW WITH EMMA FRANÇOIS
FOUNDER OF SESSÙN
Sessùn's creator, Emma François, took the time to share with us the brand's history and her vision for its future.
HOW WOULD YOUR CHILDREN - NINE, LOUISE AND CÉSAR - DESCRIBE YOU?
Happy, ("Likes to laugh", César adds. "And dance!" says Louise.), often daydreaming. Busy, works too much, doesn't get annoyed very often but when she does she shouts very loud. Nice and gentle. The most beautiful woman in the world!
Tell us the story of Sessùn. What did you do before?
The adventure started with a trip to Guatemala at 21 years old. I was studying anthropological economics, and the cultural and artisanal richness that South America offers was a real discovery. Back in Paris, I was surprised that I started to sketch little pieces, between crochet and pure wool, and I decided to leave again to have them manufactured by artisans in the Latin American Mountains. The raw materials already showed feminine shapes inspired by urban culture that was very familiar to me. The blend was charming, people liked it and the real adventure started. In 1996 the brand was born. (This interest for anthropology shows in the way that I work: the respect for the people that I work with, an ethical view of the world, also a respect for the traditional knowledge that helped me to build my project.)

What makes the world of Sessùn so special?
A blend of freshness and soft nonchalance that emanates from the collections, with a couture twist. A close attention to the fine, controlled cuts that create a chic allure with vintage accents. Clothing that is always wel¬coming. A deep love for different traditional knowledge that can also be seen in the bou¬tique's decoration.
Today, what are the places, designers, photographers, musicians that inspire you?
There's so many of them! I am very curious and love discovering things. For example: All of the markets of the world where I find beautiful vintage embroidered fabrics, printed, woven or dyed by hand. American photography from the 70s, Diego Rivera and Frida Kahlo, Alexander Girard and Charles Eames, Tokyo and Cali¬fornia Indigo, New Wave cinema...
Has your passion for decoration and your collaborations with the potter Pierre Buisson made you want to create a Sessùn collection for the home?
Of course! We started to create decora¬tive objects thanks to our themed exposi¬tions (Chic chic chic c'est picnic in 2011, Indicrafts in 2013 and Marine Girls coming soon), which group together lots of different disciplines around the same subject (see for example our recent collaboration with the stained glass workshop Bespoke in Broo¬klyn). This has naturally made us want to explore, little by little, our work in this do¬main even further.
And your children, I am sure that they would love to wear Sessùn…When will you be creating a Sessùn children's line?
We are thinking about it, we would love to create a capsule collection for girls, it seems so obvious to me to put little girls in Sessùn, and it would be a natural extension of our current work. But we have many, many other projects and I like to take my time!
What is your vision for children's fashion, what are the designers that you like?
It's a very creative and dynamic sector, where the independent brands with strong persona¬lities have made a real place for themselves. A few years ago I was baffled by the fact that multi-brand children's boutiques were disap¬pearing in favour of chains. It is no longer the case, the dynamism of new independent brands has allowed new generation kids boutiques to emerge, with a very rich and creative offering. I find the Emile et Ida collections stunning, I love Simple Kids and of course also Zef and Finger in the Nose.
Where does Smallable come into all of this?
I am a loyal customer. Smallable is a breeding ground of very beautiful things.
Can you share your address book of secret spots in Marseille with us?
My favourite restaurants
-The Santa Bongo, Rue Sainte, for Tania's ins¬pired cuisine.
-The bar La Relève for its festive and convi¬vial aperitifs and excellent tapas. 41 Rue d'An¬dourne, 13007 Marseille.
-Le Cabanon Carton, to taste the great little dishes and listen to good music.
My best addresses for shopping
-L'Empereur, an essential place where I can spend all day, as well as their annex specialised in workwear.
-Egg, Rue Sainte, for their romantic and per¬fectly chosen vintage selection
-Honoré Déco, Rue Sainte, I love their crea¬tion that blend artisanal pieces with modern design.
Beauty spots:
Mademoiselle, an absolutely perfect manicure salon.
My top secret address:
Le Figuier, in the Saint Giniez quarter, for a massage with Muriel and for the serenity of the place. It's a real haven of peace and relaxation in the heart of an old provincial farmhouse.
"La plage du bout du monde": The little creek in the Baie des Singes where you can reserve a sunlounger on the rocks.
Sessùn is avaible at Smallable online and in our Parisian concept store 81 rue du cherche-midi - 75006.
Close