Scotch & Soda
The renowned Dutch brand Scotch & Soda mixes trends from different countries to create an original style of kids' fashion with a strong identity. High quality fabrics, superpositions and embroideries are the signatures of the brand. This level of detail can be found in the girls' line Scotch R'belle, and the boys' line Scotch Shrunk. All of the adult trends are adapted to create a trendy and casual children's collection. Scotch & Soda children's pieces often come with goodies. Discover all of this as well as the new arrivals from the brand in our online Scotch & Soda boutique. Find out moreClose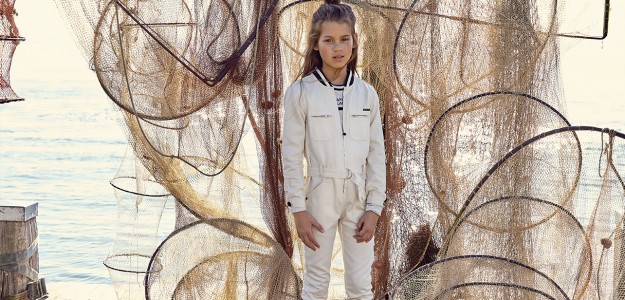 THE STORY BEHIND THE BRAND Scotch & soda
Scotch & Soda was born in the 80s in Amsterdam, a city that is highly associated with the success of the brand. Scotch and Soda proudly display their origins, even going as far as naming their 2010 project "Amsterdam Blauw®", a prestigious line of high-end denim created by the prêt-à-porter brand. But let's go back to the start of Scotch & Soda. The style and identity of the brand; its DNA, was built in the year 2000 under the drive of 3 managers who were able to breath new life into the brand. Scotch and Soda was relaunched with the Spring-Summer 2002 collection. Today, the brand constantly integrates new influences from all over the world, to make affordable, quality pieces, always with a close attention to detail. Scotch & Soda gives free reign to its stylists at this can be seen each season with original and very personal collections. This can also naturally be found in the Scotch & Soda kids collections Scotch Shrunk and Scotch R'Belle.
The idea of proposing a kids line and making a miniature version of the men's collection came about in 2008. The first Scotch Shrunk collection was presented in Spring and success soon followed. Taking inspiration from men's fashion to create kids' prêt-à-porter was quite new and ambitious. Scotch Shrunk is today a brand in itself and has been popular in the world of kids fashion.
Like at Scotch and Soda, one success leads to another. The first women's collection was launched in Spring-Summer 2010 with the name Maison Scotch. 2010 was also the year of the launch of Barfly, the first Scotch & Soda perfume.
Just as Scotch Shrunk took inspiration from the Scotch and Soda men's collection, Scotch R'Belle was created as the "little sister" of Maison Scotch and is meant for young girls. Scotch R'Belle was launched in Spring-Summer 2011, and success was once again on the horizon.
Close