Rylee + Cru
Kelli Murray is a jack of all creative trades. On top of being a blogger, illustrator, stylist and graphic designer, she is also a mum of two children: Rylee and Cru. Her two "mini-mes" are an unending source of inspiration and have allowed her to fulfil her dream of creating her own kids' fashion and baby fashion collection. In 2014, the first Rylee + Cru collection came to life. The collection is made up of hand-dyed clothes, illustrated with her own drawings. The Rylee + Cru clothes are soft and comfortable. They will become the go-to pieces in your children's wardrobes. Find out moreClose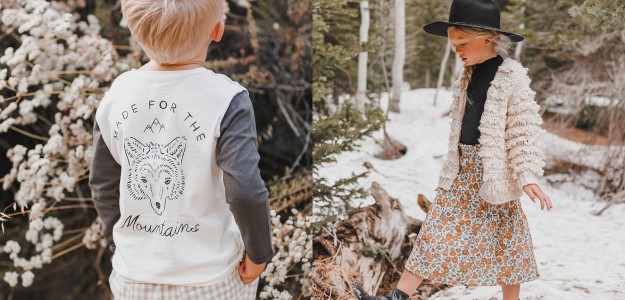 INTERVIEW WITH Kelli Murray
FOUNDER OF Rylee & Cru
Kelli Murray
Designer, illustrator, mom… The pretty Californian talks to us about her brand
Rylee + Cru
How would your family describe you?
My family would describe me as creative, determined, hand working and loyal.
How do you manage to be a blogger, an illustrator, a graphist, a fashion designer and mom all at the same time?
I am in a stage in my life right now where my family and fashion design takes priority. I started Rylee & Cru just a little over a year ago, and to make it thrive the way I wanted it too, I needed to make the decision to scale back on all the other areas of my work including blogging and freelance design. And while I still love to do those things, it was just not manageable to take on everything that I used to before. The brand now has my focus in terms of work, and my kids will always come first no matter what the situation. Everything else is a bonus.
What inspires you?
I can honestly find inspiration almost anywhere. I'm inspired by nature, travelling, by my children, and by other creative people in my world.
Any quote or person that inspires you?
I am always inspired by people who chase their dreams, despite the risks involved. I've always loved the quote 'everything you want is on the other side of fear'.
Can you tell us the story behind Rylee + Cru?
I knew pretty early on that I wanted to work in a creative industry. My first love was fashion, and I ended up working as a fashion merchandiser and graphic designer for a clothing company straight out of college. Illustration is something that I somewhat fell into while trying to expand my portfolio in graphic design. It quickly grew to be a passion of mine and eventually led me to quit my job and focus on my art as a freelance career. When I had my daughter in 2011, I had a hard time finding baby clothes that spoke to my neutral loving artistic aesthetic. I always knew that one day I wanted to create something of my own....to merge my passions in art, fashion and childrenswear and fill what I thought was a gap in the market. It took a few years to get the courage to actually get my ideas off the ground. But here we are, one year in, and I am completely blown away at the growth we've had. I am excited to see where the brand will take me in the coming years.
What are the values of your brand?
Rylee and Cru merges art and imagination, offering unique and artistic clothing for the modern child. The collection consists of quality basics that are each hand garment dyed, giving them a soft vintage feel right out of the box. All of the artwork is original and hand illustrated (by me!). The shapes are comfortable, and the fabrics are soft, making getting dressed easy for both the baby and the mom.
How do you create your clothing line?
Our current collection is largely produced in Los Angeles and designed here in San Diego, California. My father has been a silk screen printer for over 30 years, so he has been a huge advantage in regards to printing and resources. We make a good team
Do you have any new dreams to fulfill?
I feel like we are just at the beginning! There is so much I'd like to accomplish in terms of growing the collection and expanding into different product categories. I am also still working out of my home office and with the growth we have seen this year, I am looking forward to having a studio/warehouse space to work out of.
Can you describe your style?
In some ways, I am a minimalist. But I also appreciate the introduction of art and creativity into a piece of clothing. I like loose and comfortable silhouettes and a muted color scheme.
Now about decoration… What do you like?
I would describe my style as modern meets vintage. I love clean Scandinavian design and the use of warm neutral colors in a home. A few brands I cherish are Ferm Living, Matteo, & Oeuf.
What's your favorite social network and why?
I love Instagram. I am very busy and don't have a lot of time to keep up with social media. But Instagram is an easy and fast way to stay up to date with friends and companies I admire. I also love the way it connects people, and the personal engagement it offers.
Any good online address to shop? What about Smallable?
I love Smallable! So many of our favorite brands under one roof! For me, I enjoy shopping at Need Supply and Shopbop.
Can you share any good shopping address in San Diego?
For Kids, I like Ollie & Me. For women, I enjoy going to the shop Maven. For men, I can only recommend my husband's store, Loneflag. It is stocked with some of the best men's brands out there.
For my home, Pigment has a selection of local artists.
Ollie & Me : 2965 State St, Carlsbad, CA 92008
Maven 2946 Adams Ave, San Diego, CA 92116
Loneflag : 2690 Via De La Valle D140, Del Mar, CA 92014
Pigment : 3801 30th St, San Diego, CA 92104
Can you share any good restaurant in San Diego?
San Diego does Mexican food best! Our favorites are Las Olas and Puesto.
Las Olas : 2655 S Coast Hwy 101, Cardiff, CA 92007
Puesto : 789 W Harbor Dr, San Diego, CA 92101
What family activities would you recommend to do in San Diego?
There are so many amazing beaches! Our favorites are Grand View and Ponto. We also have Sea World and the San Diego Zoo which are always fun to visit for a day with the kids.
What are some of your favorite bedtime stories with your kids?
It seems there is a new favorite every week! Right now we are reading Peter Rabbit.
Close