Ralph Lauren
For decades, Ralph Lauren has remained the definition of American style. The Ralph Lauren style is recognisable in the crowds of the fashion world not only thanks to its polo-shirts, sweatshirts and chino trousers, but alos thanks to the quality materials and infinite colour ranges. An inimitable preppy look that is the perfect combination of chic and casual makes Ralph Lauren Kids the brand that we love just as much for children as we do for ourselves. Find out moreClose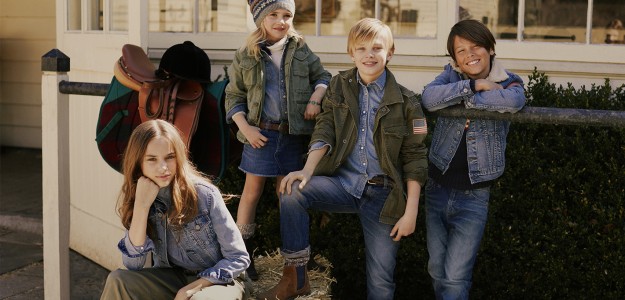 The Ralph Lauren Story
A true success story
Ralph Lauren, born Ralph Lipschitz in 1939, is the man who for many epitomises the famous American Dream. Hailing from a family of Russian immigrants, he started from scratch and succeeded at building an entire empire in just a few short years. It all began in the 1960s when this fashion enthusiast, with no qualifications, decided to launch and market his own line of ties - a long shot that would be rejected many times before his products were finally sold in Bloomingdale's, one of America's largest retailers.
On the back of this success, in 1967 Ralph Lauren decided to open his own boutique and expand his offering by making shirts and polo shirts for men, all sporting the label's famous emblem - a delicately embroidered polo player. Ralph Lauren soon established himself as a man of style and developed the famous all-American "preppy" look that we know today. Over the years, the Ralph Lauren label continued to develop with the launch of a
women's fashion
line, followed by a Home Collection and finally a childrenswear collection, made especially for little ones, with pieces similar to those found in his adult collections.
Discover Ralph Lauren's stylish children's and
teens' clothing
on Smallable.
Close
We are sorry to inform you that this brand does not deliver to your selected country of delivery.