Oeuf NYC
Oeuf NYC is a brand from New York that specialises in eco-design. If you ask the brand's French-American designers Sophie Demenge and Michael Ryan where they get their inspiration, they will answer with no hesitation that they get it from their children! Oeuf NYC furniture is intelligent, stylish and timeless: ecological materials, natural stains, a functional approach, durability and eco-friendliness. An approach that they also apply to their collection of organic clothing and accessories made in Bolivia. With a focus on fair trade and quality, this is certainly a brand that has understood what we are looking for! So it's not surprising that the Oeuf NYC Sparrow bed and the Robin bed have become must-haves for the nursery.  Find out moreClose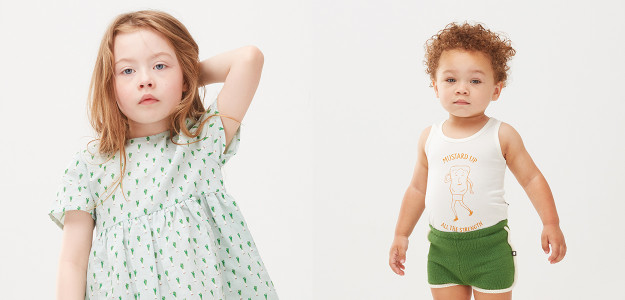 Interview with SOPHIE DEMENGE,
Founder of OEUF NYC
Could you please tell us more about the early days of your brand?
Our adventure started with a unique product - a cot. After that, Oeuf NYC grew really quickly and we now offer many collections with ranges of furniture and clothes, baby and children's fashion, layettes, and also home décor accessories and toys.
My husband and I had very different backgrounds but they were complementary and we had a sharp sense of design in common: minimalist, high-quality, functional and also playful. When we had our first child back in 2002, we decided to mix our aesthetics and join our talents to dedicate ourselves to creating clothes and furniture for babies and children by launching Oeuf NYC.
Where does the name come from?
Oeuf has different meanings for our brand. First of all, in the primary meaning of the word "oeuf" which means "egg" in French. Both the egg and the Oeuf NYC design have a common aesthetic and functional qualities - curved lines and a sleek finish, natural and intuitive simplicity. As an eggshell, the collections from Oeuf NYC are somewhat comforting thanks to our knitted items such as our hooded jumpers and hats.
Moreover, the word Oeuf or egg has different meanings linked to motherhood. Like a "mother hen", each client from Oeuf NYC wishes to offer the best for their children but they also want high-quality and long-lasting items that can be passed down for generations.
Finally, regarding the name of our brand, "Oeuf" associated with "NYC" shows the Franco-American influences of our brand with both its founders and inspiration that come from both countries.
You and your husband are partners. Is it complicated to work as a couple?
Working together is very rewarding. We are both design enthusiasts, which constitutes a solid base for our collaboration. It is sometimes difficult to put our professional projects aside when we're both at home but our children know how to bring us back to reality.
What's a typical working day like at Oeuf NYC?
There's no typical day. We are evolving with each season, each collection. We have more and more products and our collections are getting bigger. We need to be flexible and ready to adapt ourselves to every challenge!
How do you manage to conciliate your professional and family life?
This question reminds me of one of our Instagram publications "To be honest, I'm just winging it. Life, motherhood, my eyeliner. Everything." More seriously, the key word is organisation. Along the years, I've managed to find an equilibrium between my family life and my professional life, by defining them very clearly in order to optimise them.
What inspires you?
My two children are my main source of inspiration. They help me to see things through children's eyes and breathe the joy of childhood into our collections; the fascination for colour and textures, as well as the quality needed to resist life's knocks. The fundamental values of our brand inspire me too, more precisely our motto "Be good". This slogan means good behaviour but, more importantly, being actors of our future by choosing to work with ethical companies, respecting our collaborators and offering the best to our children.
If you had one piece advice for someone who wishes to create their own brand, what would it be?
You have to be passionate and extremely motivated to be able to overcome the difficulties of entrepreneurship. It's also essential to have a partner you can rely on.
What are the perks of living in New York?
New York has a unique energy, it offers a lot of options and the society is very diverse. It can be difficult at first to adapt to its pace but the city is rich from the diversity of its inhabitants.
What's your brand's bestseller?
The "bunny sweater" is one of our best sellers and it was featured in a lot in the press. It is characteristic of our style and our know-how. Our wool is made from 100% alpaca wool, it is soft, hypoallergenic and its production is eco-friendly. It became our signature, especially for garments involving animal-shaped pieces (ears, paws).
What are your plans for the future?
We are focusing on our collabs since they allow us to enrich our range. Two collaborations have just been signed. One with Smallable, as you already know, and one with the MET Museum.
What are your favourite family activities for the weekend?
As good New Yorkers, we go for family brunch. It's the perfect occasion to spend time together and relax before going for a stroll, to an exhibition or to the theatre, depending of our wishes and of the cultural programming.
Three kid-friendly addresses to share with us?
- The Brooklyn gate and the carrousel with a view, locked in a giant cube made of glass at the bottom of the gate. And the ice creams from the Brooklyn Ice Cream Factory a few steps away from the Brooklyn gate.
- Central Park zoo where children can feed the African pygmy goats.
- The American Museum of Natural History is one of my favourite museums for curious children fascinated with biology, physics, astronomy or mineralogy. Little ones will be delighted to discover real dinosaurs.
A book:
"Les coloriés" from Alexandre Jardin, a book that puts the differences between adults and children into perspective, with a naïve and poetic tone that mixes different levels of language.
A song:
The song "Space Oddity" initially written and recorded by David Bowie and covered by Emilie Simon for the movie March of the Penguins. Emile Simon's voice has some childish tonalities inside it and it feels like we're immerged into the polar landscapes of the movie. It's fascinating for both adults and children.
A childhood memory:
Like Proust, the taste of a pastry! More precisely, my grandmother's secret recipe chocolate cake, which always makes me melt with delight.
Close