Nobodinoz
The Spanish kids' brand, Nobodinoz, offers kids' furniture and home textiles that are fresh, modern, current and affordable. All of the products are made in French or Spanish factories, without the use of any toxic treatments - which is always reassuring for children's safety. The Smallable buyers love the graphic, colourful prints of the bedding, the clever wardrobe-bookcase, the gorgeous junior bed, the teepees that we would have loved to have when we were little, the mattresses to play on and daydream on. Nobodinoz is the interiors brand that appeals just as much to parents as to children. Find out moreClose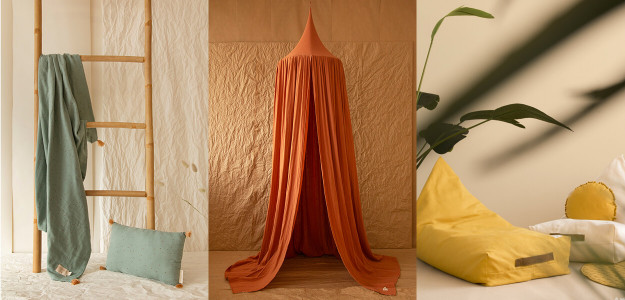 A sit down with the founders of Nobodinoz,
Murielle and Roman Bressan
Murielle and Roman Bressan, founders of Nobodinoz, greet us at their office situated in the centre of Gràcia, one of the most charming areas in Barcelona thanks to its relaxed, multicultural and artistic characteristics.
It's in this large loft that the Nobodinoz young and dynamic team house the creative lab that makes up their operations centre. Today, Nobodinoz is an international benchmark in the world of children's décor, with its one in a million style: a collection of unique colours, geometric prints, high quality materials, its retro and contemporary style and an all over Scandinavian spirit, environmentally friendly production and local savoir-faire...
Who's hiding behind Nobodinoz and what is your role in the company?
It's the story of three friends, guided by our passion for beauty and our desire to learn. We were all following different paths - engineer, lawyer, designer – but we all complement each other. When creating the Nobodinoz brand, we wanted to do something different - to offer children a high quality living environment to accompany them as they grow up, to blossom with them through each part of their lives. But we also wanted to work with our skills, in an environmentally friendly way, and to share our taste in materials, colours and details. We also wanted to go back to our routes, to our love of good work that is produced locally, for affordable prices. We work hand in hand with our manufacturers to achieve this. Our fabrics, colours and prints are all controlled in Barcelona, and we make our toys in Jura in France. We are convinced that everyone can change the world at his level, by not taking the easy road, to make a difference. Changing the world begins at childhood!
What are your different roles at Nobodinoz?
Our roles are very different, between product creation and activity development. But we all make strategic decisions together.
What is your average day at work like?
We're situated in the Gràcia area, right in the centre of Barcelona. The Nobodinoz offices are just a quick walk from home. The area is known for its gentle lifestyle, its courtyards, and its calm. Each work station is separate but we can all see, hear and understand what each other is doing. We insist that each member in our small company understands the origin of our products, quality control and the fabrication process. All of our work is focussed on design and creation. It's first of all our obsession and our passion for materials, colours and shapes that guides our daily activates. The result follows. One day at work is never the same as another, each person has their mishaps, each one allows us to grow a little more.
Is it difficult to work together as a couple?
No, it's not difficult as we have co-created in this way since the start of Nobodinoz. But effectively, it is intense and continuous. You have to know how to switch off, this isn't always easy during extra busy periods. We have a wonderful management team with young, creative and energetic collaborators, this helps us to take a step back from it all.
When working as a couple, is it easy to switch off of an evening?!
We're very passionate about our work at Nobodinoz! We love talking about it, but it's very important to know how to switch off. We have lunch and dinner with our children every day so, if we do get caught talking about work, we're quickly put back in line! We love making room for family time as it also gives us time for ourselves. Seeing our children grow up is what really makes us happy.
Your brand has evolved a lot. Can you tell us the story?
It all really started during summer 2012. We launched a range of small accessories and were developing our first larger products like poufs and tipis. We were mostly researching the best materials, best knowledge and best practices.
The first 100 Nobodinoz teepees were made in our offices. One year later, we took part in our first professional salon in Paris, the Playtime salon. This was a success and we next launched our collection of printed fabrics, then toys, then Nobodinoz furniture. Every month for 3 years, we released new pieces. We've just launched our new Pure collection, with organic fabrics and oak furniture. The Pure range has been added to our fist graphic range, the Horizon collection. We now take part in salons in Europe and the USA, where we launched our first subsidiaryearlier this year. Above all, our philosophy at Nobodinoz has always been – no limits! Each day we make, unmake, remake and edit our design processes until we reach perfection. We have a lot of new projects, products and collections. We really want our brand to offer a universe where each customer can find the perfect product for their personality.
What are your main sources of inspiration?
Like a lot of designers, we believe that ideas are everywhere and appear to you because you know how to see them, how to make the most of them. We try to stay open and sincere in order to capture the ideas that are right for us. We travel a lot and above all stay in permanent contact with a number of artist friends. We're very sociable, maybe that's where it comes from!
In your opinion, what is the perfect children's bedroom?
First of all, it's a room that is full of life. We love beautiful objects, old and new. The ideal, for us, is to mix vintage, family, treasure and design objects... All while reflecting children's personalities through the colour scheme. It's also important that children participate in their décor, that they put up posters, photos and other things that make they happy. We also love to design spaces based around individual children themselves. For example, if your child likes to read, why not create them a quiet corner where they can read comfortably; if they like to draw, why not include a large side table so that they can be creative... But above all, a perfect child's bedroom is a bedroom that is full of spirit, where the little ones can breathe happiness and be carefree.
What do you do together as a family during the weekend?
Barcelona is a town that's full of things to do, not just for going to the beach, but also for its culture, its concerts and its party areas. We never get bored. We also go on trips to the coast or to visit friends in Paris, London or Rome.
And if Nobodinoz was a film?
Not so much a film, but a cinematic adaptation. Nobodinoz resonates with…Peter Pan!
What is your favourite children's book?
Without a doubt – Alice in Wonderland!
For tourists, what boutique would you recommend to visit in Barcelona?
We always advise people to go and visit La Basilica boutique, it's an ode to perfume designers and a real experience. The roads adjacent are full of little design and antique shop-in-shop, art ateliers and food shops.
A restaurant?
We really love the restaurants near to the Santa Catalina markets in the El Born Barcelona area; food stalls, fresh fish of the day, a wonderful atmosphere!
What do you like most about Smallable?
The professionalism, the quality of the selection. Smallable is a benchmark in the world of children's fashion and we are proud to be working together. The shop on rue du Cherche Midi in Paris is absolutely magnificent, we are very happy to be launching our first Nobodinoz shop in shop there (Note: available from November 2016).
Have you got any current Nobodinoz projects?
Yes! Lots of Nobodinoz products in new materials, unexplored models and countries, and also our launch in the US. We would really love to expand into other continents. Nobodinoz is an opportunity to travel.
Discover the Nobodinoz furniture, décor pieces and tipis on Smallable online and in our Parisian concept store at 81 rue du Cherche-Midi – 75006 Paris.
Close