Minois
Smallable is happy to present babycare brand Minois. The desire to create, mixed with the birth of her daughter Paz, gave Hélène the inspiration to launch her own line of children's cosmetics with one clear aim in mind: to create safe and reliable products that parents can use on their babies from birth. Minois is a brand that specialises in baby toiletries, which are free from parabens, sulphates, phenoxyethanol, silicones and artificial colourings, in order to respect the PH balance of little ones' delicate and sensitive skin. On top of all this, the beautiful Minois packaging is as delicate as its natural ingredients. Find out moreClose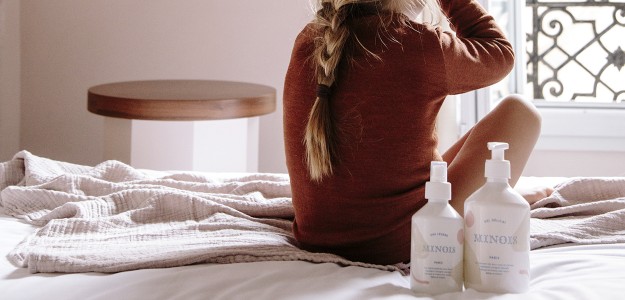 INTERVIEW WITH Hélène Fulchi
FOUNDER OF Minois paris
What inspired you to found your baby cosmetics brand?
I'd always been sensitive to the child's world. With the arrival of my daughter Paz, I suddenly discovered a new energy and desire to create. That's when I decided to launch Minois Paris: products that were safe, easy to identify and use.
What is your professional background?
I'd held different positions in marketing and communications for about ten years. Beauty had always fascinated me. I work in tandem with a laboratory specialising in organic and natural cosmetics. After extensive testing, we found the perfect formulas.
What are your values?
Integrity, respect and sincerity.
What makes your products special?
The formulas are very gentle, based on natural and organic ingredients. The products are specifically designed for children's fragile skin. They can be used right from birth (no parabens, no phenoxyethanol, no sulphates and no silicone or dyes).
What are your plans?
The launch has already been very good, so I'm crossing my fingers that the adventure continues! And meanwhile, the range will be gradually expanding...
Minois Paris is avaible at Smallable online and in our Parisian concept store 81 rue du cherche-midi - 75006.
Close