Louise Misha
While travelling in India, friends Marie and Aurélie decided to embark on a new adventure, creating a fashion label for girls... What started out in 2012 as a collection of handmade jewellery for little girls has since grown into Louise Misha, the poetic Parisian brand for girls and women that we know and love today. The brand makes beautiful, bohemian-inspired clothes and accessories for women and girls, aged 0 to 14 years old, in breezy, exquisitely-patterned fabrics. Meticulously crafted, each piece in the Louise Misha range is unique with all the brand's embroidery, macramé and pompom detailing done by hand. The brand works will skilled artisans in India, Italy and China to create its clothing, while its socks and tights are made in France and its baskets crafted in Morocco. Nostalgic, whimsical and full of special little touches, Louise Misha has created a special sartorial universe that we, and our daughters, continue to fawn over season after season. Find out moreClose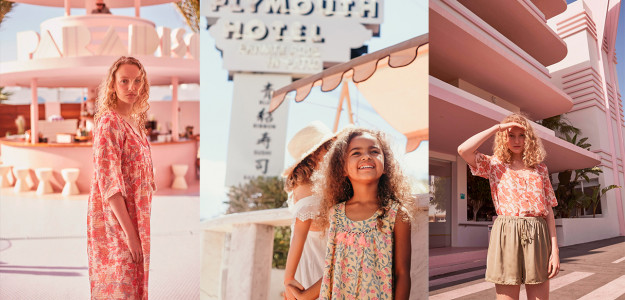 THE LOUISE MISHA STORY
A STORY OF FRIENDSHIP
One of the most talked-about French children's fashion
brands
to have emerged in recent years, Louise Misha was created in 2012 by two friends, Aurélie Remetter and Marie Pidancet, following a trip to India. Named in homage to one of the founder's grandmothers (Louise) and the other's mother (Misha), the brand's original muses were the pair's darling nieces. Starting out as a line of
children's jewellery
, Louise Misha quickly grew to include a range of children's clothing, and as of 2014, also offers
women's fashion
collections. There's no stopping this brand! Since launching, Louise Misha continues to push creative boundaries and grow, and regularly collaborates with major French labels to produce much-loved, in-demand pieces.
A BOHEMIAN, ROMANTIC TOUCH
Since its beginnings, Louise Misha has excelled in capturing a poetic, bohemian spirit, full of laidback, vintage charm, and instilling these qualities in its beautifully-made products. The brand's style is instantly recognisable and full of personality: from its shimmering colour palette and opulent motifs to its spirited imagery, photos taken in unimaginably beautiful locations to create the brand's signature boho romantic feel. From dresses adorned with delicate lace to gorgeous embroidered blouses, Louise Misha clothes are the perfect pieces for little dreamers everywhere. Though not just for little girls, the brand's collection for women is also making waves: from floaty
dresses
, jumpsuits, skirts and blouses. No matter your age, Louise Misha makes effortless, must-have clothes for free-spirited girls and women everywhere.
Chosen with care and you, our customers, in mind, Smallable is proud to present the latest collection from Louise Misha.
Close