Little Karl Marc John
It all began with a sweater with 3 names on it: Karl Marc John. This garment had so much success that the family business, made up of several generations of skilled craftsmen, decided to launch their own ready-to-wear brand. The name? Karl Marc John, of course! Today, the fashion brand is bringing its trendy, urban style to its range of kids' designer clothes for children and teens. Just like its big brother, Little Karl Marc John, appeals to its young sensitive customers with its Romantico-Rock style. Good news for parents, even if Little Karl Marc John collections are always chic, the price is always affordable! Find out moreClose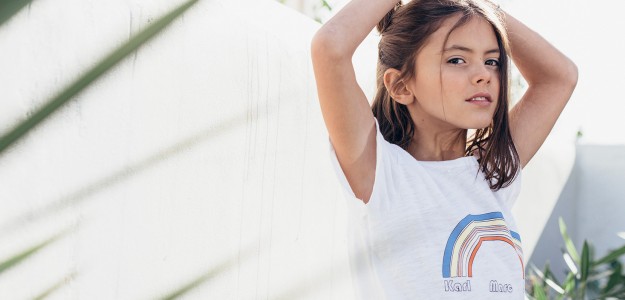 The Little Karl Marc John Story
The Karl Marc John adventure began in 2010 when the Mazouz brothers took over the family business, Vanitex, and decided to create women's ready-to-wear collections to be stocked by major labels and multi-brand retailers.
Ten years later, the wife of one of the Mazouz brothers dreamt up a silk and cashmere jumper, emblazoned with the name of three famous designers. In just a few months, the Karl Marc John jumper became a must-have with more than 100,000 pieces sold.
On the back of this success, the brothers decided to launch their own label, which would of course be called Karl Marc John. Since then, the brand has become a key player in the world of fashion with over 70 boutiques to their name.
The company tries to stay true to the spirit of their first creation by designing collections from fine materials while ensuring that they remain accessible. Refreshing and contemporary fashion with clean and simple lines where attention to detail makes all the difference.
Little Karl Marc John
Although in the beginning Karl Marc John's first followers were students in the 13-18 age group, it wasn't long before the desire to dress all women, young girls and little girls came about.
And so the
kids' fashion
line was born, aiming at girls from ages 6 to 16 years old and logically christened Little Karl Marc John. To celebrate their 5th birthday in 2015, Karl Marc John branched out into
boyswear
, much to the delight of parents everywhere.
Little Karl Marc John offers trendy, stylish and affordable children's clothing, making it a must-have for all.
Close
New collection coming soon
To keep up to date on all the latest news and offers,
Sign up to our newsletter and follow us on social media!