Golden Goose Deluxe Brand
Alessandro and Francesca Gallo are the designers of Golden Goose Deluxe Brand. Both Art and Fashion lovers, this brand created in the year 2000 is prestigious, mostly thanks to their already famous trainers. combining the Italian spirit and the British style. Golden Goose trainers have been raised alongside "it trainers" by all of the fashionistas from around the entire world. And as Golden Goose Deluxe Brand had the good idea to make their styles in small sizes, Golden Goose Deluxe Brand children's trainers have had the same success as the adult's range. The production of the brand Golden Goose Deluxe Brand is managed entirely in Venice and its surroundings to guarantee that, as well as an inimitable style, the quality of the shoes is irreproachable. Find out moreClose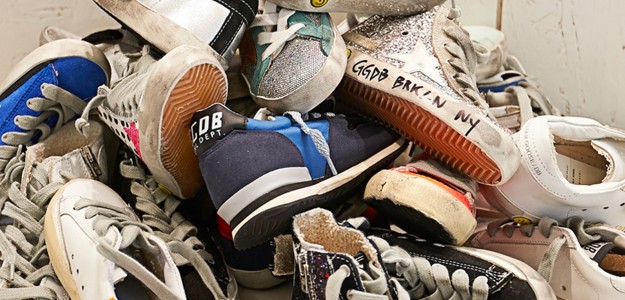 The story behind the brand GOLDEN GOOSE DELUXE BRAND
Golden Goose Deluxe Brand is a trainers brand with a proven track record of success. Nowadays, some seventeen years after its creation by designers Francesca Rinaldo and Alessandro Gallo, this brand from the Venice region is present all over the world and its iconic models are sold in major department stores, as well as in their own stores, which are quickly multiplying.
The launch of the Golden Goose children's collection
Born in the country of leather, it is no coincidence that the Golden Goose Deluxe Brand brand is acclaimed by casual shoe enthusiasts everywhere. With original, colourful designs and an instantly recognisable model, Golden Goose Deluxe Brand has established itself in an increasingly competitive sector, specialising in the design and manufacture of high-end trainers.
Thanks to its 2009 launch of a range especially designed for children, Golden Goose Deluxe Brand has managed to develop its activity, offering original trainers to suit little ones. Rolling out glittery, fluorescent, striped or printed models, Golden Goose Deluxe Brand trainers never cease to surprise.
It's a runaway success that the brand owes to its ability to innovate. By creating new models and collaborating with major names in fashion, such as the children's brand Bonpoint, or even the ready-to-wear luxury brand, OFF-WHITE. One thing is for sure, Golden Goose is always there when we least expect it, and that is the secret of its success: winning us over with the element of surprise.
Close