Enfance Paris
Enfance Paris is the babycare brand that comes to the rescue of mothers who don't understand anything on their bathroom product labels. Enfance Paris' cosmetic line is efficient and transparent: no chemical products and zero parabens, preservatives, paraffin or colourants. Ingredients in these baby toiletries are minimal and include only organic products. As for the products, they are 100% French and are adapted for 3 different age groups: From 0 to 3, to ease sleep difficulties; from 3 to 8, for once they fall and hurt themselves at school; and finally from 8 to 12, when they start having morning showers! Fall in love with Enfance Paris, an exquisite cosmetics brand for children.  Find out moreClose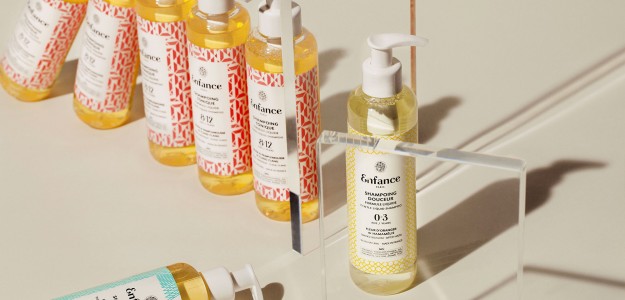 A SIT DOWN WITH AGNÈS LAFFOURCADE
founder OF Enfance PAris
What inspired you to found your baby cosmetics brand?
I'm one of those "Mum entrepreneurs" who have a flash of inspiration when a baby arrives. My daughter inherited my hyper-reactive skin, and I was looking for healthy products for her. I couldn't make head or tail of the labels for the products in my bathroom. With Enfance, I've solved this problem!
What was your training background?
After 10 years of photo design, I trained as a soap maker, specialising in Slow Cosmetics. A naturopath friend of mine helped me develop my formulas for Enfance. They are tested and controlled in the laboratory.
What are your values?
Enfance is effective while being completely transparent, with no chemical products, zero parabens, preservatives, paraffin or dye. There are very few ingredients and these are of organic origin.
What makes your products special?
They are 100% French and adapted to the 3 key age groups for children. From 0 to 3 years, to handle nappy problems. From 3 to 8 years, when the child goes to school, falls down and hurts themselves... Then from 8 to 12 years, when children start to take their morning shower.
What are your plans?
After the oil, which is a super moisturiser, I'd like to launch shampoos.
Discover Enfance Paris on Smallable online and in our Parisian concept store at 81 rue du Cherche-Midi – 75006 Paris.
Close