Donna Wilson
Donna Wilson has been designing, manufacturing and distributing her curious creatures, luxurious lambswool cushions, knitwear and home accessories since 2003. Growing up on her parents' farm in Aberdeenshire in northern Scotland, Wilson developed a love for the natural landscape, wildlife, and of course, making things – mostly from textiles using handcrafted techniques like felting, sewing, knitting, and wrapping. Shortly after moving to London to hone her skills at the Royal College of Art, her first creatures began popping up in shops around the city. Today, the designer boasts collections of contemporary furniture, homewares, textiles and clothing. Keeping UK manufacturing and crafts alive has long been an important part of Donna's work and each product is, wherever possible, made in the UK by people who take great pride and care in their work. Find out moreClose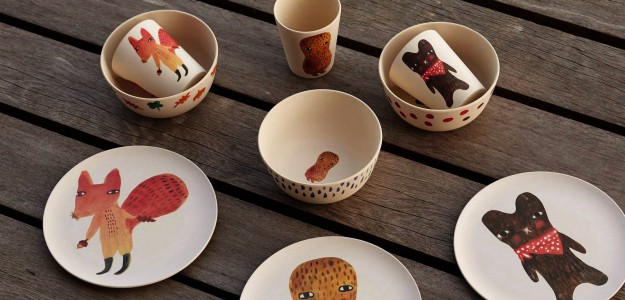 DONNA WILSON,
Meeting with the designer of Cyril the fox and Sleepy Pom…
When did you realise you had a passion for design?
I think it was at quite a young age, I was always drawing and making things, and was always most happy with a pencil in my hand. I didn't know what I wanted to be as a child, but knew it was going to be something to do with art/design.
How was the Donna Wilson brand born ? How did you start?
I set up my company in 2003 after making odd knitted creatures for my final show at the Royal College of art. The creatures sold out and since then I have built my business designing and making a collection of curious cushions, luxurious, lambswool blankets, and a variety of other products.
How would you define Donna Wilson?
Everything we do is designed to make people smile. I love working with color and I think that brings a lot of personality to people. Our soft toys and stuffed animals are characterized by a playful nature, tactile aesthetic and multicolored palette. The collections range from knitted creatures to striking upholstered furniture designs. We are also passionate about creating products that people can connect with, the studio is committed to making things that our customers will treasure. We use UK based manufacturers and suppliers wherever possible, doing our bit to keep craftsmanship alive.
Where do you find your inspiration?
All over the place, the landscape, music, dreams, magazines, ceramics, Scandinavian design, people. Sometimes I just see a tiny snippit of something which triggers an idea, which is then developed into a product. I recently went to a small remote island off the coast of Newfoundland and came back feeling really inspired by its landscape boats and houses, but normally I find inspiration everywhere, it can be a tiny piece of cloth, a picture in a book, or found object from my travels.
What do you hope to achieve in 5 years time?
I hope to continue developing
soft toys
, stuffed animals and interesting, happy, exciting, beautiful cosy and friendly products for nice people!
A special holiday memory?
Christmas is my favorite time of the year, as it's just after our busy spell and I feel I can totally relax. I always go home to Scotland to my parents and all the family get together for Christmas morning. My favorite holiday memory was when my younger brother got his first car- a second hand jeep! My father had bought it weeks before and kept it hidden. On Christmas morning he drove it round to the front of the house and parked it behind a tree. We all opened our presents one by one, and my brother thought he had hardly been given anything, until he caught sight of the jeep out the window! His face was priceless- he had a little tear in his eye as he was so surprised and happy!
A magical present?
A magical present would be a holiday to Iceland. It's a place that I have been meaning to visit for a long time I'd love to see the incredible landscape. I can imagine relaxing in one of hot spa's outside, it would feel magical!
A favorite holiday tradition?
Our Christmas meal, which we all help to make. We have turkey and all the trimmings, Crackers, silly paper hats, sit round the table reading jokes to each other, it's so rare to have all the family together, and this year we have my baby nephew's second Christmas, which will make it all the more special. After the meal we all roll through to the living room, and I drink a little bit of nice malt whiskey with my father.
Close
New collection coming soon
To keep up to date on all the latest news and offers,
Sign up to our newsletter and follow us on social media!