Des petits hauts
Created 12 years ago by two sisters, Katia and Vanessa, Des Petits Hauts is the women's brand "par excellence". Pastel colours, soft, natural materials and on-trend cuts for creating a romantic, artistic look. Des Petits Hauts knows how to speak to young women that want teen clothing that follows the latest trends. Each piece of clothing has subtle, delicate details, from the scoop-back dresses to the snuggly wool pullovers, or the edgy prints, Des Petits Hauts is an essential in teen wardrobes. Find out moreClose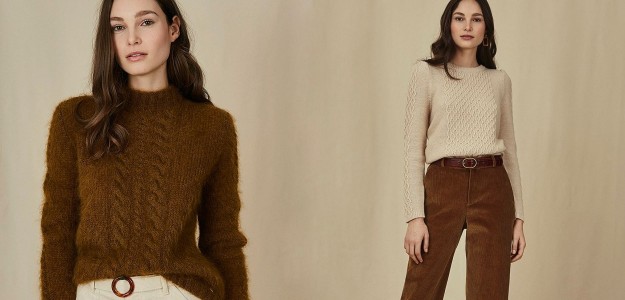 The history of the Des Petits Hauts brand
Des Petits Hauts is a
women's fashion
brand with a poetic, romantic spirit. The brand was created by Katia and Vanessa Sanchez in 1998 from one simple observation: finding the perfect T-shirt was mission impossible. This did not faze these fashionistas; Des Petits Hauts was founded to design just tops.
T-shirts
, blouses,
jumpers
, waistcoats... All must-have pieces with a perfect cut, beautiful materials and exquisite attention to detail.
After studying fashion at ESMOD, Katia teamed up with Vanessa, her sister, to create a brand with a different approach to women's fashion. Their complementary experience in the industry – one as a stylist, the other as a manager of prêt-à-porter boutiques – enabled them to carve out a perfect little niche for themselves in the fashion world.
Des Petits Hauts later broadened its collection and started to create bottoms too – trousers, skirts, shorts, jumpsuits – as well as accessories and shoes. The brand's founders surround themselves with talented creatives, including photographers, designers and decorators, so that nothing is left to chance; from the photos of their creations to the store design in their boutiques, everything is planned down to the last detail.
Today, Des Petits Hauts is no longer a brand. It is a synonym of unique expertise and individual style.
Close