Cuisse de Grenouille
Cuisse de Grenouille is the French brand every woman should have in her wardrobe. Created in 2010 by Lucas and Séverin Bonnichon, Cuisse de Grenouille offers timeless and elegant designer clothes with pieces inspired from the 60s that will follow you everywhere from the streets to the office. With its emblematic embroidered sweatshirts, A-line skirts and casual shirts, Cuisse de Grenouille is sure to win you over. Find out moreClose
INTERVIEW WITH SÉVERIN BONNICHON,
CO-FOUNDER OF CUISSE DE GRENOUILLE
How did your brand come about?
My brother Lucas and I founded Cuisse de Grenouille in 2010, spurred on by our common passions.
Where does the name come from?
The name Cuisse de Grenouille ("Frog's Leg") is very French, which means people abroad will know straight away that we are a French brand. In France, it's a memorable name that stands out. It's quite a playful brand name that contrasts well with our products' excellent quality.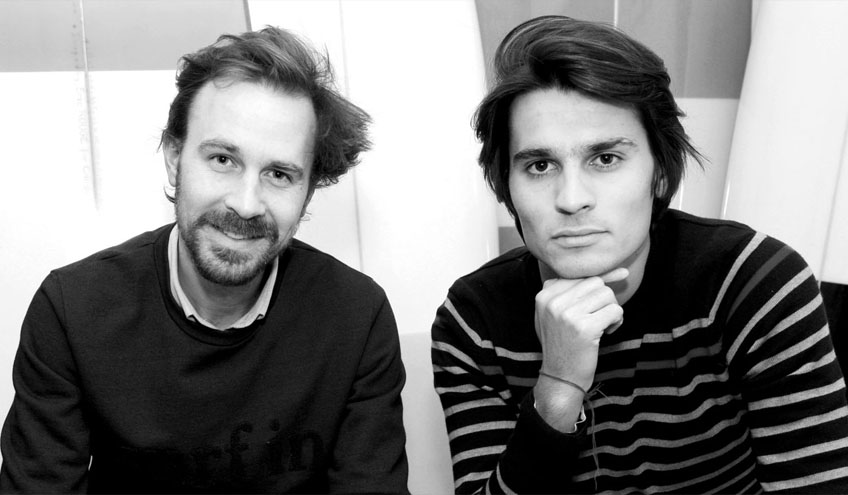 You are brothers, so what is it like working with family? Who does what?
It's great working with family. Lucas takes care of the creative part; he creates the collections with the production team. I look after the sales part, so I deal with multi-brand stores with the sales team. We work together in our own stores and on brand strategy.
What are your sources of inspiration?
Our inspiration comes from the chic lifestyle of the 1960s. Every season, we design around a theme; we started off with swimwear for the "Gentleman Surfer", and now we create complete looks for men and
women
. The theme this summer is "La Dolce Vita" from the Amalfi Coast in the '60s.
How would you define your brand DNA?
Our brand DNA is made up of these sources of inspiration and our star pieces, like our two-tone
swimwear
with shape memory, and the "Surf in Paris"
sweatshirt
. The brand has a very friendly, accessible image. This cool aspect is also part of our brand DNA.
What do you think sets you apart from other brands?
We are different from other brands because of the unique world created by our collections and our store design, as well as our products' excellent value for money.
What is your favourite aspect of your work?
It's great to have such a lovely team! A good atmosphere in the office helps a lot. Since the start of our adventure, we haven't stopped making progress on all levels. We are always learning and that is hugely satisfying. It's brilliant!
What is the future of Cuisse de Grenouille?
We can see Cuisse de Grenouille being a leading brand for men and women, with several flagship stores in the fashion capitals (Tokyo, New York, London…). We want to offer a real lifestyle, so we will continue to develop our range to satisfy those who identify with our world!
How do you spend your time when you are not working?
You will find us on the French coast or at surfing spots abroad. As we grew up in Paris, there is also a very urban side to us, so we can also be found at an exhibition or on a café terrace.
Favourite book?
Changer d'altitude
("Changing Altitude") by Bertrand Piccard.
Favourite song?
Lança Perfume – Rita Lee.
Favourite restaurant in Paris?
DAROCO, 6 Rue Vivienne, Paris.
Close