Chloé
The brand's signature romanticism and sophistication have made Chloé a success since the 1950s. Taking their inspiration from the adult collection, the Chloé children's range distills the French elegance of the brand through its understated lines and materials that are a delight to wear. Chloé girlswear combines sophistication and coolness with stylish and wearable silhouettes. At the heart of the collection, is the need for comfort, and Chloé does not compromise comfort for style. Sport the latest, most stylish designs with ease. View our curated selecition online now. Find out moreClose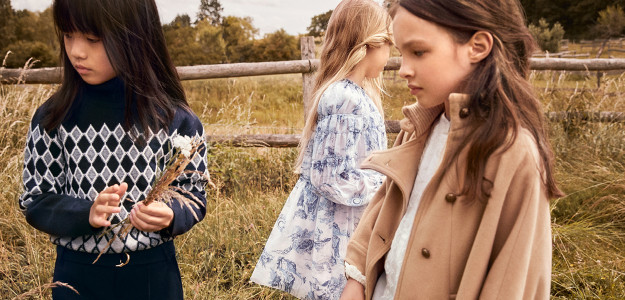 The Chloé Story
Chloé is one of the largest luxury fashion houses in France. Founded in 1952 by Egyptian-born French designer Gaby Aghion, the brand was named after Aghion's friend, Chloé Huysmans. Chloé is a tale of remarkable encounters that would allow Gaby Aghion to give her new brand the power and the necessary means for rapid growth and success. Most notably in 1953 when she joined forces with businessman, Jacques Lenoir.
Promising partnerships
In 1966, a young and gifted designer would make his mark on the Chloé story and on French fashion when Karl Lagerfeld, formerly artistic director of Jean Patou, became Chloé's creative director. Stella McCartney, another key character in the Chloé story, took over from Lagerfeld in 1997, undoubtedly contributing to the development of the brand whose creations are now known to thousands. Floaty with feminine silhouettes and fresh, subtle hues, Chloé is one of the most highly anticipated labels each season.
Somewhere between launching countless successful "it-bags" and hosting increasingly acclaimed fashion shows, Chloé found the time to expand its offering by creating the See by Chloé label in 2002. This was then followed by a children's range, whose colourful and elegant products are aimed at girls from 0 to 14 years complete with beautiful
girls' dresses
, shorts,
sweatshirts
and more . Discover our selection of Chloé products on Smallable.
Close