Caramel
Caramel is a children's fashion brand created by designer, and former lawyer, Eva Karayiannis in 1999. Universally adored by stylish London mums on the hunt for elegant but wearable clothes for their children, Caramel makes clothes for children and babies that are luxurious but simple, beautiful but tough-wearing, with a charming British touch. Inspired by vintage pieces, the brand pays incredible attention to detail in its designs, whether that be with the perfect Peter Pan collar or its original colour palette, and seeks to modernise kids' clothes making them practical and durable, but lovely to look at as well. From unique dresses and blouses in Liberty prints to nostalgic cardigans and knitwear, Caramel's dainty and dapper confections are quite simply a treat! Find out moreClose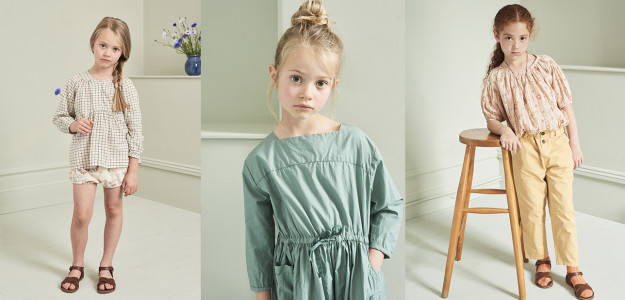 ​Interview with Eva Karayiannis,
founder of Caramel
Clouds are floating the sky, but there is no hint of rain as we walk along King's Road, a charming street filled with boutiques in West London, on the way to Caramel's headquarters. Eva Karayiannis, the brand's founder, welcomes us on the first floor of the building dressed extremely elegantly in head-to-toe Caramel. Her style is as distinctive and unique as her brand, which captures the magic of childhood and a vintage English charm in handcrafted pieces created with exquisite attention to detail. Eva believes it is possible to run a successful business driven by intuition, creativity and passion. We speak with her about the brand's identity, her sources of inspiration, family life and her secret spots in London.
Who's HIDING behind Caramel and what is your role in the company?
[Laughs] No one is hiding behind Caramel. Caramel is filled with talented people who love the process of making Caramel. The love for the brand is contagious. My job is to make sure we are pushing the brand forward to create better designs every year and give people the best there is. I try to fill the studio with creative and exciting material, which will allow us to start the creative process of each collection.
When and how did you decide to work in the fashion industry? Do you remember a moment as a child, or an anecdote that pushed you towards this industry?
I was one of those girls who loved their baby dolls, from Sindy to Barbie, I was dressing dollies all day long and when I had a piece of paper I was drawing clothes for them. I was playing with them until I was 12, which sounds a bit strange. And then I was dressing me. I've always loved clothes and fashion. I sat in on many fittings as my mother had many of her clothes made-to-measure. She would pick up the fabric and the style, and a seamstress would make the pattern and the garment.
My first dress was an Alaia one. I used to buy a few pieces, but they were special and very considered. The relationship my generation had with clothes is a totally different to the one that today's generation has with clothes. We had an appreciation of the craftsmanship and the design. That is what I want people to experience with my clothes, to remember how it feels to wear those clothes.
What was your desire when you first created your own brand?
I was looking to give children's fashion the design and the quality it lacked. I treated it the way you might womenswear, that is to use amazing fabrics and stop the taboo of colour and fabric.
WHERE DOES THE BRAND'S NAME COME FROM?
Caramel is something that is at the same sweet, but strong, and can even be quite addictive sometimes. I felt like the brand resembled all those things.
What is the identity of the brand? how would you describe it?
I knew the minute that I opened my shop that I had created something new, that people reacted to it. That gave me the strength and the encouragement to develop and grown my brand.
what and who are the places, designers, photographers and musicians that inspire you today?
I love putting chaos into order and I like cities that have chaotic elements to them, and I bring bits of them back to London and put them into order. I love New Delhi, Marrakesh, New York, Athens and Milan. Musicians that I love are Shuggie Otis and Sade. Photographers that I admire are Paolo Roversi, Stephen Meisel and Jamie Hawkesworth, who has just photographed the new Loewe campaign. Our childrenswear has also just been called in for a Bruce Weber shoot for W magazine, so I'm curious to see how that looks.
You grew up in Greece. have you kept any Greek family traditions?
I believe I have kept most of them. I am close to my parents, my children and I celebrate religious traditions and I have come to accept that I can't be me, happy and complete without those references and traditions.
What do you do to balance your work and family life?
After years of looking to find the balance I feel that now, I have found it. I know I can't be happy with just work or just family life so I give them both the time and dedication they require and it is a wonderful feeling balancing both. I am no longer one or the other, I am both the working and family person.
What are your brand's day-to-day challenges?
We are still a small brand next to the mega brands and in order to compete we need to produce excellence every day. We don't take anything for granted and this means working hard every day.
Can you tell us about some of your current and upcoming projects?
Womenswear was a big project, it is not something you put out there lightheartedly. It needs a lot of attention and is in an area we needed to educate ourselves, understand fabrics, shapes etc.
How do you spend your time when you are not working?
I have a young boy, who I play football with and read stories to. On the other hand, I have older daughters, who I share my love for flea markets, lazy Sunday lunches and delicious cocktails. I also love my 'me' time in bed reading or relaxing. I enjoy being at home or watching a movie with my husband.
Best activity to do with kids in London?
London has the best parks in the world. Aris [Eva's son] loves the pirate ship in Kensington Gardens and Battersea Park. We also have a communal garden, something unique to London and we frequently go to ours on the weekend.
Could you share with us SOME of YOUR FAVOURITE secret spots in London?
The Greek Agia Sofia church for mediation [Address: St. Sophia's Greek Orthodox Cathedral, Moscow Road, Bayswater].
Howe in Pimlico for great English vintage pieces [Address: 93 Pimlico Road].
The shops near Alfie's Antiques for great Persian Tribal Sumac carpets [Address: 13-25 Church Street, Marylebone].
Dinner at 5, Hertford Street [in Mayfair] or Scotts [Address: 20 Mount Street, Mayfair].

What do you like most about smallable?
I see them growing their brand in a similar way, patiently and I admire their integrity.
Close