Burberry
Burberry, the brand founded in 1856 by Thomas Burberry has not aged at all. The english fashion house, whose famous tartan no longer needs to be introduced, and whose trench coat has travelled all around the world, also creates chic kids' designer clothes, needless to say in very high-quality fabrics. Polo-shirts, trench coats or chinos...the Burberry kids collections are often straight off the catwalks and inspired by the signature pieces. Preppy looks, elegant simplicity and the "British touch" of the Burberry kids collections have won us over, season after season. Find out moreClose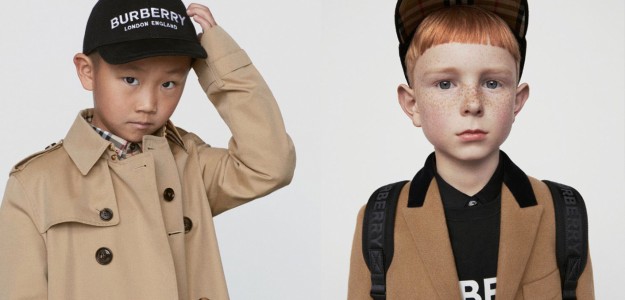 The story behind the brand burberry
Founded in 1856 by Thomas Burberry, Burberry is one of England's oldest and most famous haute-couture houses whose creations are renowned and sold all over the world.
The history of an innovation
Specialising in coats, young tailor Thomas Burberry - after gaining initial experience working in a shop - decided to open his own, never dreaming that his creations would span the centuries and make history, still looking fresh and current even today. Just a few years after its launch, Burberry developed a revolutionary material, the gabardine, which gave rise to the birth of the Tielocken, the ancestor of the famous Trench Coat. The light waterproof material from Burberry went on to be used in sectors far removed from the Fashion Week catwalks. First used by the English army to create coats for soldiers, then for polar and aviation explorations, the Thomas Burberry gabardine would soon become an essential item.
Product evolution
Stepping out from the trenches and onto the catwalks, Burberry's offering soon developed and the English house found its place on the top catwalks. Now enjoying international acclaim, Burberry manages to innovate in order to stay one step ahead with the creation of its children's range. Its collections range from aged 4 to 14, always featuring that elegance which truly defines the English brand. From the timeless Trench Coat to its scarves and shirts, the adult models are freely available for children. Discover the Burberry children's collection on Smallable.
Close