Buho
Buho is the Spanish brand whose goal is to make your kids' new favourite clothes, items they won't ever want to part with or take off. Created by Inès, a mother of two, Buho clothes represent a laidback, bohemian chic spirit, while being comfortable and easy to wear. Its collection for babies and children (from 3 months to 12 years old) are made with care and respect from high-quality materials in Spain, Portugal and France. The brand pays particular attention to colours, employing a number of complex washing and dyeing techniques to create the most unique and imaginative hues. For clothes that are effortless, well-made and that you will be happy to see your kids wearing every day, look no further than the range from Buho. Find out moreClose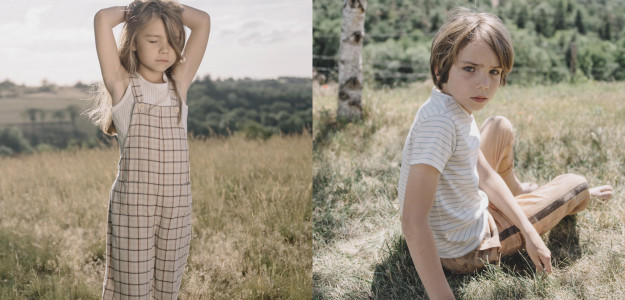 THE BUHO STORY
Following the birth of her two children, Chloé and Marc, designer Inés decided to create the beautiful children's brand Buho. Based in the city of Barcelona, Inés takes inspiration from her own childhood, the people and the objects that surround her to create Buho's delightful collections. Thinking back to her childhood, Inés fondly remembers her favourite garmet, a checkered lumberjack-style shirt that her parents brought her from Canada. With each Buho design, Inés is aiming to create new favourite items, just like her beloved shirt, for children everywhere.
The brand works tirelessly to ensure its clothes are not only lovely to look at, but soft, cuddly and comfortable for kids to wear. Buho clothes are made from fine fabrics sourced from France, Spain and Italy, and undergo an array of complex washing and dyeing treatments to achieve their incredible softness and inspiring colours. Prioritising local, sustainable manufacturing, the brand's clothes are produced primarily in Spain, with workshops also in Portugal and France.
From comfy T-Shirts, shorts and dresses to playful rompers, bloomers and babywear, Smallable is proud to present the latest collection from Buho.
Close