Blune
An unending friendship between blonde Eve and brunette Laurence brought to life Blune, a French brand brimming with fresh creations and a touch of light pastel colours. In addition to their children's collection Blune Kids, the designers offer a line of clothing for women and young girls that they define as "Poetic Design". Discover t-shirts, dresses and tunics that are always light and poetic. Blune offers fashion for today's women.  Find out moreClose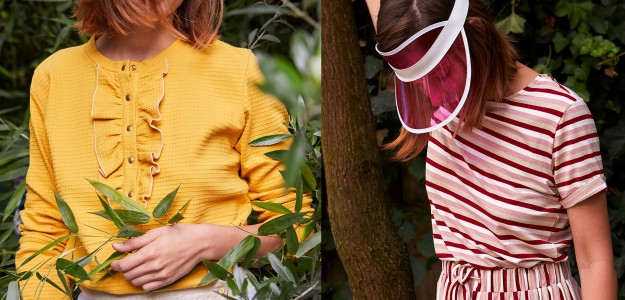 INTERVIEW WITH EVE Ohana,
CO-FOUNDERS OF BLUNE
Who is behind Blune? Tell us a bit about the brand's beginnings and your roles.
A blonde and a brunette.
Laurence and I met on the benches of the Penninghen School of Graphic Arts. Having each followed our own paths as artistic directors (Laurence in advertising at Publicis and Young&Rubicam and me, Eve, in the fashion and luxury industry at Chanel for 6 years), we decided we wanted to strike out on our own with a personal project. That was when our idea to mix graphic design and textiles started to take shape. Our complementarity, as blonde+brunette (in French blonde+brune, inspiring the name Blune) seemed obvious to us. Julie, another brunette, then joined us, and the brand really started to come together.
Blune is, above all, a story of friendship.
Today, Julie takes care of the brand's commercial and strategic development, while Laurence and I are in charge of designing our collections and marketing.
Have you always wanted to be an entrepreneur?
Yes! In fact, before launching Blune, we dreamed up hundreds of other ideas and we knew that one day the time would come. For us, this ultra-complementary trio, the name of the game is to move forward while retaining our sense of spontaneity, even if managing a business can sometimes be an emotional roller coaster!
What is the best piece of advice you have been given?
To have fun!
What are your sources of inspiration?
Above all, everything that is not just fashion. California, Frida Kahlo, David Bowie, the
nouvelle vague
, my mother, India Mahdavi, Majorelle, my children…

Can you explain your design process to us?
We start by telling ourselves a story, chapter by chapter. This creates a certain atmosphere, with particular materials, colours and shapes. We then throw ourselves into the illustration process. Nowadays, we draw all our motifs ourselves; we love creating them and really value this process of cultivating our distinctiveness. This happy blend ends up being a collection, which is made, unmade and remade until the right balance is found. The final step is a fun brainstorming session to give each of our garments a clever name… it can be a real headache sometimes!
What does your everyday routine look like?
Superwoman is our muse. That says it all I think… We have to be in several places at once, of course, but we attach a lot of importance to communicating with and respecting our customers. We love sharing our expertise and values with them.
How do you balance work and family life?
We are three young mums, so we need to adapt our daily routine to be present for our families. Being a "mumpreneur" is not easy; our working day usually finishes very late in the evening. But it makes us extremely proud to see our five children (between us) dressed in Blune garments. That is the greatest reward!
What is the future of Blune?
It is full of surprises and new encounters. There are some rather unexpected collaborations in the pipeline… that is what drives us to keep making progress.
What do you like the most about Smallable?
The diversity of its range. Each item has been selected with the utmost care, with practicality and children's comfort in mind.
What do you do in your free time?
I spend time with family, travel to recharge my batteries, and just keep growing.
Your dream destination?
Corsica! I am always awestruck whenever I go there. My mind is set free as soon as I set foot on the island.
The best family activity in Paris?
The Louis Vuitton Foundation, because of its spectacular exhibitions and super-creative workshops. Or even the Louise Rozier children's cooking workshops.
What could Blune's motto be?
Every day, reveal and amaze the Superwoman in you!
Close
New collection coming soon
To keep up to date on all the latest news and offers,
Sign up to our newsletter and follow us on social media!