Babyzen
When Julien Chaudeurge became a dad, he quickly discovered the joys of folding up a pushchair! He teamed up with his father and together they began the Babyzen adventure! Their challenge? To create convertible and compact puschairs to make it easier for parents around the world to go out with their little ones! Victory – the Babyzen Zen pushchair was born! Ultra-compact, Babyzen pushchairs exist in different models, fold up in 5 seconds and some of them are light enough to wear on your shoulder! Kim Kardashian, Keira Knightley, Tony Parker, Gad Elmaleh…They're all hooked! You too can fall for the Zen model, all-in-one and easy to use! Find everything you need for your little one in our new babycare section. Find out moreClose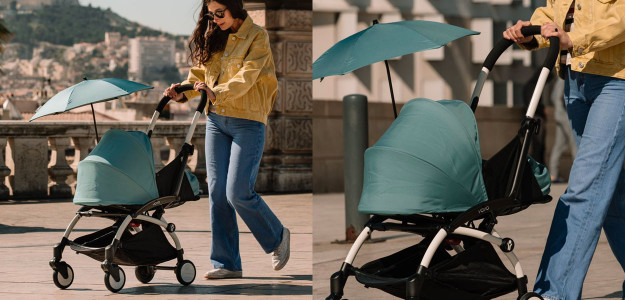 BABYZEN
Babyzen pushchairs will be your greatest ally, making your life easier from the first special days of parenthood to the day your little one takes their first steps. The fully adjustable Yoyo+ model will even accompany you and your baby on plane journeys. Thanks to its compact dimensions and feather-like weight, this model slides into the overhead hand luggage compartment with ease*, meaning you can travel effortlessly as a family. It will also fold up to make the ideal companion on trains, and its mini-size means you will have no trouble getting it into a lift.
Top tip for city-dwellers: the Yoyo pushchair can be folded up with one hand and easily transported. No more cold sweat when you have to carry your baby, shopping and pushchair at the same time! The Yoyo weighs just 6.6kg and can be carried like a bag on your shoulder, thanks to its ultra-practical handle.
Its incredible lightness and manoeuvrability make it easy to go on a long family walk. From cobblestones to countryside paths, Babyzen pushchairs make for care-free outings with your baby, thanks to the suspension installed on all four wheels and the "soft drive" system, which guarantees comfort for both you and your child.
As an added bonus for new parents who want to balance their social life and their new arrival, the handlebars on the Yoyo pushchair have an extremely practical feature: they can be folded down. Your pushchair will slide discreetly between restaurant tables and sit beside you.
As well as being a real technological gem, a Babyzen pushchair offers all the comfort and practicality you need, and now the brand has even come up with a solution for car journeys. For family holidays or everyday errands, the Babyzen car seat will protect your baby from the dangers of the road. Created in collaboration with Norwegian brand BeSafe, whose products combine unrivalled quality with Scandinavian expertise, this car seat will adapt to your Yoyo+ pushchair to make travelling easier and keep your little one comfortable.
These are more than just ordinary pushchairs; Babyzen invites you to create an item that fulfils all your needs. Create the pushchair that suits you! Choose the colour of the frame and hood and accessorise your pushchair to your heart's content, thanks to our wide variety of options. From the parasol for summer day trips to the footmuff to protect the littlest ones from the cold, nothing is left to chance. For families with an older child or children who are walking already, the useful removable Yoyo+ board with wheels will keep little ones safe in the city and let tired tots rest.
Convinced yet? Take a look at our selection of Babyzen pushchairs and accessories now, from the newborn option to the complete kit that will accompany your child from birth to 5 years. You're sure to find the pushchair for you!
*Please contact your airline to check compatibility.
Close
We are sorry to inform you that this brand does not deliver to your selected country of delivery.