Acne Studios
Acne Studios, the Swedish brand created in 1996, is delving into kids' fashion. Jonny Johansson, creator of Acne Studios, finds inspiration in design, art and architecture in order to create his unique universe filled with minimalist and elegant characteristics that fans of Scandinavian style are sure to recognise. Acne Studios has an attention to detail, with its kids' clothes being made of the perfect shapes and materials. The iconic brand allows wearers of all ages to create a refined and minimalist wardrobe.  Find out moreClose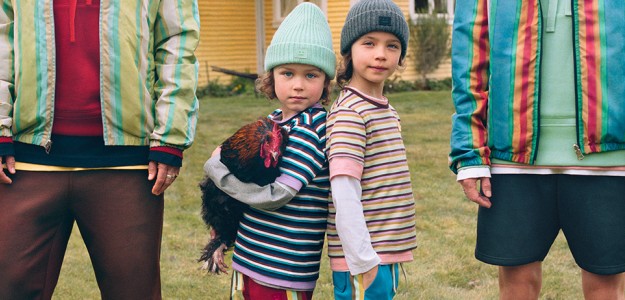 The Acne Studios Story
From art to fashion
Before we can understand the origins of Swedish label Acne Studios, we must first look at its creator, Jonny Johansson. It was in 1996 that Johansson, a fan of art, architecture and fashion, together with his partners decided to create the brand Acne Studios. A project infused with artistic flair, Acne - an acronym for
Ambition to Create Novel Expressions -
began life as a capsule collection composed of 100 pairs of unisex
jeans
, which went on to enjoy immediate success and media attention.
From Stockholm to Tokyo
Acne Studios quickly became a brand in its own right with its unique style, mix of genres and androgynous silhouettes. The Swedish brand also impressed with its oversized cuts, graphic prints and timeless classics. Who hasn't dreamed of owning a pair of Acne jeans or one of the label's totally original pairs of shoes? Acne Studios was a real success and is now internationally recognised with boutiques at the heart of the world's most beautiful cities: New York, Paris, Los Angeles, London, Tokyo... a list that keeps on growing.
But this iconic label isn't just for adults, recently launching a line of
kids' designer clothes
inspired by pieces from their adult collections. The Acne Studios junior collection is made up of
girls'
and
boys' jeans
, as well as timeless pieces and that we can't help but fall in love with. Discover the Acne Studios junior collection on Smallable.
Close