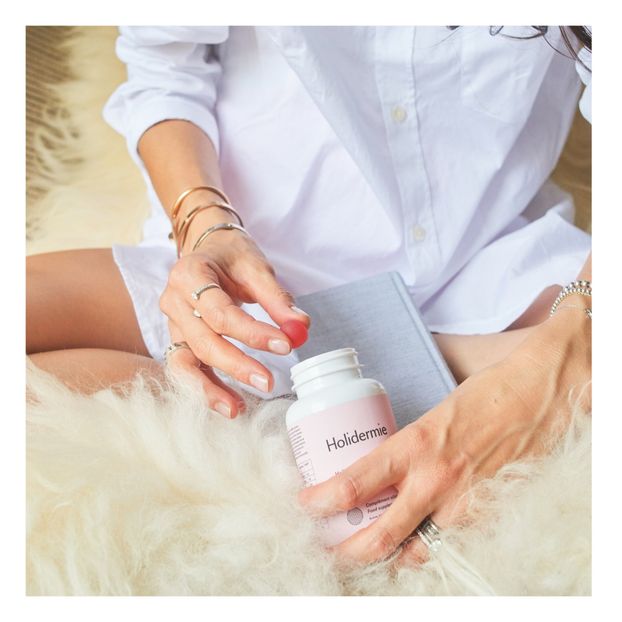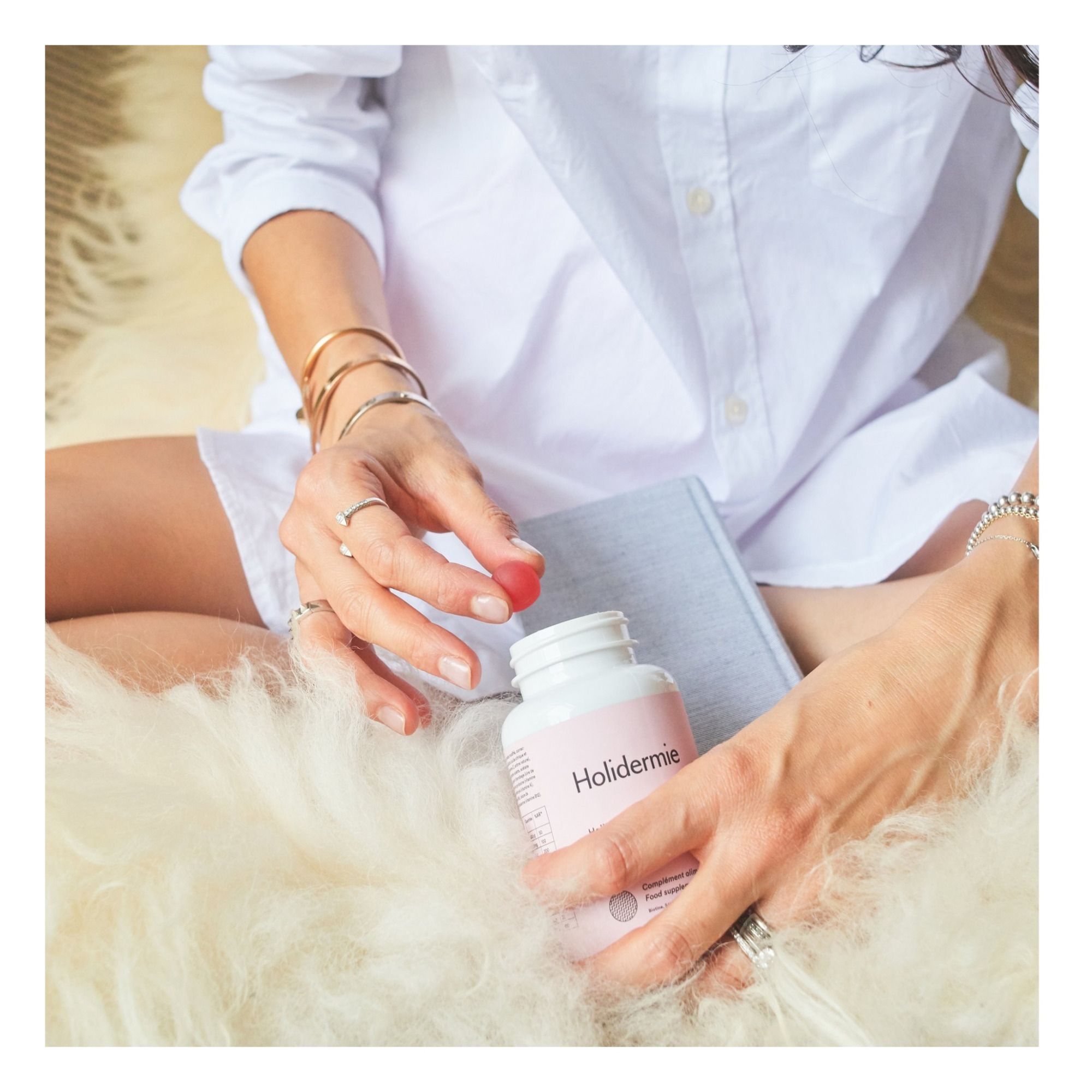 Beauty Gummies

Description
With their Beauty Gummies, Holidermie is expanding their line of HoliBeauty Food ™: a range whose approach combines gustatory pleasure, wellbeing, and anti-aging and antioxidant skin care. Rich in powerfully antioxidant vitamins and trace elements, Holidermie's Beauty Gummies contain all the nutrients essential for the essential balance of the skin, nails and hair. They are made with vegetable sugar (beet), making them light on calories and are deliciously addictive, thanks to their natural raspberry flavour.

BENEFITS:

B vitamins act as coenzymes and their functions are closely related. A deficit of one or more of them can lead to the deficiency of the other and slow down their use. B vitamins are not stored by the body, so it is important to ensure their regular and balanced intake.

Vitamin B8 or Biotin is both provided by food and manufactured by the intestinal flora. It is particularly effective for treating fragile and brittle nail problems because it participates in cell growth.

Vitamins B9 and B12 are essential for good cell renewal and the production of red blood cells. These transport oxygen to the tissues, scalp and hair follicles, and thus maintain their good health.

Niacin (or vitamin B3 or PP) or nicotinamide plays an important role in all redox reactions produced in the body.

Selenium is a trace element with antioxidant properties. It contributes to cell protection against oxidative stress and thus limits the premature aging of cells.

Vitamin E is present in all cells of the body: it protects their membranes from destruction due to their exposure to oxygen and also has anti-inflammatory and antioxidant properties. This super vitamin protects skin cells from premature aging.

COMPOSITION:

Their coating agent is 100% plant-based, derived from the wax of carnauba leaves, a palm tree from northern Brazil.

Vegan and gluten-free, they contain neither gelatin of animal origin nor preservatives.

DIRECTIONS FOR USE:

Daily dose: 2 gums. Do not exceed the recommended daily dose. Consult your doctor before using this dietary supplement if you are pregnant (or planning to become pregnant), if you are in menopause, if you are breastfeeding or if you are taking medication regularly. Food supplements cannot be used as a substitute for a varied and balanced diet and a healthy lifestyle. Keep out of reach of young children. Not recommended for people with thyroid disorders.

INGREDIENTS:

Glucose syrup, sugar, modified starch, acidity regulator (trisodium sodium), acidifiers (citric acid and malic acid), L-ascorbic acid (vitamin C), natural flavor, nicotinamide (niacin), purple carrot concentrate, acetate DL-alpha tocopheryl (vitamin E), coating agent (carnauba wax), zinc sulfate, pyridoxine hydrochloride (vitamin B6), D-biotin (vitamin B8), retinyl acetate (vitamin A), pteroylmonoglutamic acid (vitamin B9), potassium iodide, sodium selenite, cyanocobalamin (vitamin B12).
Details : Cosmetics items may not be refunded or exchanged
Made in : France
Targeted treatments
Targeted treatments