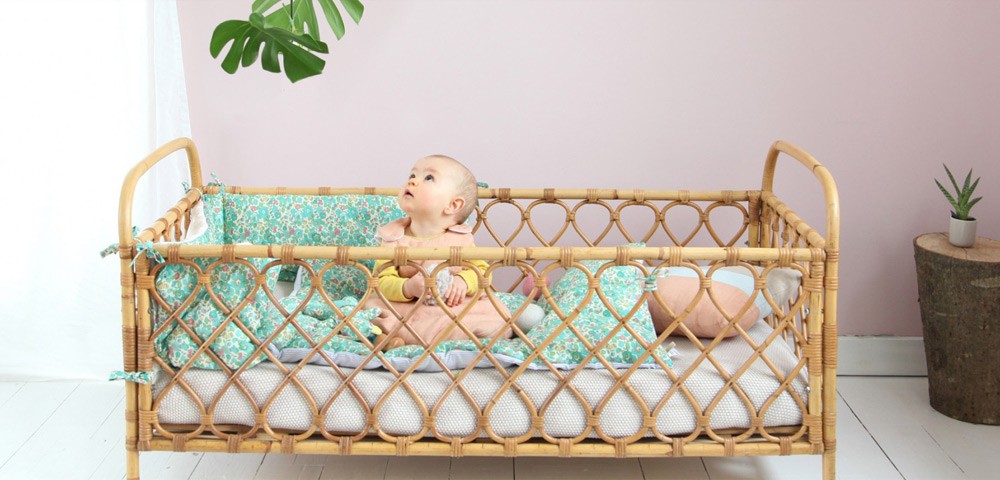 Shopping guide
Essential nursery decoration items
Whether it's your first child, and you're afraid of forgetting something essential in your birth kit, or you're already a parent looking for a change of ambiance for your new arrival, here is some advice for the perfect nursery decoration that will fix up your baby's room in the most practical and aesthetically pleasing way.
Tips for the baby's bed
Between cradles, convertible beds and classic cots with bars, the choice is vast. Of course, budget and size will influence your choice. The cardboard cradles from Lullaby at 90€ are light, compact, sturdy and ecologically friendly, making them a good solution for your baby's first months. Fans of simple design will fall for the charm of the hanging Leander cradle at 401€, with its tripod and its net curtain, or the Babybjorn cradle at 290€. For a classic and timeless cot with bars (60x120cm), make a virtual visit central France where Combelle furniture has been made for over 100 years; ultra chic in grey or taupe, the price/quality ratio is unbeatable.
Towards the higher-end styles is the convertible bed (70x140cm), ready to accompany your child up to age 6 thanks to the conversion kit that will transform the cot into a small children's bed that is safe and reassuring. Laurette offers a large matte pastel palette starting at 585€. Oeuf NYC, Leander and Kalon studios have created collections of convertible beds with contemporary lines that provide maximum comfort and security for your baby.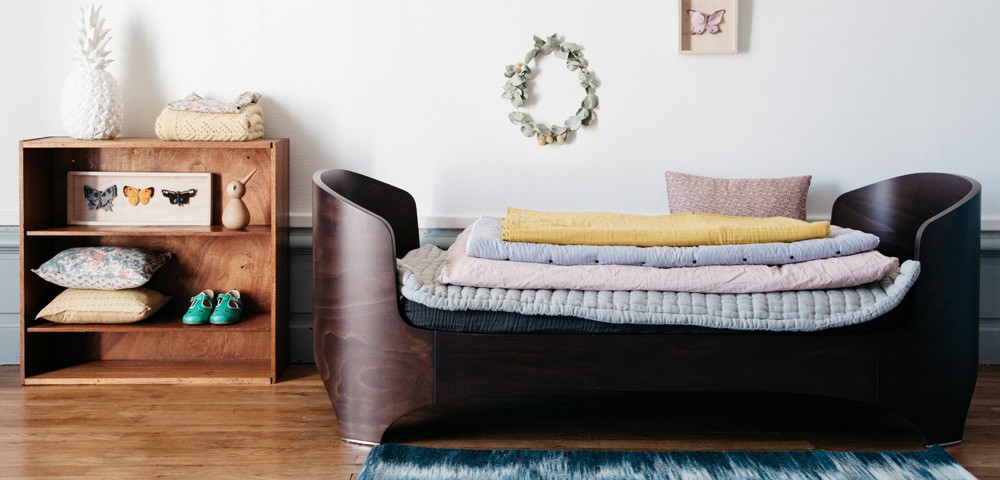 baby's bedding
The essential trio of the bumper, the sleeping bag, and the fitted sheet can be chosen amongst the very best brands of baby bedding; thanks to Numero 74, Aden+ Anais, Garbo & friends, Numaé, Lab, Louis Louise, Ketiketa, Lalé and April Showers…
Tips for the rocker
The essential trio of the bumper, the sleeping bag, and the fitted sheet can be chosen amongst the very best brands of baby bedding; thanks to Numero 74, Aden+ Anais, Garbo & friends, Numaé, Lab, Louis Louise, Ketiketa, Lalé and April Showers…All the cravings for romanticism or graphic prints, whether colourful or simple will be satisfied. Don't forget the addition of a blanket or a little throw that always comes in handy: to lay the baby down on, to cover them up when out walking, in your arms or in their pram… Bonton, Numero 74, Numaé, Garbo, April Showers, Louis Louise, le Marchand d'étoiles or Aden+Anais have dreamed up some lovely ones.
Tips for the changing table
In the Combelle collection, you will find basic slim and discreet changing tables at low prices (111€) to be matched with the changing mattress covers from Numero 74. By bo design has developed products that are compact and intelligent; their wall-mounted changing table at 411€ saves a great amount of space. Oeuf NYC, Kalon studios and Laurette have boards with changing mattresses that can be fixed onto the baby's bed or a chest of drawers from their collections. This means that once the "nappy" stage has passed, the changing table becomes traditional storage.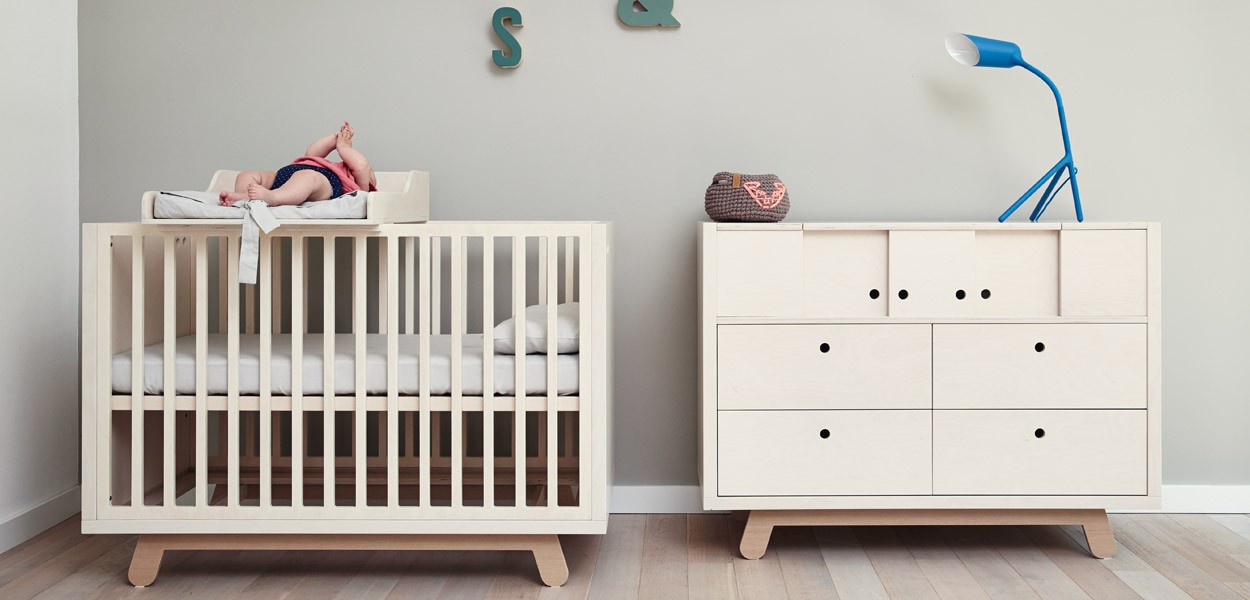 Tips for storage
Wardrobes, chests of drawers or shelving units? If you're short on space, or if you would like to gradually invest in baby furniture, a chest of drawers with a removable changing table will be enough for the first few months: Kalon studios, Laurette and Oeuf NYC have a great range. Wardrobes with impeccable proportions, ideal for baby girls and boys are available from Oeuf NYC and Laurette. A special mention goes out to Laurette, whose wardrobes are customisable to suit your every want and need (with a variety of interior and exterior colour combinations), always with the choice between hanging rails or shelves. We also love the metal hanging rail and it's little clothes hangers that are just adorable for hanging up your baby's most pretty outfits! You will find small supplementary shelves that are very practical for placing the nightlight on, and the little decoration accessories from Sebra, Tsé & Tsé, Laurette, Leçons de choses (skateboard shelves for baby boys), Ferm Living or String as well as great wall pouches in thick cotton from Numero 74.
Tips for little chairs
They will be very useful for you to sit on whilst feeding your baby, cradling them, or simply for putting down little bits and bobs. Choose a comfortable one and pair it with a sheepskin rug for even more comfort. Our choice: the "Bold" by Moustache, the "Visu" by Muuto, the "Acapulco" by Sentou or the "Suzie" by Les Gambettes.
Tips for the nightlight
With its soft light and its playful design, it's the decorative accessory that adds to the nursery's ambiance. Find glowing mushrooms, rabbits, fawns, and polar bears that are oh so regressive and hand painted by the now famous brand Egmont. Garlands of fairy lights can be placed on a piece of furniture or even on the floor or mixed in with the curtains, and are always a lovely touch. Try the cult and chic version that was dreamed up 15 years ago by the brand Tsé and Tsé associés, or a more democratic version with cotton threads and balls from Lovely-light, starting from 30€.
This chic version had been imagined 15 years ago by the two Tsé & Tsé partners. A more mainstream version of the cotton ball exists also at Lovely-night, starting at 30€.
Tips for rugs
It's the accessory that will add the touch of warmth and softness that your nursery needs. Synthetic, washable models are available from Pilepoil, in the shape of clouds, circles or stars, and are perfect for little ones. There are also rugs from Bobochoses, Leçons de choses and Varanassi that will bring an imaginative atmosphere to your nursery.